Green Caesar Salad with Avocado and Crispy Chickpeas
The lettuce, green beans and spring onions are tossed together with a creamy, lemony parmesan mayonnaise dressing (vegan adaptable) and topped with creamy avocado and chickpeas tossed with olive oil, smoked paprika, then roasted until lightly charred, crispy, and delicious. This salad is easy to throw together, colourful, healthy, and filling. Perfect for dinner and leftovers will keep for up to 2-3 days. 
Substitutes: 
No lettuce? Try with kale instead. 
Vegan? Use vegan mayonnaise and vegan parmesan alternatives. 
No lemon juice? Use lime juice instead. 
No spring onions? Use a handful of chopped parsley instead. 
Prep time: 10 minutes
Cook time: 20 minutes
Total time: 30 minutes
Servings: 2
Ingredients:
1 lettuce
130 g Green beans
4 Spring onions
1 Avocado (quartered )
1 can chickpeas (drained and rinsed )
2 tsp Smoked paprika
2 tbsp Olive oil
Salt & pepper
For the dressing:
4 tbsp Mayonnaise
4 tbsp Parmesan (grated )
2 tbsp Lemon juice
1 Garlic clove
1 tsp Dijon mustard
1 tsp Soy sauce
Recipe:
Preheat the oven to 200C/180c fan/6 gas mark. In a large tray add your chickpeas, green beans, smoked paprika, olive oil and a pinch of both salt and pepper. Toss well to coat and spread your ingredients on the tray. The more you spread them the crispier they will get.
Roast for 15-12 minutes, until golden and the chickpeas have crisp up a little. 
In the meantime, make the dressing. Add all the dressing ingredients into a food processor and blend until smooth.
Roughly chop the lettuce and spring onions.
Place in a large mixing bowl and pour over half of the dressing. Toss well to coat then top with the avocado, chickpeas and green beans.
Serve and drizzle with more dressing to taste.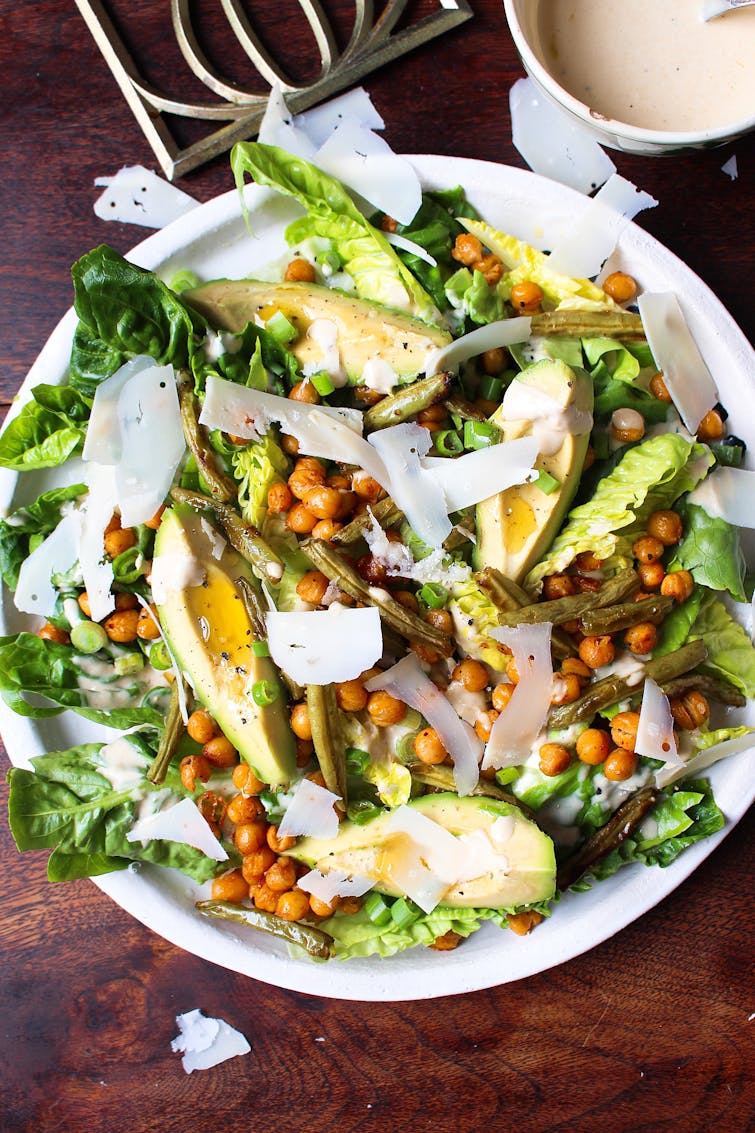 ---
How to store
Store the salad in the fridge for up to 2-3 days and the dressing for up to 5 days.