Green Beans Harissa Soup
A spicy and fragrant summer soup is made from green beans, chickpeas, garlic, onion, spices, harissa, lemon and stock. Quick, nutritious and delicious.
Substitute:
No beans? You can use any green beans for this soup. Alternatively, use broccoli - cut the broccoli into florets and follow the same steps. 
No onion? You can use leeks, red onion or shallots.
No garlic? Try with 1 tsp of garlic powder instead. 
No chickpeas? Use lentils, cannellini beans, kidney beans or butter beans. 
No saffron? You can do without or use a little more turmeric. 
No chopped tomatoes? Use a little tomato paste with water, or fresh tomatoes chopped in cubes. 
Prep time: 5 minutes
Cook time: 25 minutes
Total time: 30 minutes
Servings: 2
Ingredients:
200 g Green beans
1 Onion (chopped)
2 Garlic cloves (chopped)
1 a pinch of Cumin seeds
½ tsp Turmeric 
50 g Harissa paste
1 Chickpeas (can - drained and rinsed)
½ Lemon
1 litre Vegetable stock
1 a pinch of Saffron
1 Tin chopped tomatoes
Olive oil
Salt & pepper
Recipe:
Make the soup base: Add the saffron to the hot vegetable stock in a jug, and leave to infuse. Heat the oil in a saucepan and add the onion, and cook for 2-3 minutes, until beginning to soften. Stir in the garlic, harissa, cumin and turmeric. Cook for 5 minutes, then season.
Make the soup: Pour in the infused stock, chopped tomatoes and add the chickpeas. Stir everything together, and bring to the boil.
Poach the beans: Cut the beans in half and add them to the saucepan. Simmer gently for 15-20 minutes, until the soup has reduced slightly and the beans are cooked. Add the lemon zest and juice, and season to taste.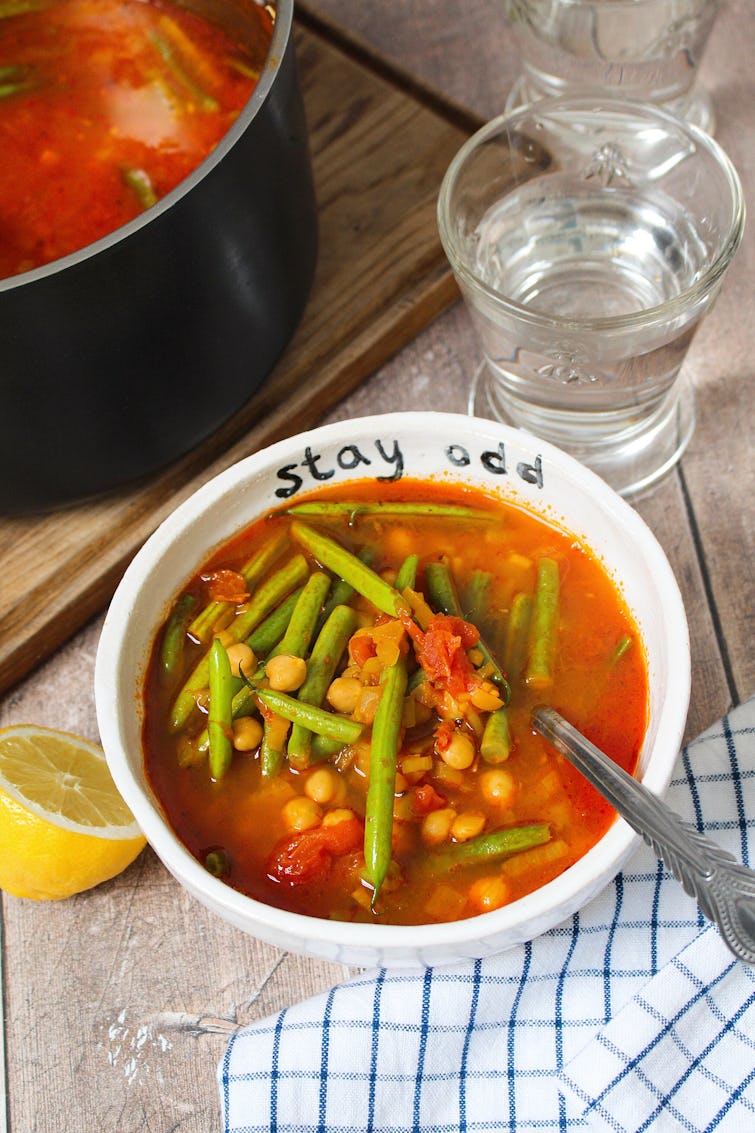 ---
How to store
How to store: Store your green beans harissa soup in an airtight container, in the fridge for up to 3 days and in the freezer for up to 3 months. 
Leftovers
Leftovers: You can use your leftover soup as a cooking liquid for rice or quinoa. Alternatively this spicy soup would make a great pasta sauce.