Grated Carrot Salad
This quick and easy grated carrot salad is fresh, crisp-tender, and makes a delicious side dish to offer at picnics, BBQs, in packed lunches, with sandwiches, and so on. The carrot salad will keep for a few days in the fridge, which makes it a great recipe for meal planning.
Substitute:
No carrots? Use courgette or beetroot instead. 
No parsley? Try with coriander or chives. If you have mixed leaves or lettuce in your box, add them instead. 
No lemon juice? Use lime, apple cider vinegar instead or red wine vinegar. 
No Dijon mustard? Try with whole grain mustard. 
No cumin? Use ground coriander or a little turmeric instead. You can also do without spices.  
Prep time: 15 minutes
Cook time: 15 minutes
Total time: 30 minutes
Servings: 3
Ingredients:
400 g Carrots
½ a bunch of Parsley
3 tbsp Olive oil
2 tbsp Lemon juice
1 tbsp Dijon mustard
½ tsp Ground cumin
Salt & pepper
Recipe:
Wash the carrots under cold water, pat dry and grate with the skin on. Roughly chop the parsley and parsley stems.
Place the grated carrots and chopped parsley in a large bowl and set aside.
Make the vinaigrette: In a small bowl, whisk together the olive oil, lemon juice, Dijon mustard, and cumin.
Pour the vinaigrette over the carrots and stir until combined and evenly coated. Taste and adjust seasoning if needed.
Keep in the fridge until ready to serve and to allow the flavours to develop. Toss again before serving.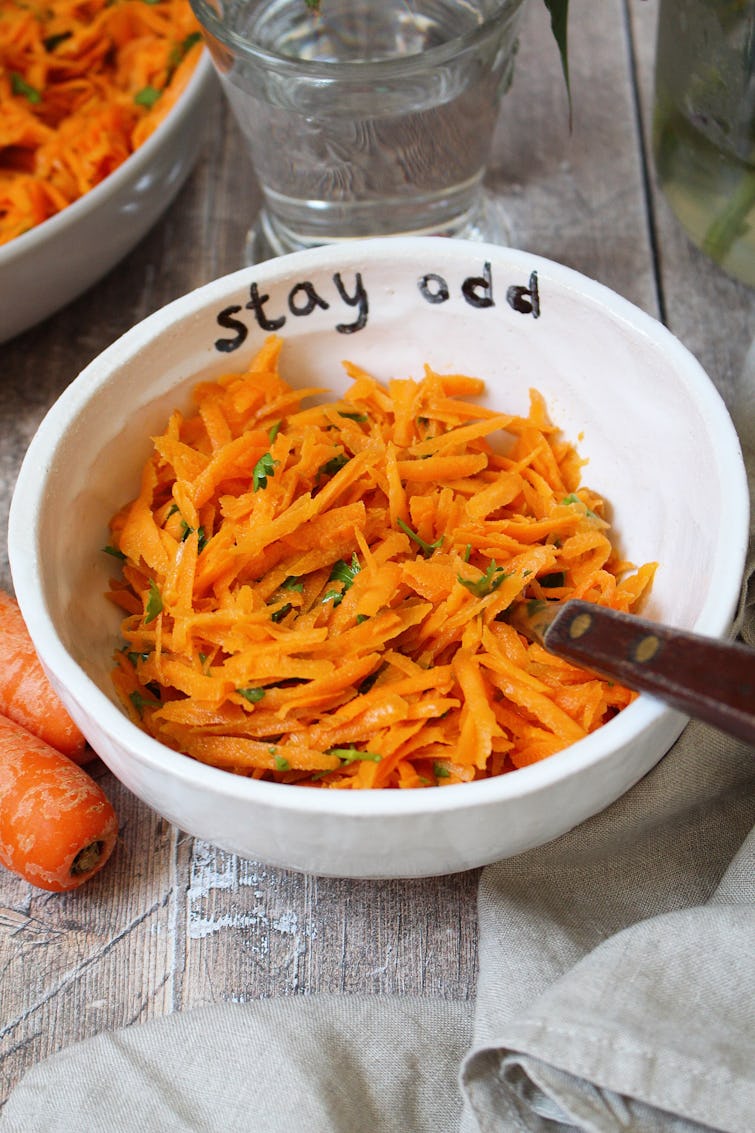 ---
How to store
How to store: Store your carrot salad in the fridge for up to 3 days. Cover the bowl, and toss again before serving. 
Leftovers
Leftovers: - Make savoury carrot muffins with your leftovers. Squeeze the juice out and place 200 g grated carrot salad in a bowl along with 1 egg, 200 g flour, 1 tsp of baking powder and a little milk. Mix until you have a thick batter. Spoon the mixture in a greased muffin tin and bake at 180 C/160 fan/4 gas mark for 20-25 minutes.  - Add any vegetable leftovers to your carrot salad to make a big mixed salad. Good examples are our marinated peppers, sliced cucumber carpaccio, asparagus fries, and potato salad; all these recipes are on the blog.