Grapefruit Yoghurt Cake
Yoghurt cake is a simple French classic and is very often the first cake that kids learn to bake as you are using the yoghurt pot as the measuring tool. It is moist, fluffy and works perfectly with grapefruits. 
Substitute:
No grapefruit? Try with any citrus you have on hand. Orange, clementines, satsumas, mandarins, or even the juice and zest of lemons. If using less citrus juice, only use 2.5 pots of flour. 
No yoghurt? Use any natural yoghurt, vegan yoghurt, fruity yoghurt. 
No self raising flour? Use 3 pots of plain flour and 1 tsp of baking powder. 
No vegetable oil? Use melted coconut oil or a light olive oil. 
Prep time: 15 minutes
Cook time: 45 minutes
Total time: 60 minutes
Servings: 1
Ingredients:
2 Grapefruits
125 g Yoghurt
3 Self raising flour (pots)
1 Sugar (pot)
½ Vegetable oil (pot)
3 Eggs
1 a pinch of Salt
Recipe:
Prepare the grapefruits: Zest, peel and segment the grapefruits making sure to work on top of a bowl to save all the grapefruit juice.
Make the cake batter: Preheat the oven to 180C/160 fan/4 gas mark. Add the yoghurt to a mixing bowl. Use the yoghurt pot as a measuring tool and add the flour, sugar, salt, and oil to the mixing bowl. Then add the eggs, grapefruit juice and zest. Whisk until you have a smooth batter.
Bake the grapefruit cake: Grease your cake tin, or use a silicone one and pour in your batter. Place half of the grapefruit segments on the top. Bake for 40-45 minutes, until firmed up, golden and a knife inserted in the center comes out clean. Serve with the rest of the grapefruit segments. Enjoy warm or cool.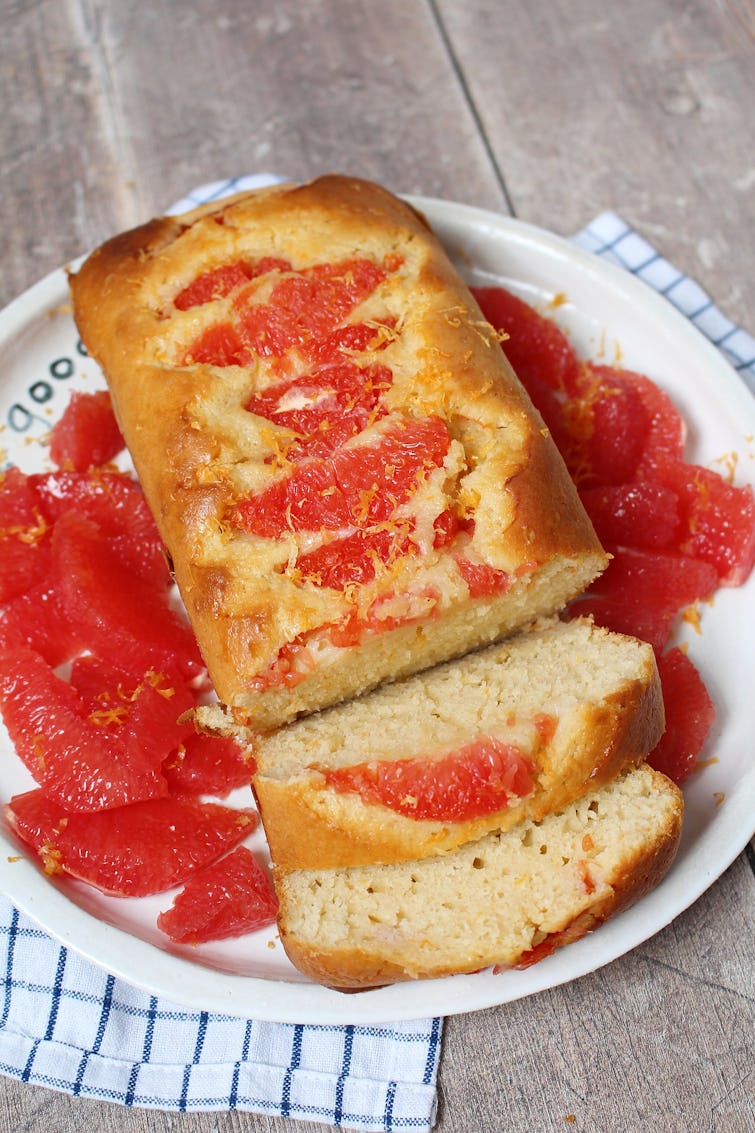 ---
How to store
How to store: Store both your grapefruit cake covered at room temperature or if hot outside in the fridge for up to 3 days. 
Leftovers
Leftovers: Yoghurt cake french toast: Dip slices of yoghurt cake in a batter made from milk of choice, egg and sugar. Pan fry in coconut oil or butter until golden and crisp. Serve with fresh fruits.  Yoghurt cake truffles: Use a food processor to turn the leftover cake into crumbs. Mix with cream cheese and roll the cake into balls using your hands. Place them onto a lined baking tray, and freeze them for an hour. Melt some chocolate, remove the truffles from the freezer and dip them into the chocolate to coat. Place them on baking paper to set. Serve immediately, store leftovers in the fridge for up to 3 days. Yoghurt cake trifle: Toast pieces of leftover yoghurt cake until crisping at the edges. Layer the cake in individual up cycled jam jars or glasses with whipped cream, jam and fresh fruits.