Get creative with your Savoy Cabbage - Our best Okonomiyaki recipe
Ever find yourself struggling to use up cabbages from your box? These delicious leafy greens, whilst delicious, can sometimes be uninspiring to cook with. Luckily, we have our good ODDBOX friend and chef Georgia to guide us through creating a quick and delicious recipe that the whole family can get on board with!
Want to join the fight against food waste? Subscribe here!
SAVOY CABBAGE OKONOMIYAKI
"This is often called a Japanese pizza, but it's more of a fun savoury pancake. Much like pizza, however, it's endlessly customisable (and terrifyingly moorish). Try adding sweetcorn, kimchi, prawns or salami. It's best to cook one at a time so they're easier to turn and you can use BBQ sauce instead of making your own. Be sure to use the whole cabbage in this, the combination of inner and outer leaves will make a huge difference to the texture." - Georgia (@georgia_levy)
Prep time: 5 minutes
Cook time: 8 minutes
Total time: 13 minutes
Servings: 2
Ingredients:
100 g Plain flour (wholemeal or gluten-free flour)
1 tsp Salt
2 Eggs
200 g Savoy cabbage
4 Spring onions (60g leeks, sliced, a few green tops reserved for serving )
4 tbsp Rapeseed oil
1 tbsp Oyster sauce
2 tbsp Ketchup
½ tbsp Worcestershire sauce
Vinegar
Crushed-up crisps (or crispy fried onions)
Recipe:
To prepare the outer leaves of the savoy, strip off stalks, roll into cigars and finely shred, then finely slice the stalks. Inner leaves shred along with their stalks.
Whisk together the flour, salt, 100ml cold water and eggs in a bowl. Add the cabbage and spring onion and mix. If adding any other ingredients, now's the time.
Stir together the okonomiyaki sauce ingredients.
To cook one, warm 1 ½ tablespoon oil in a medium frying pan over a medium heat and add half the mix. Cook each side for 3-4 minutes, pushing down as it cooks. Carefully turn it over when it's golden, adding a splash more oil as you turn it. If it breaks, just push it back together.
Transfer to a plate and criss-cross with drizzles of sauce and mayonnaise. Scatter over the spring onion tops and crisps and eat.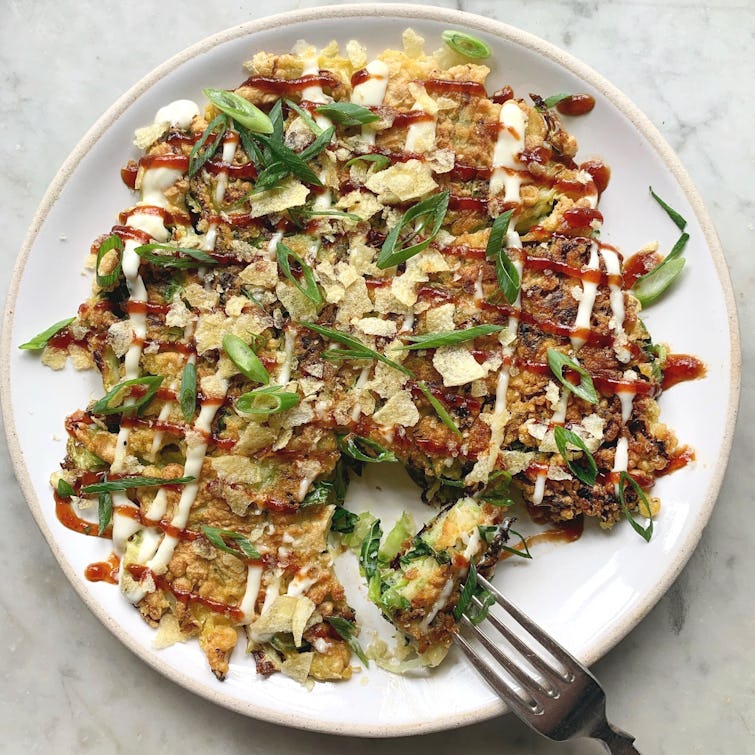 ---