Fruity Breakfast Muffins
A fruit compote is an excellent base for breakfast muffins and this quick and simple muffin recipe is perfect for blueberries, apples, plums and more!
Substitutes:
No blueberries? Use any other fruits to make the compote such as blackberries, apples, pears, plums or mangoes. 
No vanilla paste? Use vanilla extract instead. 
Prep time: 20 minutes
Cook time: 15 minutes
Total time: 35 minutes
Servings: 6
Ingredients:
For the fruit compote:
100 g Blueberries
20 g Caster sugar
1 tsp Vanilla paste
For the batter:
100 g Unsalted butter (melted and cooled )
2 Large eggs
100 ml Milk of choice
110 g Light brown sugar
250 g Self raising flour
50 g Rolled oats
1 tsp Baking powder
1 tsp Bicarbonate of soda 
For the topping:
25 g Blueberries
1 tbsp Rolled oats
Recipe:
Preheat the oven to 180C/160c fan/4 gas mark.
Place the blueberries, caster sugar and 1 tablespoon of water in a small saucepan. Cook over a low heat for 5 minutes, then turn off the heat and add the vanilla paste. The blueberry compote should be soft and sticky. 
In a small bowl, whisk together the melted butter, eggs and milk to make a wet mixture.
In a large mixing bowl, mix the rest of the dry ingredients. Pour the wet ingredients in with the dry mixture, and mix well to make a batter. Gently stir in the blueberry compote. 
Divide the batter into a greased muffin tin. Top with fresh blueberries and a sprinkle of oat. 
Bake for 15 minutes, until cooked through. Let cool on a cooling rack and enjoy!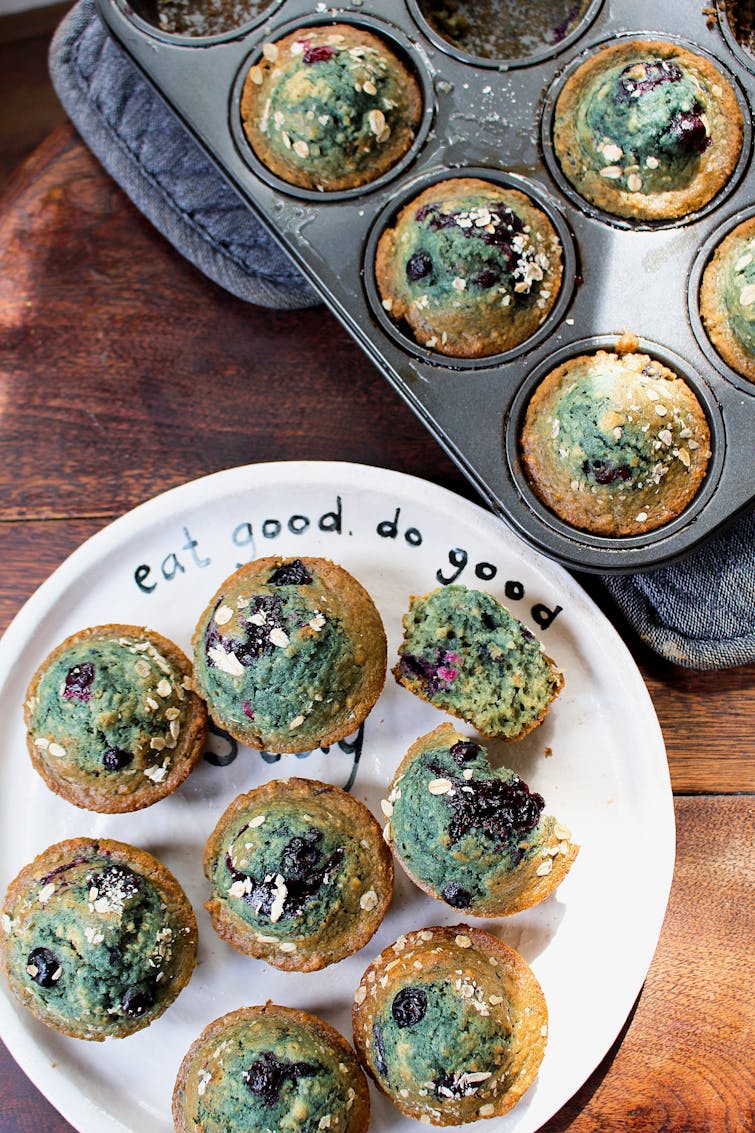 ---
How to store
Store in an airtight container, in the fridge, for up to 3 days, or in the freezer for up to 3 months.