Frozen Blueberry and Peanut Butter Cups
Try these little chocolate cups with a creamy peanut butter and and a fruity blueberry centre. The little cups are quick to make and kept in the freezer to enjoy whenever. The blueberries are kept whole and add a lovely juiciness and texture to the nutty peanut butter. Make a batch and get the kids involved!
Substitute:
No dark chocolate? Use any chocolate of your choice. White or milk chocolate will both work. 
No icing sugar? Try with 1 tbsp maple syrup, date syrup or honey instead. 
Prep time: 15 minutes
Cook time: 15 minutes
Total time: 30 minutes
Servings: 10
Ingredients:
20 Blueberries
200 g Dark chocolate
1 tsp Coconut oil
150 g Peanut butter (smooth)
1 tbsp Icing sugar
2 tbsp Ground almonds
1 tsp Vanilla paste
a pinch of Sea salt  (flakey)
10 Reusable cupcake liners
Recipe:
Make the first chocolate layer: Line a baking tray with reusable cupcake liners. Melt the chocolate and coconut oil in a bowl over bain marie (place the stainless steel bowl with chocolate over a large, shallow pan of warm water to melt without burning the chocolate) or in the microwave, until melted. Drop 1 tbsp of melted chocolate into each liner, then use the back of a spoon to brush the chocolate halfway up the sides of the liner. Place in the freezer for 10 minutes, until firm.
Make the blueberry layer: Meanwhile, mix the peanut butter, icing sugar, ground almonds and vanilla until smooth and creamy. Spoon 1 tbsp of peanut butter cream into each chocolate cup, and pop in 1-2 fresh blueberries. Freeze for another 10 minutes.
Make the last chocolate layer: Spoon over the rest of the melted chocolate, covering all the peanut butter cream. Sprinkle the tops with a little sea salt. Freeze until completely frozen, about 2 hours. Remove from the freezer, let sit for 2-3 minutes and eat.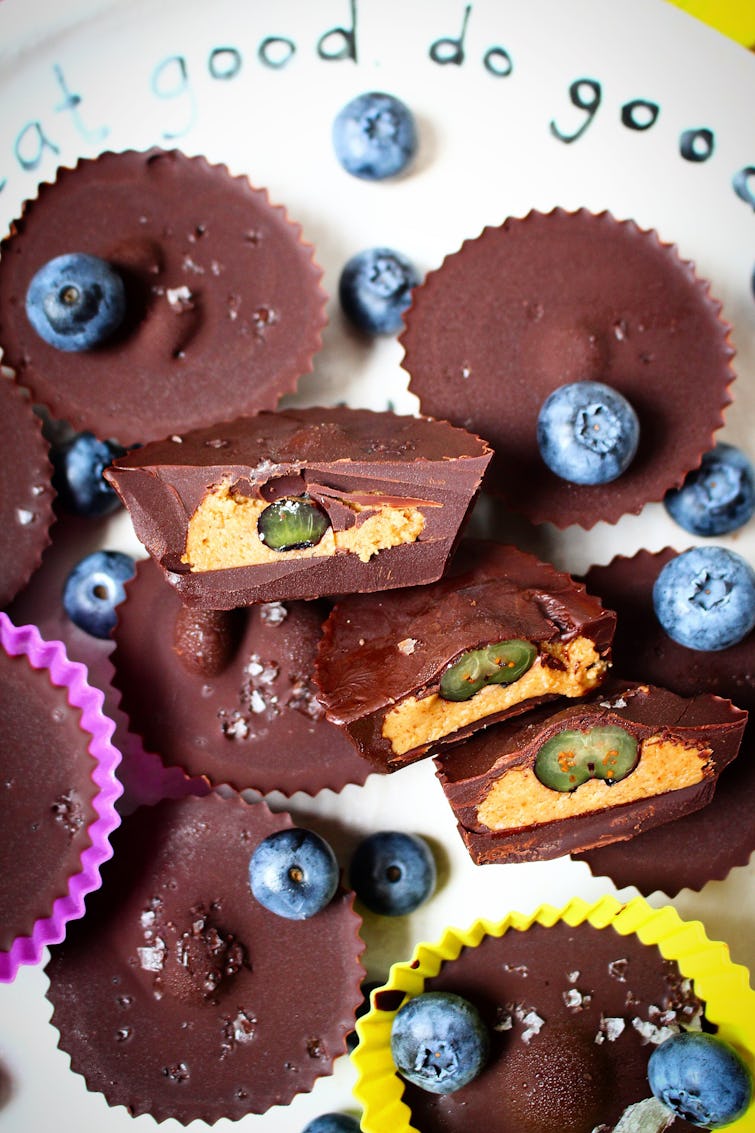 ---
How to store
Store your blueberry and peanut butter cups in the freezer for up to 3 months.
Leftovers
Serve your blueberry and peanut butter cups on their own as a sweet little snack, or as a dessert with a scoop of your favourite ice cream. In winter, these would be delicious served alongside a hot chocolate drink.