Flourless Chocolate and Apple Compote Cake
This butterless and flourless apple chocolate cake is perfect for a spring party and everything in between. It's sweet from the apple compote which is folded into the batter.
Substitute:
No apples? Use pears instead. 
No vanilla? Use 1 tsp of ground cinnamon instead. 
No olive oil? Use butter/vegan butter instead. 
Prep time: 20 minutes
Cook time: 40 minutes
Total time: 60 minutes
Servings: 6
Ingredients:
200 g Apples
1 tsp Vanilla extract
200 g Dark chocolate
80 ml Olive oil
4 Eggs
150 g Ground almonds
125 g Caster sugar
Recipe:
Chop the apples and place into a small pan. Add the vanilla and 50 ml of water. Cover the pan and cook over low heat until tender.
Add to the food processor and blend until smooth. Set aside to cool. 
Preheat the oven to 180 C/160 fan/4 gas mark. Place the chocolate and olive oil into a bowl and melt over a bain marie.
Separate the eggs. Place the egg whites into a large mixing bowl and the yolks into a small bowl.
Add the egg yolks, apple compote and ground almonds to the chocolate mixture. Mix until combined.
Whip the egg whites until soft peaks form, then add the sugar and whip to a stiff peak. 
Add the egg white in the chocolate bowl. Gently fold until combined.  
Pour the batter into a lined 20x20 cm cake tin and bake for 40 minutes. If using a larger cake tin, the cake will be thinner and will need 35 minutes to cook.
Remove from the oven, and let cool for at least 20 minutes. 
Enjoy!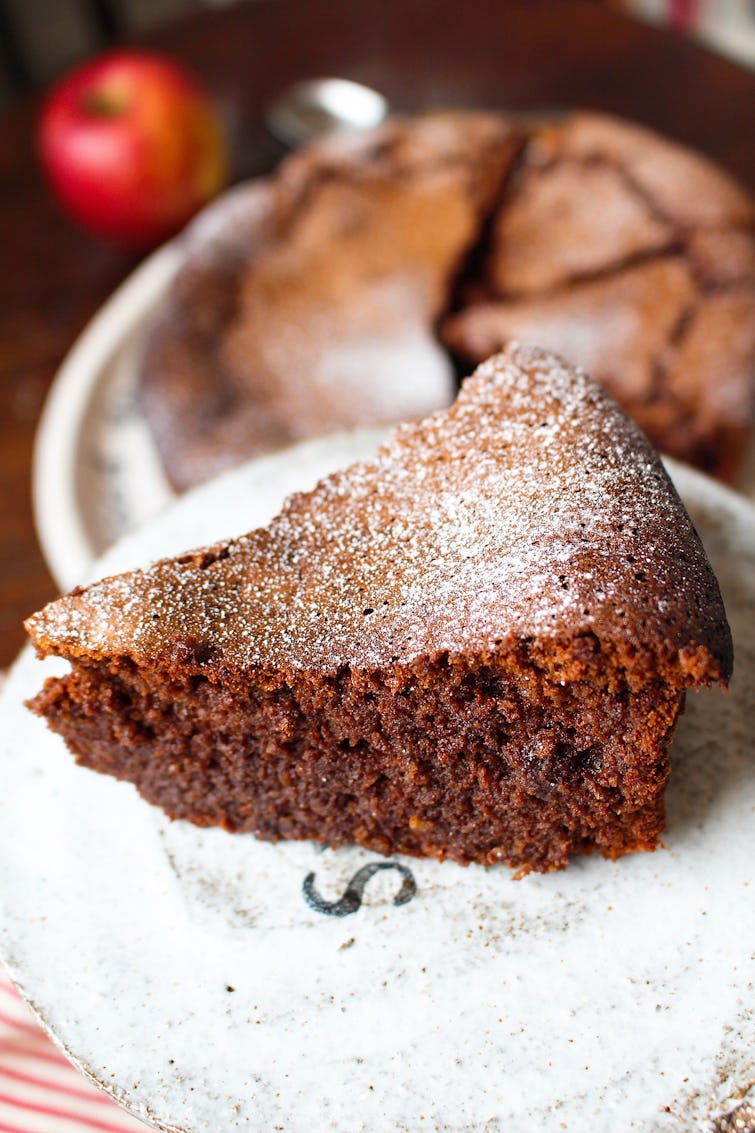 ---
How to store
Store in the fridge for up to 3 days. 
Leftovers
Serve with vanilla chantilly, or your favourite ice cream/vegan ice cream.