Fennel Pasta
A quick pasta recipe with simple ingredients that is packed with flavours! Make sure your fennel is chopped very small to get a creamier sauce consistency. 
Substitutes:
No fennel? You can use leeks, celery, mushrooms, or bok choy.  
No shallot? You can use white onion or red onion.
No spaghetti? Try this with any type of pasta, rice or even spiralized vegetable, like courgette. 
No chilli flakes? Fresh chilli will work too! Finely chop the chilli and add it to the pan, along with the fennel, shallot, and garlic. You can also swap the chilli flakes with smoked paprika, chilli powder, fennel seeds or cumin seeds. 
No parsley? If your fennel has leaves, use them instead of the parsley. You can also use any fresh herbs, like chives, or coriander. 
No parmesan/vegan alternative? To get that creamy consistency, add a dollop of butter/vegan butter instead. The fennel pasta is good without cheese too!
Prep time: 5 minutes
Cook time: 20 minutes
Total time: 25 minutes
Servings: 2
Ingredients:
1 Fennel
1 Shallot
3 Garlic cloves
200 g Spaghetti 
½ tsp chilli flakes
1 Lemon
½ Parsley (bunch, chopped)
2 tbsp Olive oil
Salt (to taste)
Black pepper (to taste)
Parmesan (grated. Use vegan if needed )
Recipe:
Cook the fennel sauce base: Finely chop the fennel, onion and garlic. Make sure to chop everything as small as possible - you can use a food processor for this step. Fry your vegetables in olive oil, over medium high heat for 10-15 minutes, along with the chilli flakes. Add the lemon juice and parsley. Cook for 5 minutes, and season to taste.
Cook the pasta: Meanwhile cook the spaghetti in boiling salted water, until al dente. Reserve some of the pasta cooking water.
Finish and serve:Add the al dente pasta directly into the pan with the fennel sauce, along with a couple of tablespoons of the reserved pasta water and the grated parmesan/vegan alternative. Toss well to coat and get a creamier texture.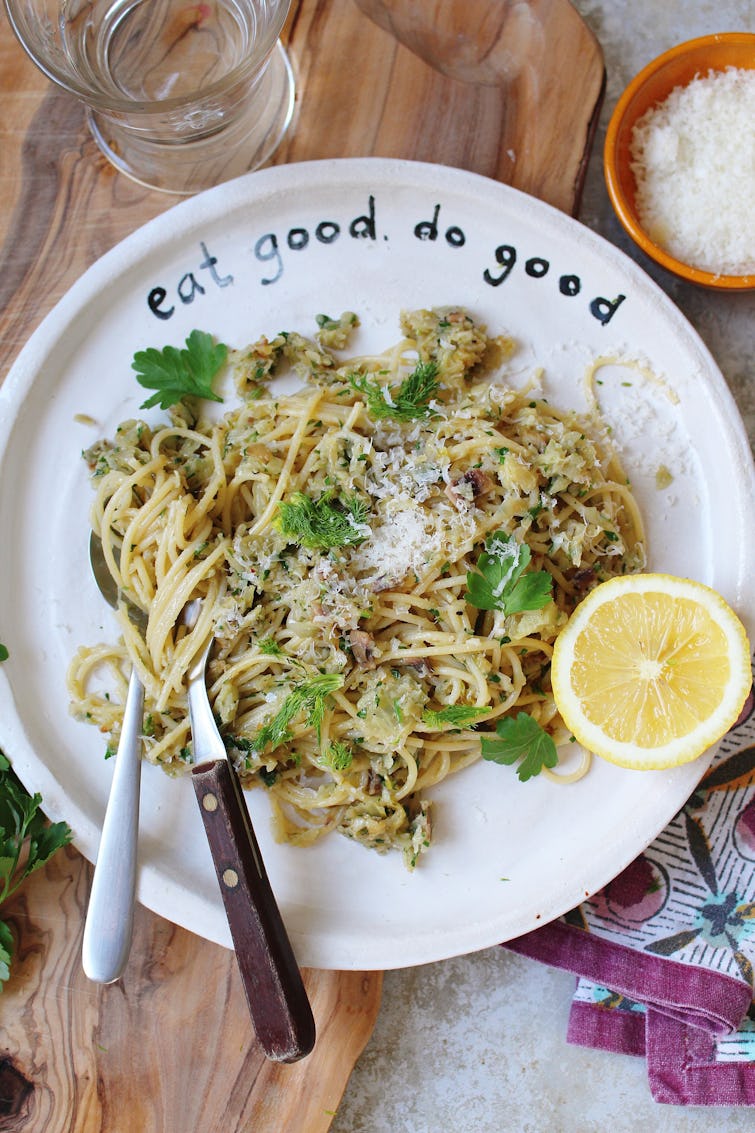 ---
How to store
If you are planning on storing your pasta dish, I recommend undercooking the pasta just a little. This way when reheated your pasta won't be over cooked.  Store your pasta dish in the fridge for up to 3 days. It is also freezer friendly; store in the freezer in an airtight container for up to 3 months. To reheat your pasta dish, heat up a few tablespoons of water in a frying pan and warm up your pasta.
Leftovers
The fennel spaghetti would be delicious chopped up and added to a soup recipe. Simply make your soup and add the pasta towards the end to prevent overcooking them.