Faux Carrot Bacon, Mushrooms and Creamed Kale Bagel
A bagel showcasing carrot sliced tossed in a sweet bbq sauce and baked until "bacon" like, pan fried mushrooms slices and creamed kale. Easy, fun and delicious!
Substitute:
No kale? Use cavolo nero or spinach instead. 
No mushrooms? Try with scrambled eggs/tofu instead. 
No paprika? Use cayenne pepper instead. 
Prep time: 10 minutes
Cook time: 10 minutes
Total time: 20 minutes
Servings: 2
Ingredients:
1 Carrot
30 g Kale
100 g Mushrooms (sliced)
2 Bagel
80 ml Milk of choice
2 tbsp Cream cheese / Vegan cream cheese
1 tbsp bbq sauce
1 tbsp Runny honey / Maple syrup
1 tsp Smoked paprika
Olive oil
Salt & pepper
Recipe:
Preheat the oven to 200 C/180 fan/6 gas mark. Rinse carrot (no need to peel) and slice, lengthwise, using a vegetable peeler.
In a small bowl, combine the BBQ sauce, honey/maple syrup and smoked paprika. Add the carrot and toss to coat.
Lay the carrot strips on an oven tray lined with baking paper and bake for 10 minutes.
Heat 1 tbsp olive oil in a frying pan over medium heat. Add sliced mushrooms and spread into one layer. Cook, without moving, until browned on one side, 2-3 minutes. Stir then cook for another 3 minutes or until mostly golden brown on all sides. Season to taste with salt and pepper.
Heat 1 tbsp of olive oil into a frying pan, and cook the kale for 5 minutes, until wilted. Add the milk and cook for 3 minutes, until creamy.
Cut the bagels in half and toast them.
Layer with the cream cheese, creamed kale, mushrooms and carrot faux bacon.
Slice in half and enjoy!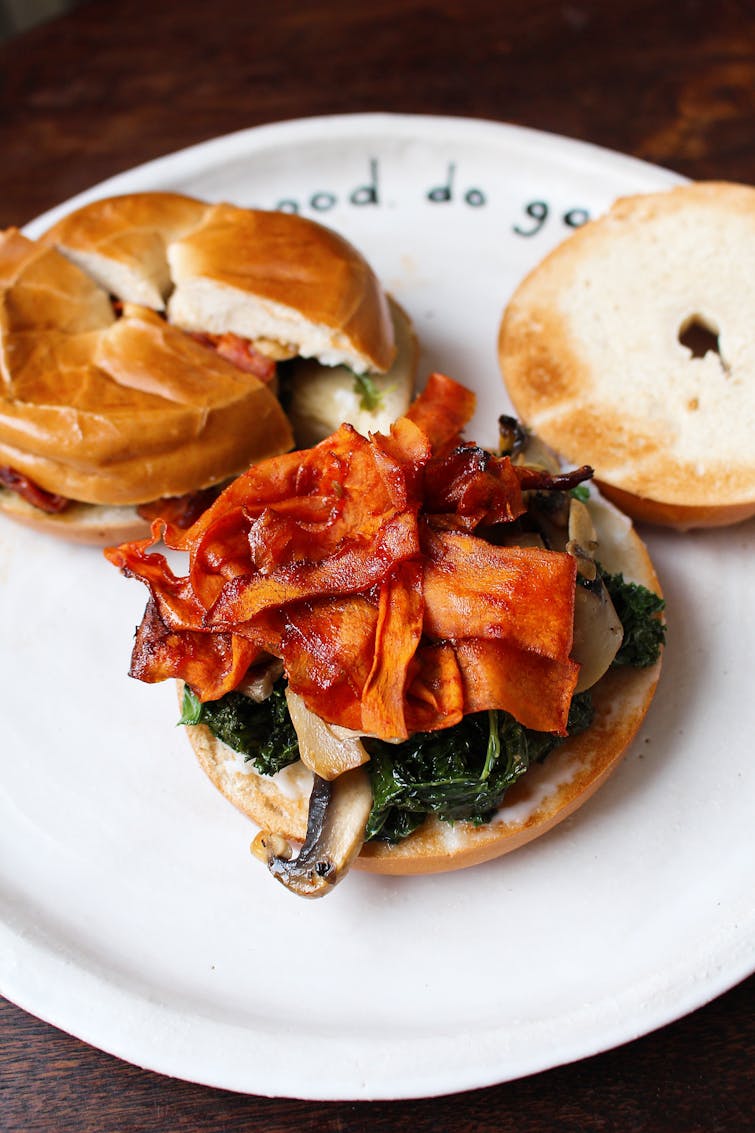 ---
How to store
Store in an airtight container, in the fridge for up to 3 days.
Leftovers
Serve alongside a simple lettuce or salad leaves side with a dijon mustard vinaigrette. For the vinaigrette combine 1 tsp dijon mustard, 1 tsp lemon juice, 1 chopped shallot, 4 tbsp extra virgin olive oil, salt and pepper. Pour over the chopped lettuce or salad leaves.