Date, Tahini & Oat Cookies
Packed full of natural sugar from the dates, these delicious cookies are chewy, nutty and utterly morish. Crunchy on the outside but still soft in the centre, you can whip these vegan treats up in less than 30 minutes.
You can always swap the tahini for your favourite nut butter, add chocolate chips or your favourite nuts.
They will keep for a few days in a sealed Tupperware or, once you have formed the cookie shapes, you can freeze and cook from frozen (just for a bit longer!)
From guest chef, Storm Ashdown @whatstormeats
Prep time: 10 minutes
Cook time: 10 minutes
Total time: 20 minutes
Servings: 12
Ingredients:
150 g Dates (100g chopped and 50g whole - stones removed)
150 g Oats
150 g Tahini (or replace with any nut butter)
80 g Maple syrup
20 g Desiccated coconut
Recipe:
Preheat oven at 180.
Take 50g of oats and blend to a rough flour in a food processor and set aside.
In a food processor, add 50g of whole dates, the tahini and maple syrup. Whizz in a processor until you have smooth dough-like mix. This will take about 1 minute or so.
Add the wet paste to a large bowl and add the remaining dry ingredients.
Chop the rest of the dates into small pieces and add to the mixture. Bring together by kneading the dough so all the oats and dates are eventually distributed.
Form into round cookie shapes about ½ cm thick - you can make them smaller, bigger, thicker or thinner - remember they won't spread out like a usual cookie so they will stay in their form. Place on a lined baking tray.
Bake in the oven for 10 mins, turning the tray half way, until they are golden. Enjoy fresh out of the oven!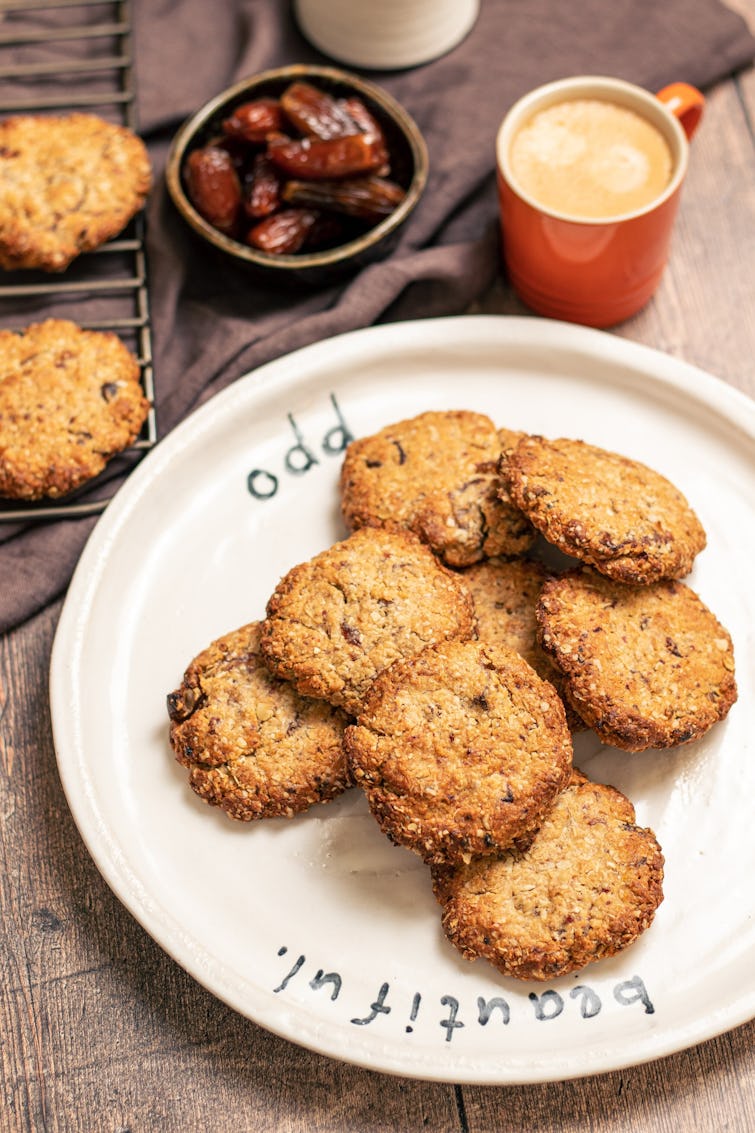 ---