Curried Spring Greens & Lentil Hand pies
A hand pie is a delicious meal to make ahead and take on the go. The spring greens are cooked with lentils, then stuffed into puff pastry and baked until golden. These little pies are delicious hot out of the oven or cold.
Substitute:
No spring greens? Try with leeks or cabbage instead. 
No courgette? Use grated carrots instead. 
No egg? Brush the puff pastry with milk of choice instead. 
No shallot? Try with onion instead.
Prep time: 15 minutes
Cook time: 30 minutes
Total time: 45 minutes
Servings: 4
Ingredients:
100 g Spring greens (roughly chopped )
70 g Courgettes (grated )
60 g Cooked puy lentils
1 Shallot (chopped )
3 Garlic cloves (grated )
1 tbsp Ginger paste
2 tbsp Olive oil
2 tbsp Mild curry paste
100 ml Water
Sea salt 
1 ready rolled puff pastry
1 Egg (for egg wash)
Recipe:
Place a large frying pan over medium heat. Add the olive oil, curry paste, ginger paste, shallot and garlic. Cook for 2-3 minutes, until fragrant then add the spring greens, courgette and lentils.
Mix well to coat all the ingredients with the curry base then pour the water in and cook for 15 minutes, or until all the water has evaporated. Season to taste with salt and pepper. Turn off the heat and set aside to cool. This step can be made up to 3 days in advance.
Preheat the oven to 180 C/160 fan/4 gas mark. Lightly beat the egg and set aside.
Unroll the ready-rolled puff pastry sheet. Cut the sheet into 8 rectangles. Spoon a heaped dessert spoon of spring green mixture on to one end of each pastry rectangle. Brush around the edges with egg wash and fold over each rectangle to cover the filling. Press the edges together with the end of a fork.
Place the pies on a baking tray. Brush with more egg wash and bake in the oven for 20-30 minutes, or until the pies are puffed and golden. Depending on your oven, you might need to turn the tray around two-thirds through the cooking time to get them perfectly golden on all sides.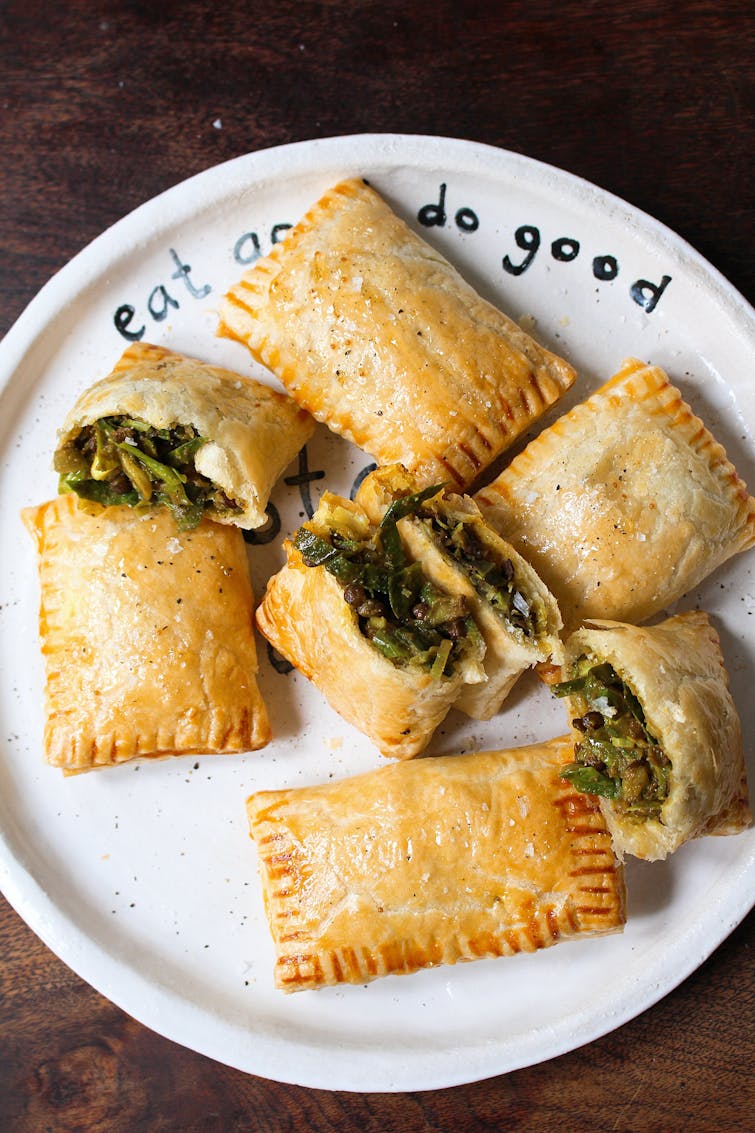 ---
How to store
Store in the fridge for up to 3 days or in the freezer for up to 1 month.