Curried Parsnip & Paneer Croquettes
This Indian inspired recipe makes a great dinner party dish. The parsnips are boiled, grated and mixed with grated paneer/tofu and spices. They are turned into croquettes and fried until crispy then served with spicy yoghurt or chutney.
Substitute:
No parsnips? Use potatoes or carrots instead. 
No garam masala? Try curry powder instead. 
No ginger paste? Use fresh ginger instead. 
No paneer? Try halloumi cheese or hard tofu instead. 
No mango chutney? Use chilli chutney, yoghurt or dip of choice.
Prep time: 20 minutes
Cook time: 30 minutes
Total time: 50 minutes
Servings: 2
Ingredients:
250 g Parsnips
180 g Potatoes
110 g Paneer (finely grated )
1 tsp Ground turmeric
1 tsp Garam masala
2 tsp Ginger paste
2 tbsp Coriander (chopped )
3 tsp Corn flour
Salt
Vegetable oil (for cooking )
For serving:
Mango chutney
Coriander leaves
Recipe:
Boil the whole parsnips and potatoes until tender, about 20 minutes.
Drain and grate the parsnips and potatoes.
Place the grated parsnips and potatoes in a large mixing bowl. Add the grated paneer, turmeric, garam masala, ginger paste, chopped coriander, cornflour and a generous pinch of salt.
Knead lightly to a dough-like consistency.
Heat about 200 ml of vegetable oil in a wok or frying pan. Divide the parsnip dough into equal portions of croquettes. 
Fry the croquettes for about 3-4 minutes, until crispy golden brown.
Spread the mango chutney on your serving plate, add fresh coriander leaves and top with the warm croquettes.
Enjoy!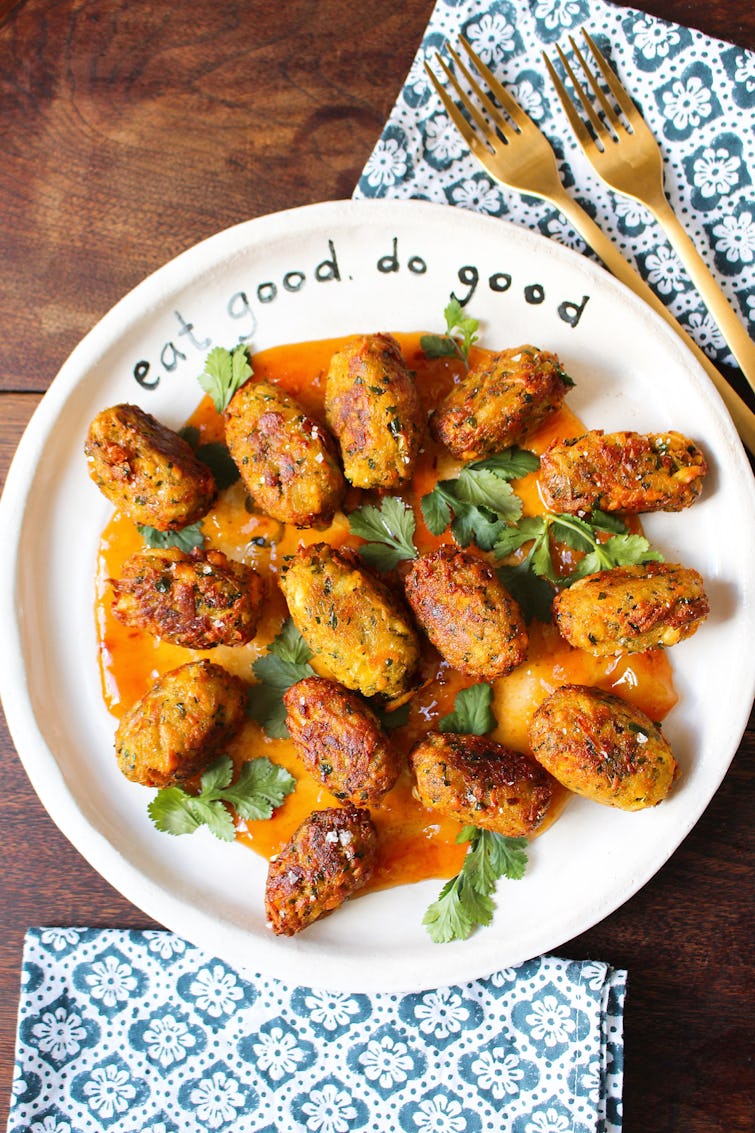 ---
How to store
Store in an airtight container, in the fridge for up to 3 days or in the freezer for 1 month. 
Leftovers
The parsnip croquettes are great served as a side or canapes. They will work well along any curry, stew or salad recipes.