Cucumber Carpaccio
Make the most of your cucumber with this summery recipe. The cucumber is thinly sliced into a carpaccio and served with toasted pine nuts, creamy burrata and balsamic dressing. 
Substitute:
No cucumber? Try with tomatoes.
No burrata? Use feta or goat cheese instead. 
No pine nuts? Try with pumpkin seeds, sunflower seeds or walnuts. 
Vegan? Use any creamy vegan cheese alternative
Prep time: 10 minutes
Cook time: 5 minutes
Total time: 15 minutes
Servings: 2
Ingredients:
1 Cucumber
1 Burrata / Vegan cheese
2 tbsp Pine nuts
2 tbsp Olive oil
1 tsp Balsamic vinegar
Honey
Basil leaves
Salt & pepper
Recipe:
Chop the cucumber: Use a mandolin or sharp knife to thinly slice the cucumber with the skin on. Arrange the cucumber slices on a plate, along with the burrata. 
Make the dressing: In a bowl, combine the honey, balsamic vinegar, olive oil, salt and pepper. 
Toast the pine nuts: Place the nuts in a dry frying pan (no oil) over medium heat. Heat, shaking the pan and stirring often with a wooden spoon, until the nuts are fragrant and golden brown, about 3 minutes. 
Dress the carpaccio: Torn the burrata and place all over the cucumber slices. Drizzle with the balsamic dressing. Sprinkle with the toasted pine nuts. Add a few leaves of fresh basil. Eat immediately.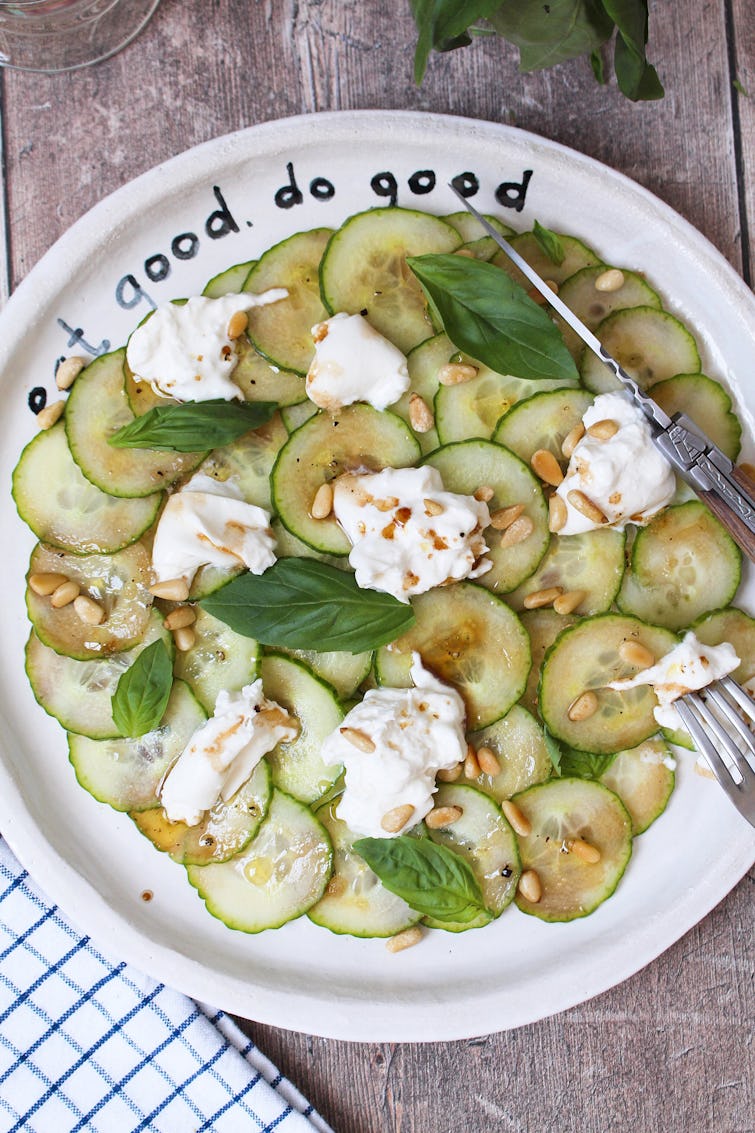 ---
How to store
Store your freshly cut cucumber in ice water in the fridge until ready to use.  Store the dressing in the fridge for up to 7 days.  Store your toasted pine nuts in an airtight container at room temperature.
Leftovers
Add any leftover carpaccio in a bowl along with mixed leaves or lettuce. Toss well to combine and eat.