Croissants Filled with Blueberry Compote
Golden croissants split in half and filled with a warm and saucy blueberry compote. The leftover compote can be used on porridge, pancakes or yoghurt/vegan yoghurt. 
Substitute:
No blueberries? Use strawberries, raspberries, peaches, plums or nectarines.
No icing sugar? Use any sweetener of your choice. 
No cream cheese? Try with whipped ricotta/vegan ricotta instead. 
No maple syrup? Use honey or golden syrup instead. 
Prep time: 10 minutes
Cook time: 10 minutes
Total time: 20 minutes
Servings: 2
Ingredients:
150 g Blueberries
4 Croissants / Vegan croissants
1 tbsp Icing sugar
1 tsp Cornflour
1 tsp Vanilla extract
50 g Cream cheese / Vegan cream cheese
Maple syrup
Recipe:
Put blueberries in a pan with the icing sugar, corn flour, vanilla and 2 tbsp of water.
Heat gently over low to medium heat until saucy, about 6-8 minutes.
Turn off the heat and set aside. The compote will slightly thicken as it cools down.  
Split your croissants and lightly toast the halves.
In a mixing bowl, combine the cream cheese/vegan cream cheese and 1 tbsp maple syrup.
Spread the cream cheese on the croissant bases, drizzle over the blueberry compote and put on the croissant tops. 
Serve warm with a drizzle of maple syrup on top.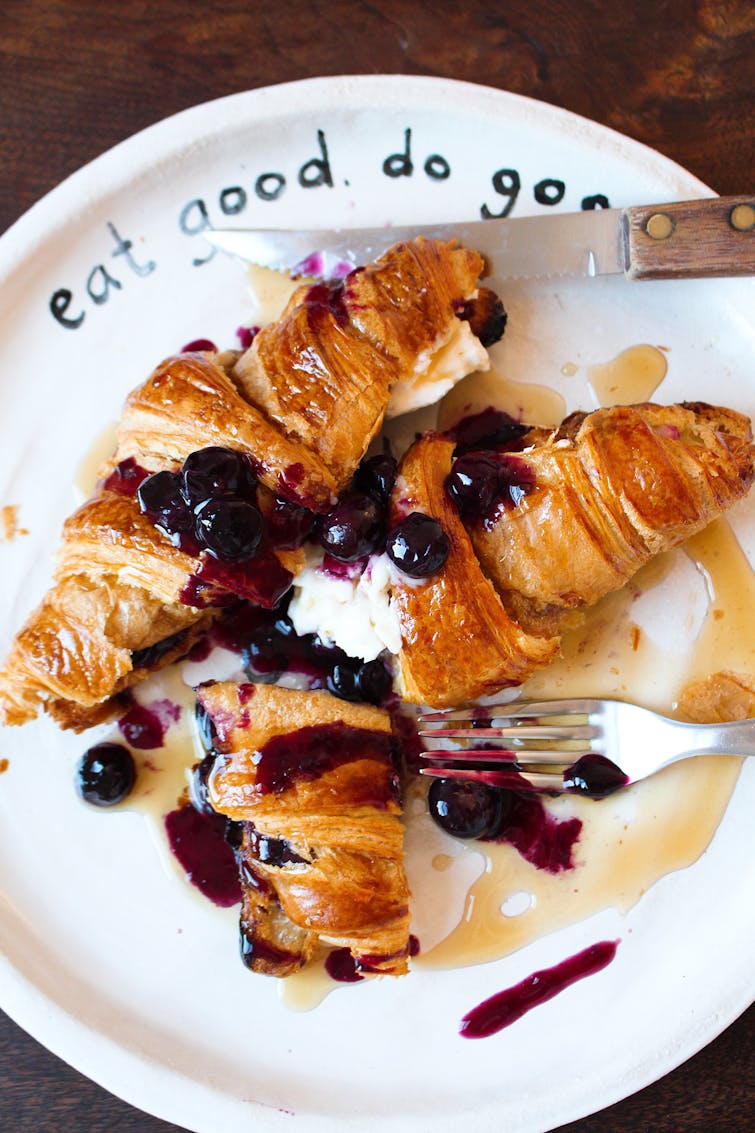 ---
How to store
Store the blueberry compote in an airtight container in the fridge for up to 3 days or in the freezer for up to 1 month. 
Leftovers
The blueberry compote is delicious served on toast, on pancakes, or in porridge and yoghurt/vegan yoghurt. It would also make a great addition to vanilla or citrus cake recipes - swirl some of the compote in the cake batter or top on the already cooked cake.