Crispy Potato Chips with Lemon Whipped Feta
The potato chips are roasted with lemon, garlic, and oregano. Then served over a bed of lemon charred and roasted garlic whipped feta. Perfect side dish or as a sharing platter.
Substitute:
No lemon? Use lime instead.
No oregano? Try with thyme or rosemary instead. 
No feta? Use fresh goat cheese instead.
Prep time: 10 minutes
Cook time: 30 minutes
Total time: 40 minutes
Servings: 2
Ingredients:
800 g Potatoes
1 Lemon (quartered )
2 Garlic cloves (smashed )
2 tbsp Oregano
70 ml Olive oil
Salt & pepper
200 g Feta (or vegan feta)
For serving (optional):
a pinch of Chilli flakes
a pinch of Smoked paprika
Recipe:
Preheat the oven to 200 C/180c fan/6 gas mark. In a bowl, combine the lemon wedges, garlic cloves, oregano and olive oil.
Cut the potatoes in wedges and place into a large mixing bowl. Pour over the oregano oil, generously season with salt and pepper and toss well to coat.
Spread on a large baking tray and roast for 20 minutes, or until tender, then remove the charred lemon and garlic from the baking tray and return the potatoes to the oven for another 15-20 minutes, or until golden brown and crispy.
In a bowl juice the charred lemon wedges and remove the garlic peel.
Add the lemon and garlic to a food processor along with the feta. Add a splash of water and blend until smooth and creamy. If desired, thin with additional lemon juice or a splash of water.
Swirl the whipped feta onto a serving plate, then arrange the potatoes over the feta. Sprinkle everything with smoked paprika, chilli flakes, and a little sea salt. Enjoy!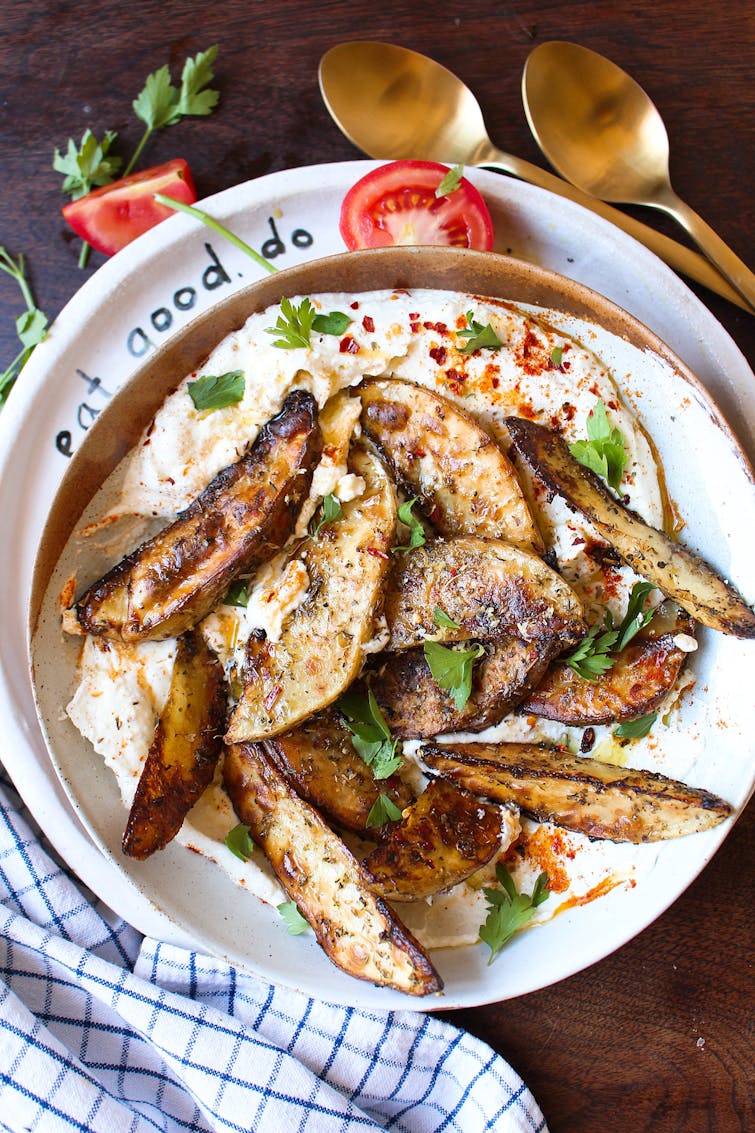 ---
How to store
Store in an airtight container, in the fridge for up to 3 days. Eat cold or reheat the potatoes in the oven to crisp up.
Leftovers
Make a potato puree: mash the potatoes and whipped feta into the most decadent puree.