Crispy Leek Pakoras w/ Coconut Herb Chutney
The beauty of these pakoras is that they can pretty much be made with any of your favourite veggies – they are so crispy, fluffy and delicious. Leeks work wonderfully, as when they cook, they turn lovely and sweet. You can swap them out for grated squash, cauliflower, spinach or potatoes.
Made too many? These freeze really well - lie on a baking tray and place in the freezer for 15 mins before popping in a reusable bag. To reheat, simply heat in the oven for 15-20 minutes until crispy. This recipe yields approx. 20 pakoras.
Storm Ashdown @whatstormeats
Prep time: 15 minutes
Cook time: 15 minutes
Total time: 30 minutes
Servings: 6
Ingredients:
Pakoras
2 Leeks
1 Onion (sliced)
30 g Coriander
30 g Ginger
2 Garlic cloves
250 g Gram (chickpea) flour (just use plain if you can't get hold of it!)
100 g Plain flour
1 tsp Garam masala
1 tsp Ground cumin
1 tsp Ground turmeric
Salt
½ Red chilli
250 ml Water (approx.)
Coconut herb chutney
100 g Yoghurt (of choice)
20 g coconut cream
20 Mint
20 g Coriander
1 Garlic clove
1 small Chilli
10 ml Lemon juice
10 ml Olive oil
Salt
Recipe:
Thinly slice the entirety of the leeks into rounds. Then thinly slice your onions, garlic, ginger and chilli.
In a large mixing bowl, add both the flours, spices, salt and mix in enough water for it to be a thick batter. Whisk vigorously to get rid of any lumps and to form a light airy batter. 
Add in the chopped veggies and torn fresh coriander, and mix until all incorporated.
In a shallow pan, add about an inch worth of neutral oil (such as rapeseed) and heat until it reaches 180 degrees.
Spoon the mixture into the oil in batches, flipping ensuring that both sides are golden and cooked through. Pop in the oven on a low heat to keep warm.
In a bowl, add the herbs, ginger, garlic, chilli, lemon juice and olive oil – and blitz. Add yoghurt and the coconut cream. Mix well and season.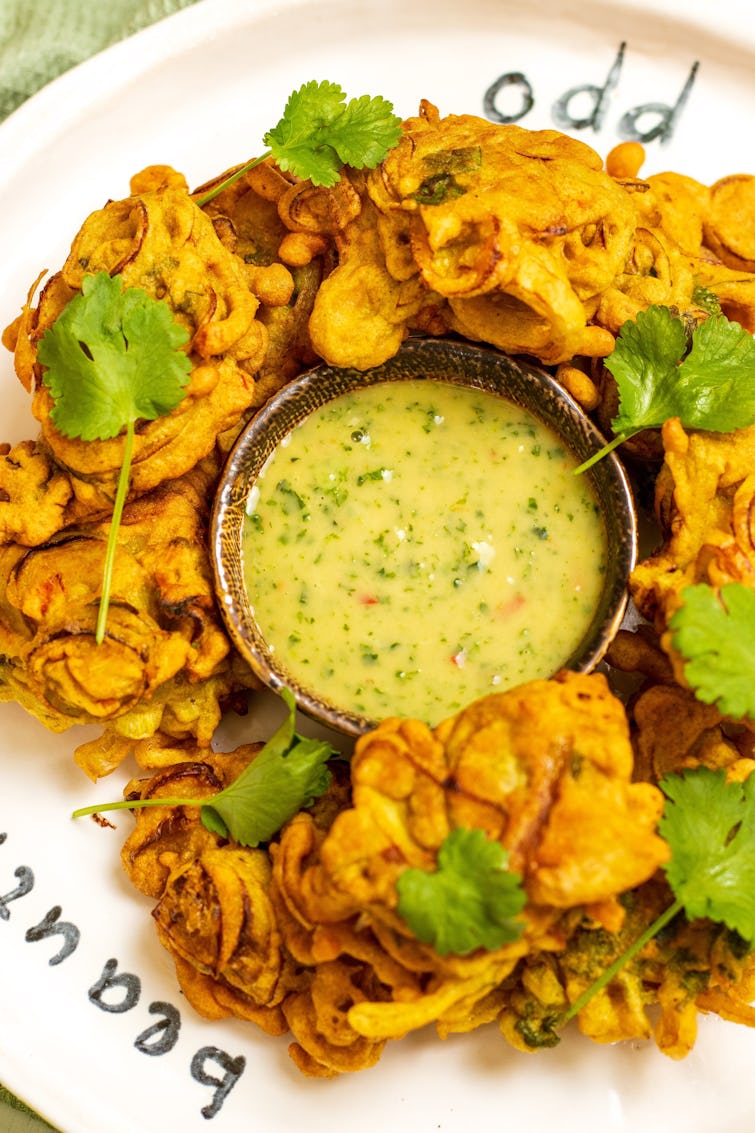 ---