Crispy Cheesy Potato Stacks
Thinly sliced potato stacks flavoured with festive herbs, grated cheese and garlic then baked in a muffin tin until crisp and golden. 
Substitute:
No potatoes? Try with sweet potatoes instead. 
No pecorino? Use grated parmesan instead. 
No sage? Use rosemary or oregano instead. 
Vegan? Use vegan cheese and vegan salted butter instead. 
Prep time: 10 minutes
Cook time: 40 minutes
Total time: 50 minutes
Servings: 2
Ingredients:
10 Small potatoes
2 tbsp Pecorino cheese
8 Sage leaves (chopped)
2 tbsp Salted butter / Vegan butter
Salt & pepper
Olive oil
Recipe:
Preheat the oven to 190 C/170 fan/5 gas mark. Lightly grease a muffin tin with olive oil. Use a mandoline or sharp knife to thinly slice the potatoes. 
In a large bowl, combine the melted butter, chopped sage, grated cheese, salt and pepper. Add the potato slices and toss well to coat. 
Layer the potatoes evenly in the prepared muffin tin, stacking the layers all the way to the top. Transfer to the oven, and roast for 30-40 minutes, until tender and golden.
Serve immediately, alone or with your favourite dipping sauce like pesto.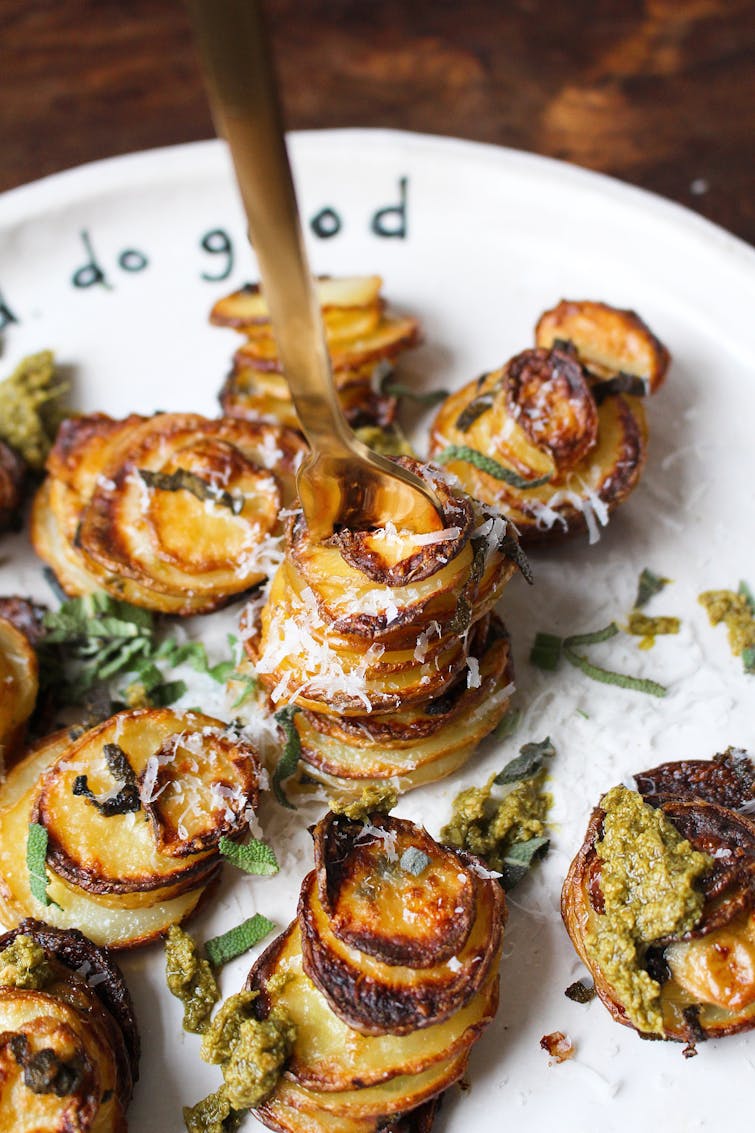 ---
How to store
Store in an airtight container in the fridge for up to 3 days. To reheat, bake in the preheated oven at 180 C/160 fan/4 gas mark, for 5 minutes. 
Leftovers
The leftover potato stacks can be served alongside one of our soup or salad.