Crispy Aubergine Bites with Spicy Miso Sauce
A Japanese inspired dish with easy to find ingredients. The aubergine is cut into little nuggets, dredged in flour, eggs/plant based milk and panko breadcrumbs then fry until golden brown. They are served with a sweet and spicy miso sauce. 
Substitute:
No eggs? Use milk of choice instead. 
Prep time: 15 minutes
Cook time: 10 minutes
Total time: 25 minutes
Servings: 2
Ingredients:
1 Aubergine
100 g Plain flour
1 tsp Fine salt
2 Eggs
70 g Panko breadcrumbs
500 ml Vegetable oil
For the sauce:
1 tbsp Miso paste
2 tsp Mirin
1 tbsp Maple syrup
2 tsp Rice vinegar
1 tbsp sriracha
For serving:
4 Spring onions (chopped )
1 tbsp Sesame seeds
Recipe:
Pour the vegetable oil in a large saucepan. Place the saucepan over a medium heat.
Cut the aubergine in half lengthwise and then into small chunks. 
In a bowl combine the flour and salt. Dredge the aubergine chunks into the flour, then into the egg wash and finally into the breadcrumb.
In a small mixing bowl, combine all the sauce ingredients. 
Deep fry the aubergine chunks into the hot oil until golden brown. 
Serve alongside the sauce. Top with the chopped spring onions and sesame seeds.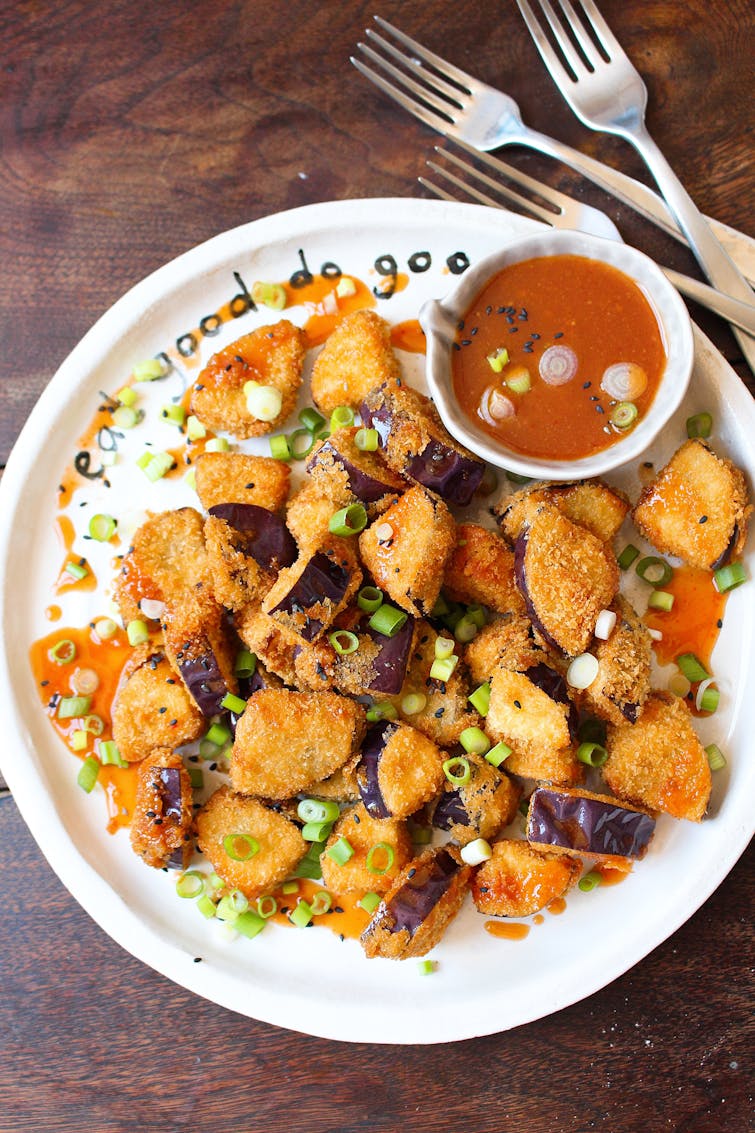 ---
How to store
Store in the fridge for up to 3 days. To get them extra crispy again, reheat in the oven for 10 minutes.