Creamy Sweet Potato Spaghetti with Roasted Veg
This delicious recipe is brought to you by our friend Helen at The Big Wide World and Me. Cooking from humble kitchen, Helen's passionate about cutting food waste & creating simple yet yummy recipes for everyone to indulge in! Check out her blog and Instagram (@thebigwideworldandme) to see more.
Prep time: 20 minutes
Cook time: 45 minutes
Total time: 65 minutes
Servings: 4
Ingredients:
Sweet Potato Sauce
4 medium Sweet potatoes (around 700g, peeled and chopped into chunks)
75 g Cashews (soaked overnight (or boiled for 15 minutes) and then drained)
10 g Nutritional yeast (or cheese)
½ tsp Salt
375 ml Milk of choice
Pasta and Veg
300 g Spaghetti  (or whichever gluten-free or non gluten-free pasta you like or need)
200 g Spinach (1 bag)
250 g Mushrooms (halved or quartered if large)
450 g tinned plum tomatoes
Olive oil
Salt & pepper
Recipe:
Preheat the oven to 180C.
Place the mushrooms and tomatoes on a baking tray. Drizzle with oil, season with salt and pepper and roast for 20-25 minutes until the tomatoes are collapsing and the mushrooms are well browned.
Meanwhile, place the sweet potato chunks in a steamer and cook for 15 minutes until soft and falling apart.
Cook the pasta to your liking and set aside when drained.
When the sweet potato is ready, place in a blender with the remaining sauce ingredients and blend until thick and smooth.
Place the spinach in the bottom a large saucepan, then add the pasta and lastly, the sweet potato sauce. Stir until well-combined. The spinach should wilt from the heat of the pasta and sauce but you can also warm it on a low heat if needed.
Add the mushrooms and tomatoes to the pasta and serve. I also like to add chilli flakes sometimes for a bit of kick!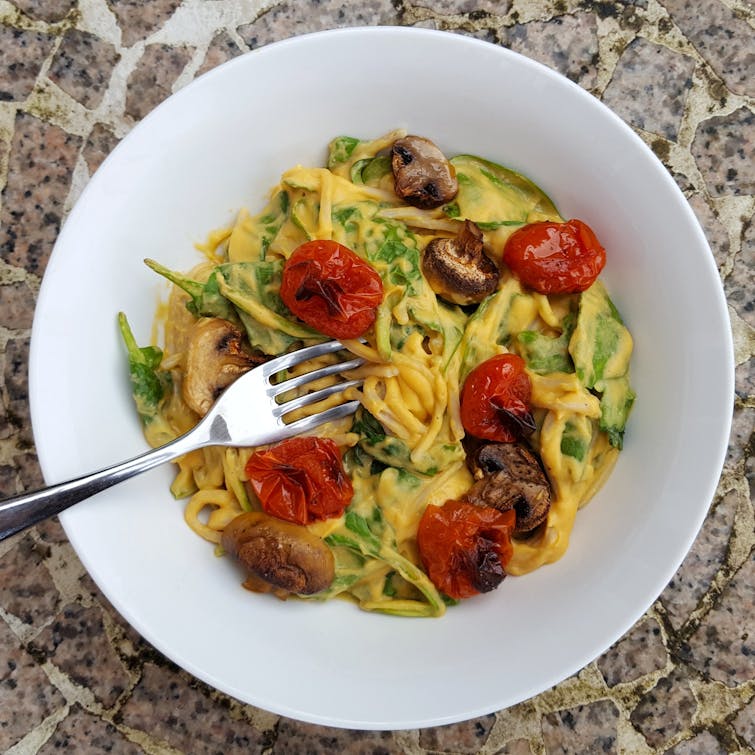 ---