Creamy Onion and Pecan Pasta Sauce
Pasta served with a creamy caramelised onion sauce, sage and crunchy pecans.
Substitute:
No onions? Try with shallots instead.
Prep time: 10 minutes
Cook time: 20 minutes
Total time: 30 minutes
Servings: 0
Ingredients:
300 g Onions
9 Sage leaves
30 g Pecan nuts
200 g Short pasta
2 tbsp Unsalted butter / Vegan butter
2 tbsp Olive oil
1 tbsp Balsamic vinegar
Salt & pepper
Recipe:
Prepare your ingredients. Finely slice the onions and cook the pasta in boiling salted water, until al dente. Reserve some of the pasta water. 
Heat the olive oil and butter in a large frying pan. Cook the onions, sage leaves and pecans for 15 minutes, or until soft and caramelised. Add the balsamic vinegar and cook for a few minutes. 
Tip the pasta into the onion mixture, add a splash of the pasta water, and toss well.
Season to taste with salt and pepper.
Divide between plates and enjoy!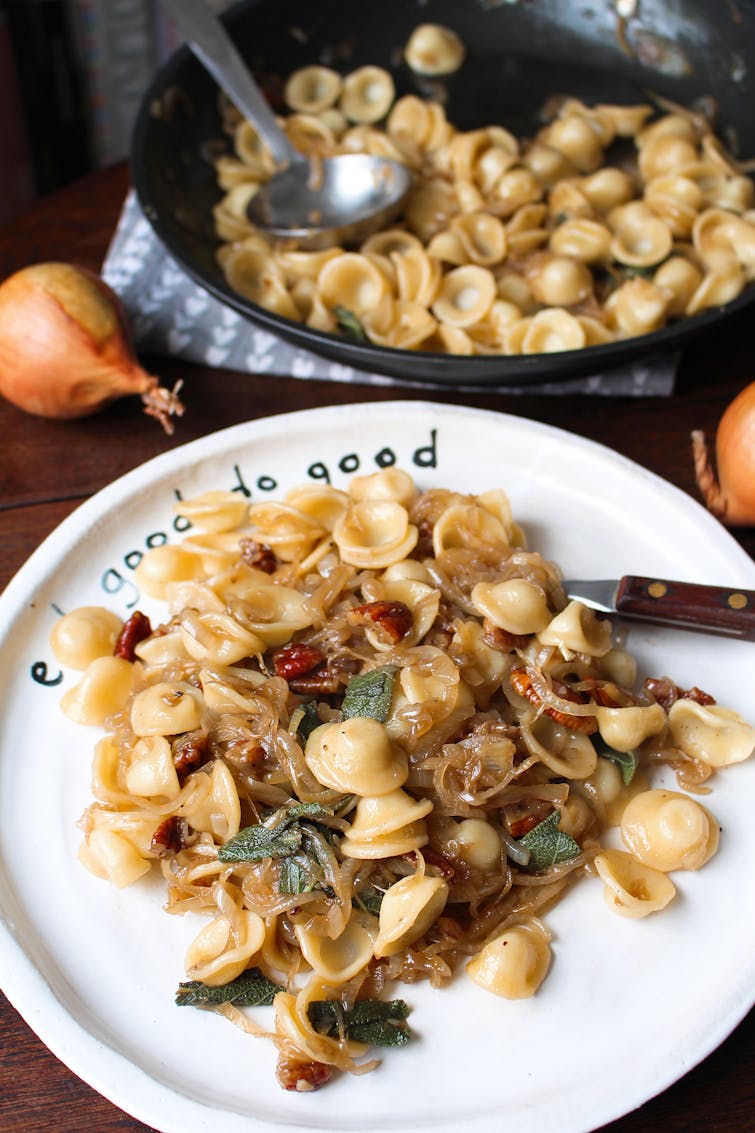 ---
How to store
Store in an airtight container for up to 3 days, and in the freezer for up to 1 month.
Leftovers
Try pasta gratin with the leftovers! Add the pasta and onion sauce to a baking dish. Cover with grated cheese and bake until golden.