Creamy Leek Pasta
Creamy leek fondue makes the best pasta sauce. Try this quick recipe packed with flavours. 
Substitute:
No leeks? Try with thinly sliced mushrooms, or onions.
No butter/vegan butter? Use olive oil instead. 
No white wine? You can substitute the white wine with a little vegetable stock. 
No lemon? Try with lime. 
No creme fraiche/vegan creme fraiche? For this recipe the oat cream is a good choice. Alternatively you can use natural yoghurt/vegan yoghurt. 
No whole grain mustard? Use any mustard. 
No parmesan/vegan parmesan? Use any cheese you have on hand. 
No spaghetti? Make this recipe with any pasta you like. Tagliatelle is a good option. 
Prep time: 5 minutes
Cook time: 20 minutes
Total time: 25 minutes
Servings: 2
Ingredients:
2 Leeks
1 tbsp Butter / Vegan butter
1 white wine (small glass - optional)
1 Lemon (juice and zest)
100 g Creme fraiche / vegan creme fraiche
1 tsp whole grain mustard
Parmesan / vegan parmesan
200 g Spaghetti 
Salt & pepper
Recipe:
Make the leek fondue: Slice the leeks very thinly. Rinse under cold water to get rid of any dirt. Add the butter/vegan butter to a large pan. When melted and hot, add the leeks. Season and cook over medium heat for 5 minutes, until tender. Deglaze with the white wine, add the creme fraiche/vegan creme fraiche and the mustard. Cook for 10 minutes, or until the liquid has reduced and you have a creamy leek fondue.
Cook the spaghetti: While the leeks are cooking, cook the pasta in boiling salted water until al dente. Reserve a little pasta water, and drain.
Finish the leek pasta: Add the drained pasta to the pan with the leek fondue. Add a few tablespoons of pasta water, the grated parmesan/vegan parmesan and toss well to coat. Turn off the heat, add the lemon juice and zest, and season to taste. Serve nice and hot.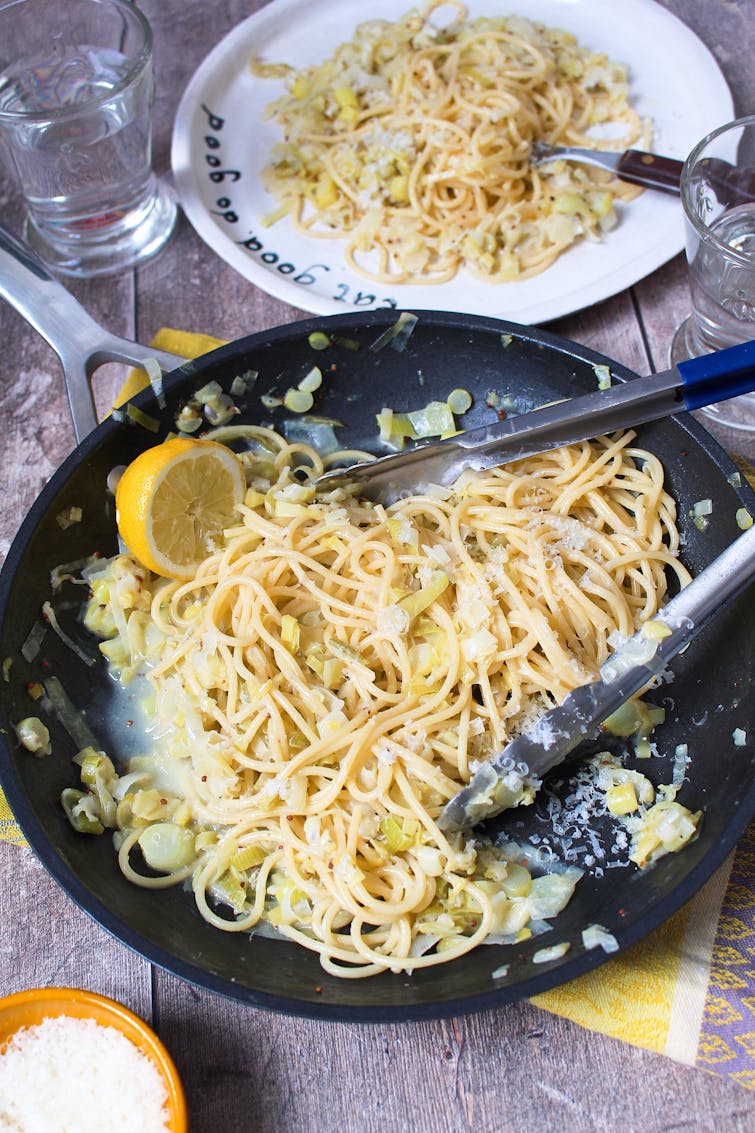 ---
How to store
How to store: Store your leek pasta in the fridge for up to 3 days, and in the freezer for up to 3 months. Warm up in a pan before serving. 
Leftovers
Leftovers: Use your leftovers to make spaghetti bake, or frittata. For the bake, add your leek pasta to a greased baking dish and cover with a white sauce. Bake until golden. For the frittata, chop up the leek spaghetti and mix with eggs and fresh herbs. Pour into a baking dish and roast until cooked through.