Creamy Kalette & Goats Cheese Risotto
"The perfect bowl of comfort food! This risotto combines the beautiful kalettes with creamy goats cheese, fresh lemon and basil. The kalettes are wonderful: a cross between a Brussels sprout and kale but they have double the amount of vitamin B6 and vitamin C than a normal sprout! Leftovers? Make arancini!"
Prep time: 5 minutes
Cook time: 30 minutes
Total time: 35 minutes
Servings: 2
Ingredients:
200 g Kalettes (100g shredded and 100g halved)
1 Onion (diced)
150 Arborio rice
50 g Salted butter
50 ml Olive oil
75 g Goats cheese (soft)
25 g Italian cheese (hard)
10 g Basil leaves
Lemon (Zest and juice of half a lemon )
1 Vegetable stock (or cube dissolved in approx. 1 litre of hot water)
Recipe:
Shred half your kalettes, stalks and all and then halve the rest. In a pan, add a splash of olive oil and pan fry the kalette halves for a minute or so and then set aside.
Dice your onion and then add half of the butter to the pan with 20mls of olive oil. Cook the onions on a low heat until translucent. Add the risotto rice to your pan ensuring that each grain is coated in the butter/oil/onions. Add in the zest of half a lemon and then start to pour in your stock gradually. You want to add approx. 150mls at a time, adding the next once the rice has absorbed the stock. This might take 20 minutes or so – just keep stirring. One the rice has cooked (but still has a bit of bite!), add the shredded kalettes and stir through. Add most of your crumbled goats cheese, the lemon juice, grated hard cheese and the roughly chopped fresh basil. Season to taste.
Reheat your halved kalettes, and once you have plated the risotto, pop on top with a drizzle of good quality olive oil and the last of the crumbled goats cheese.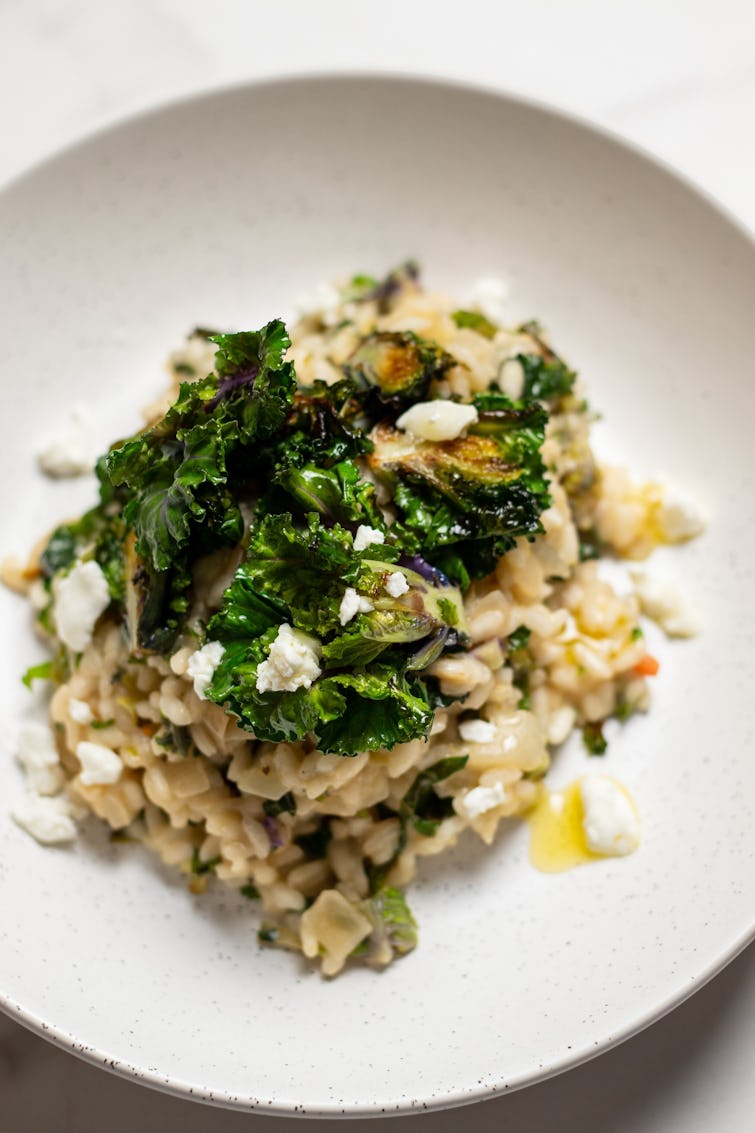 ---