Creamy Carrot Miso Pasta
The carrots are cooked with onion, garlic and miso paste until tender, then placed in a food processor and blended until creamy and smooth. Served with al dente pasta and crunchy parsley breadcrumbs.
Substitute:
No carrots? Try with parsnips instead. 
No onion? Use shallot instead. 
No parsley? If you have carrot tops, then use them instead of parsley. Otherwise, you can use coriander. 
No farfalle pasta? Use your favourite pasta instead. 
Prep time: 10 minutes
Cook time: 20 minutes
Total time: 30 minutes
Servings: 2
Ingredients:
For the Sauce:
3 Carrots
½ Onion (chopped)
3 Garlic cloves (chopped)
1 tbsp White miso paste
1 tbsp Olive oil
For the topping:
a bunch of Parsley (1/3)
5 tbsp Panko breadcrumbs
Black pepper
For the pasta:
200 g Farfalle pasta
Recipe:
Make the sauce: Heat the olive oil in a medium saucepan, over medium heat. Cook the carrots, onion and garlic for 5 minutes, until softer. Add the miso paste, 300 ml of water and a little black pepper. Bring to a boil, cover the pan, lower the heat and simmer gently until carrots are fork-tender, about 15 minutes.
Cook the pasta: In the meantime cook the pasta, in boiling salted water until al dente. Reserve 2 tbsp of pasta water, then drain and set aside. 
Make the topping: Heat up 1 tsp of olive oil in a frying pan, and add the breadcrumbs. Fry until golden, turn off the heat and stir in the chopped parsley. 
Blend the sauce: Place the carrot mixture in a food processor, along with the reserved pasta water and blend until creamy and smooth. Pour over the pasta, mix well to coat and serve with the parsley breadcrumbs.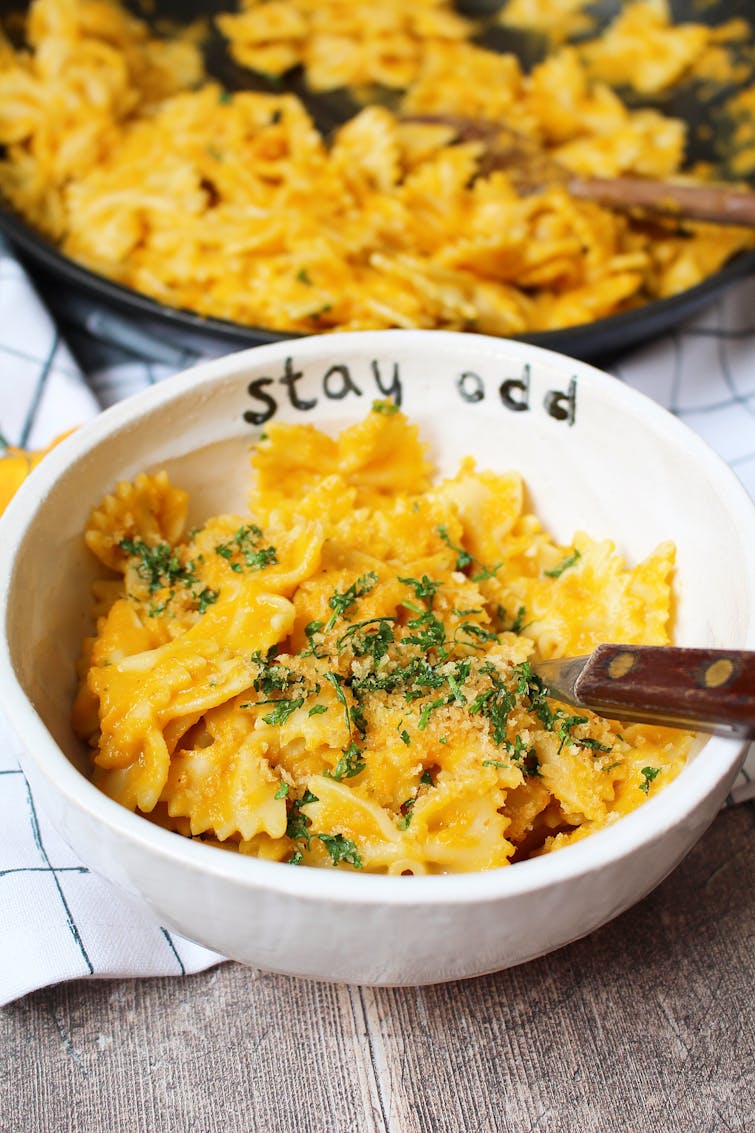 ---
How to store
Store in an airtight container, in the fridge for up to 5 days. Freeze for up to 3 months. The carrot miso sauce can be made in advance, stored in the freezer and used as needed. 
Leftovers
Make a pasta gratin: Add the leftover carrot miso pasta sauce into a baking dish. Cover with grated cheese/vegan cheese, and bake at 180C/160 fan/4 gas mark, until golden.