Creamy Aubergine Dip
The aubergine is sliced and roasted skin-on until tender and lightly charred, then blended until smooth and served with warm pitta bread. 
Substitute:
No lemon? Use lime instead. 
No garlic? Try with 1 tsp of garlic powder instead. 
No parsley? Use any other fresh herbs you have on hand. 
No pitta bread? Regular toasted sourdough bread or any other bread would work too! Otherwise, serve with crudites from your box; try with carrots, celery and peppers cut in batons.
Prep time: 10 minutes
Cook time: 30 minutes
Total time: 40 minutes
Servings: 2
Ingredients:
1 Aubergine
2 Garlic cloves (chopped)
2 tbsp Tahini
2 tbsp Olive oil
2 tbsp Lemon juice
Salt & pepper
To serve:
Pitta bread
Parsley
Recipe:
Preheat the oven to 180 C/16 fan/4 gas mark. Measure your ingredients.
Cut the aubergine skin-on, into 1 cm thick slices.
Place the aubergine slices into one layer on a baking tray. Drizzle with the olive oil, and season with the chopped garlic, salt and pepper. 
Roast for 30-35 minutes, until the aubergine is soft and lightly charred, and the garlic golden but not burned.
Place the aubergine slices and garlic into a food processor, along with the tahini, and lemon juice. Blend until smooth. Taste and adjust the seasoning as needed. Depending on your aubergine size you might need a little more lemon juice, tahini and seasonings.
Place in a dish and sprinkle with fresh parsley. Serve with warm pitta bread.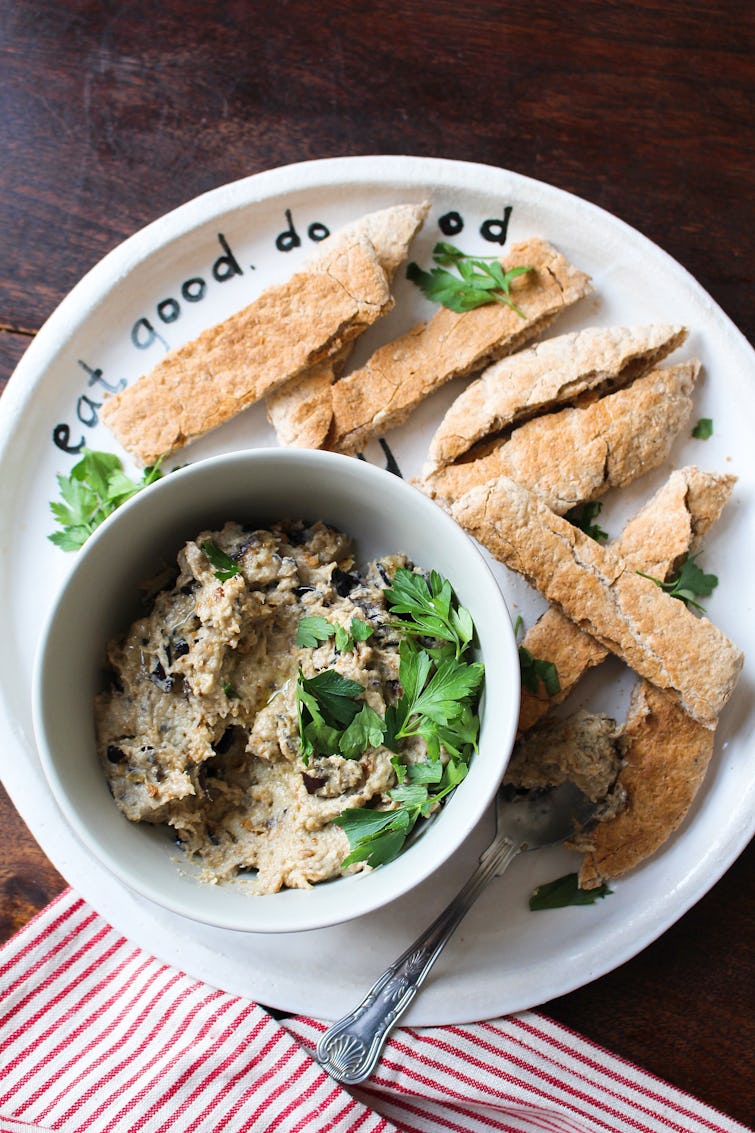 ---
How to store
Store in an airtight container in the fridge for up to 4 days, or in the freezer for up to 1 month. 
Leftovers
The creamy roasted aubergine dip would make a delicious pasta sauce. Cook your favourite pasta until al dente, then toss in the aubergine dip and some reserve pasta water. Serve with lemon zest, grated parmesan/vegan parmesan, and a pinch of chilli flakes.