Creamy Asparagus & Baked Feta Risotto
Honey baked feta mixed in risotto with lemon zest and tender cooked asparagus. It's creamy, satisfying and so delicious.
Substitute:
No asparagus? Try with broccoli, green beans or green peas instead. 
No onion? Use shallot, fennel or leek instead. 
Prep time: 10 minutes
Cook time: 40 minutes
Total time: 50 minutes
Servings: 2
Ingredients:
120 g Asparagus
100 g Risotto rice
1 Onion (chopped )
2 tbsp Olive oil
100 g Feta (or vegan feta )
1 tbsp Runny honey (or maple syrup)
1 Lemon (zested and juiced )
50 ml white wine
300 ml Vegetable stock
Salt & pepper
Recipe:
Preheat the oven to 190C/170c fan/5 gas mark. Place the feta in a baking dish, drizzle with 1 tbsp olive and honey. Bake for 20 minutes.
Snap off the woody ends of the asparagus - save them in your freezer for making stock or soup. Heat the stock in a saucepan and blanch the asparagus for 3 minutes, or until just tender. Turn off the heat and leave them in the stock. 
Heat a frying pan over medium heat. Add 1 tbsp olive and the chopped onion. Cook for 3 minutes, until fragrant.
Add the risotto rice into the pan and cook for 1 minute. Pour over the white wine and let it bubble to nothing so the alcohol evaporates. Keep the pan over a medium heat and pour in a quarter of the stock. Simmer the rice, stirring often, until the rice has absorbed all the liquid. Keep on adding stock until the rice is cooked.
Turn off the heat and add the baked feta, lemon zest and lemon juice.
Mix until the risotto is nice and creamy then add the asparagus.
Serve hot.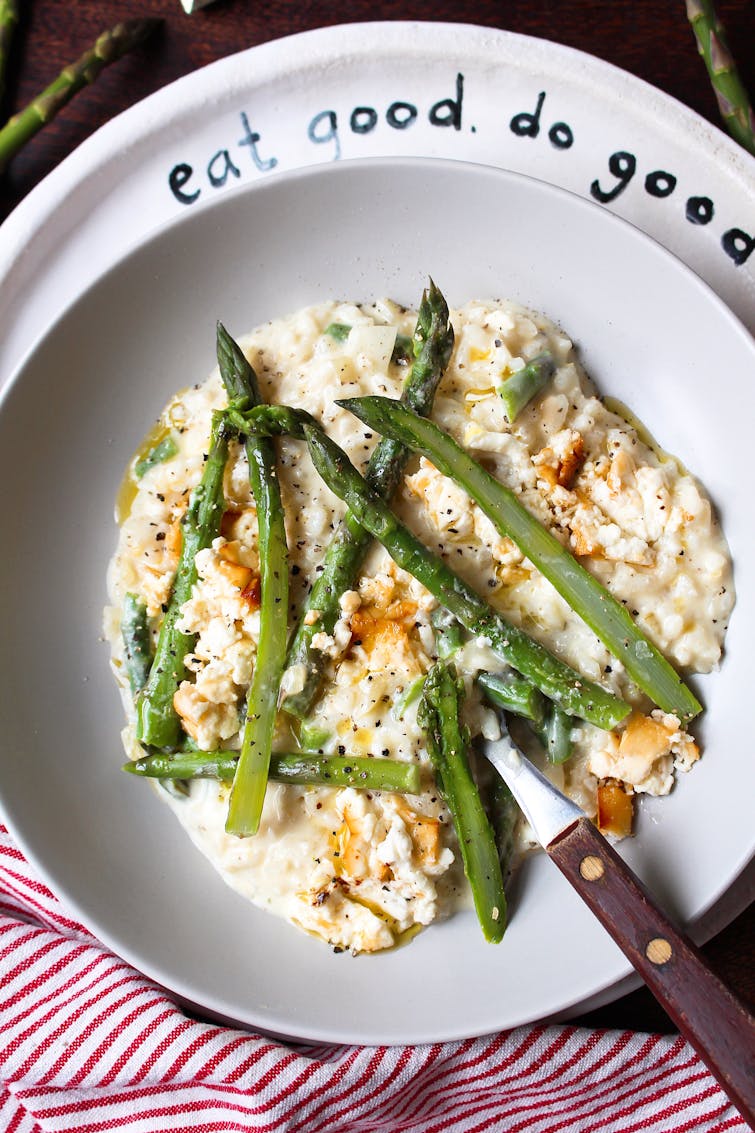 ---
How to store
Store in an airtight container, the fridge for up to 3 days. 
Leftovers
Try making arancini with your leftover risotto. Roll the cold risotto into small balls, then dip them in flour, egg wash and breadcrumbs, ensuring the rice is completely coated. Deep fry until golden and crispy.