Courgette Salad with Feta and Pine Nuts
This courgette recipe is quick, easy and packed with flavours. The courgettes are cut in half lengthwise, pan fried until golden and slightly tender, and served with pine nuts, crumbled feta, a drizzle of honey, lemon zest and fresh dill.
Substitute:
No feta? Try with creamy ricotta/vegan ricotta instead. 
No honey? Use maple syrup instead. 
No pine nuts? Try with hazelnuts, sunflower seeds or pumpkin seeds instead. 
No dill? Use fresh basil instead. 
No herbes de Provence? Use oregano or thyme instead.
Prep time: 10 minutes
Cook time: 10 minutes
Total time: 20 minutes
Servings: 4
Ingredients:
500 g Courgettes
3 tbsp Olive oil
Salt & pepper
1 tbsp Herbes de Provence
100 g Feta (or vegan feta )
1 Lemon (zested )
10 g Dill
2 tbsp Honey (or maple syrup)
2 tbsp Pine nuts
Recipe:
Cut the courgettes in half lengthwise and place in a large mixing bowl.
Add the olive oil, herbes de Provence and a generous pinch of both salt and pepper. Toss to coat and set aside.
Place a large frying pan or grill pan over a high heat. When hot, place the courgette cut side down directly in the dry pan and cook for 5 minutes on each side, or until lightly charred. If your pan is too small, do this step in batches.
Place the courgettes on your serving dish and top with the pine nuts, crumbled feta, lemon zest, dill and honey. Enjoy!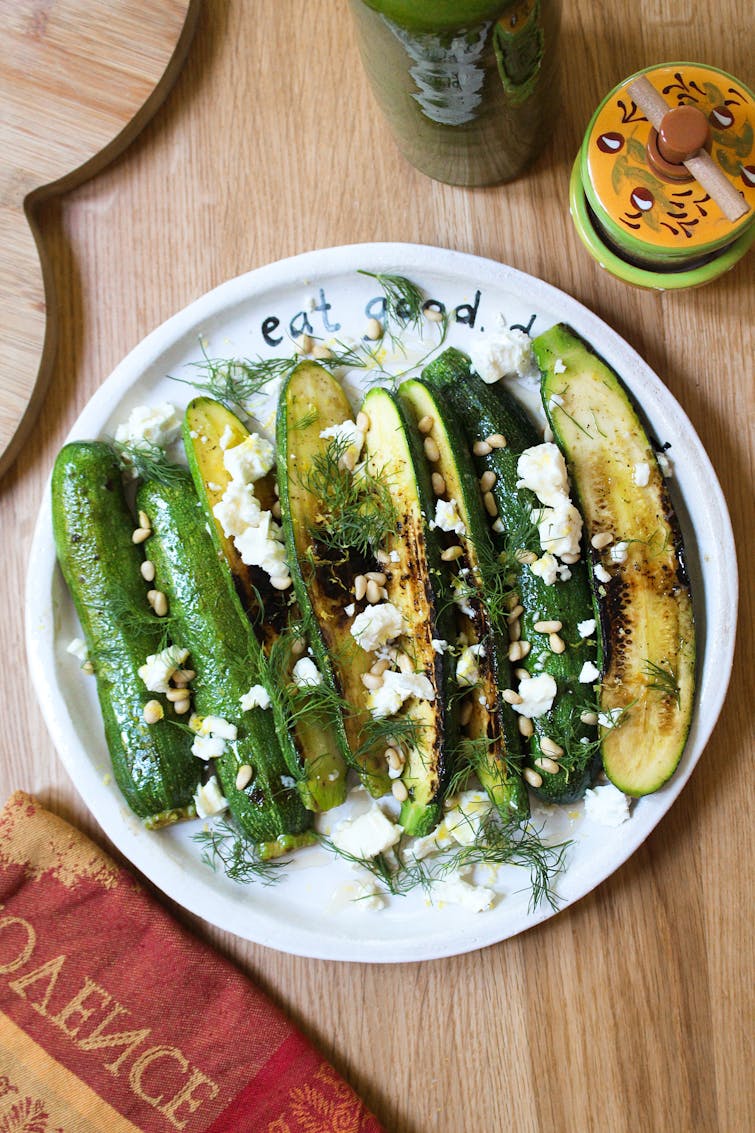 ---
How to store
Store in the fridge for up to 3 days. Serve the salad cold or reheat in the oven.