Courgette Risotto 
Vibrant green vegetables join the earthy flavours of curry powder in this creamy weeknight risotto. Packed with onion, courgette and peas, the zesty lemon and creamy parmesan finishes this dish. 
Substitutes:
No white wine? Use stock instead. 
No butter? Use olive oil instead. 
Vegan? Use parmesan vegan alternative instead. 
No curry powder? Try with ground turmeric or masala powder instead.
Prep time: 10 minutes
Cook time: 30 minutes
Total time: 40 minutes
Servings: 2
Ingredients:
1 Courgette
½ Onion
80 g Risotto rice
100 ml white wine
400 ml Vegetable stock
50 g frozen peas
40 g Parmesan
1 tbsp Unsalted butter
1 tbsp Olive oil
1 Lemon
1 tsp Curry powder
Salt & pepper
Recipe:
Finely chop the onion. Cut the courgette into small cubes. Place a frying pan over a medium heat. Add the olive oil and butter. Saute the onion until fragrant, about 3-4 minutes. Season with salt and pepper.
Add the risotto rice and mix until everything is nicely coated. Deglaze with the white wine and cook for 1 minute to burn off the alcohol. 
Add a ladleful of the stock at a time, stirring constantly, until it's almost completely absorbed by the rice. Keep adding stock until the rice is almost cooked, about 15-20 minutes. 
Add the courgette, frozen peas, curry powder, parmesan, lemon zest and lemon juice. Stir well and keep cooking until the rice is fully cooked, about 5-10 minutes, adding more stock as needed. Season to taste and divide the risotto up in bowls. Garnish with fresh herbs if you have any on hand.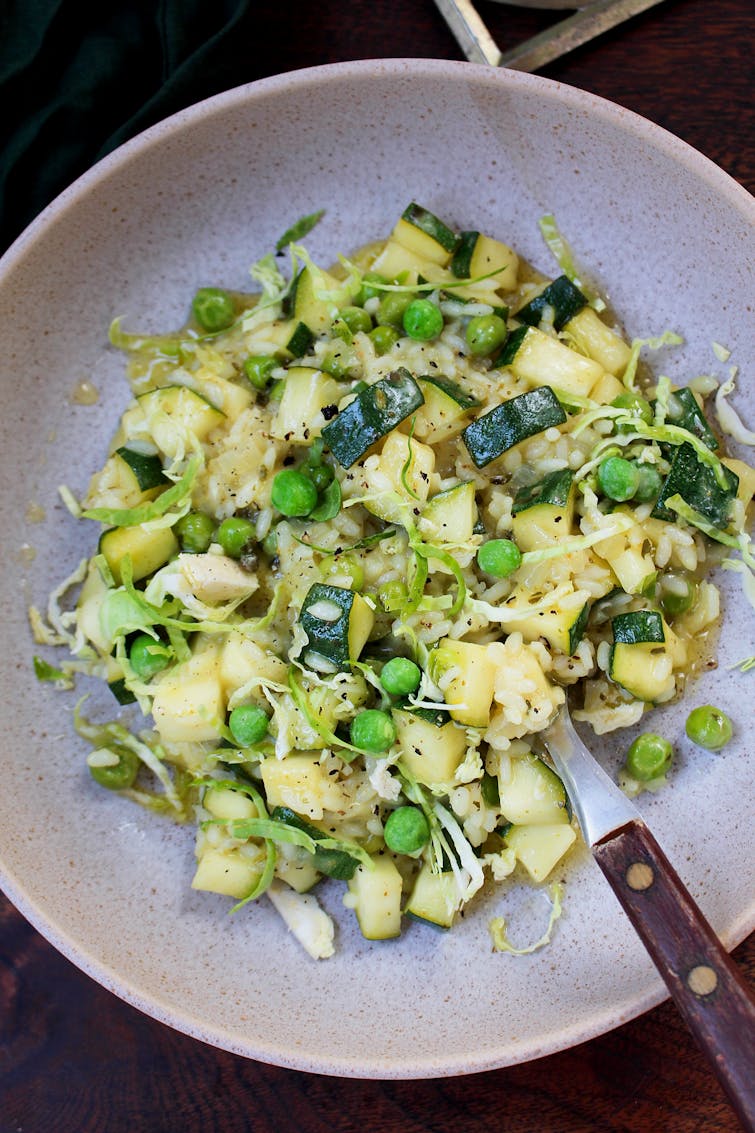 ---
How to store
Store in an airtight container, in the fridge, for up to 3 days.