Coconut and Chocolate Fudge Brownie 
Fudgy, chocolaty and easy, these coconut brownies will make the perfect make ahead treat to enjoy all week. 
Substitute:
Dairy free? Use vegan baking butter and dairy free double cream alternatives. 
Prep time: 20 minutes
Cook time: 40 minutes
Total time: 60 minutes
Servings: 8
Ingredients:
For the brownie:
120 g Coconut
190 g Unsalted butter
4 Eggs
200 g Dark chocolate
260 g Golden caster sugar
1 tsp Instant coffee
2 tsp Vanilla extract
20 g Cocoa powder
100 g Plain flour
a pinch of Sea salt 
For the topping:
100 g Coconut (roughly chopped )
For the ganache:
150 ml Double cream
75 g Dark chocolate
1 tsp Vanilla extract
Recipe:
Place 120 g coconut into a food processor. Blend until thinly chopped. 
With an electric mixer, whisk the eggs and sugar, for 5 minutes, or until thick and creamy.
Fill a small saucepan about a quarter full with hot water, and pop a mixing bowl on top so it rests on the rim of the pan, not touching the water (this is called a bain marie). Add the butter and chocolate to the bowl, and put over the heat until the butter and chocolate have melted, stirring occasionally.
Combine the chocolate mixture to the egg mixture.
Add the flour, cacao, instant coffee and vanilla. Mix until combined. 
Preheat the oven to 180 C/160 fan/4 gas mark. Pour the batter into a lined square cake tin (23 cm x 23 cm), top with 80 g of roughly chopped coconut.
Bake for 35-40 minutes, until just cooked through. Set aside to cool.
In the meantime, make the ganache: add 74 ml of double cream into a small saucepan. When hot, turn off the heat and add the vanilla and chocolate. Stir until the chocolate has melted. Set aside to cool.
Whisk the reserved double cream (75 ml) into a thick chantilly, then fold into the chocolate mixture.
Spread over the brownie and top with extra coconut chunks! Enjoy!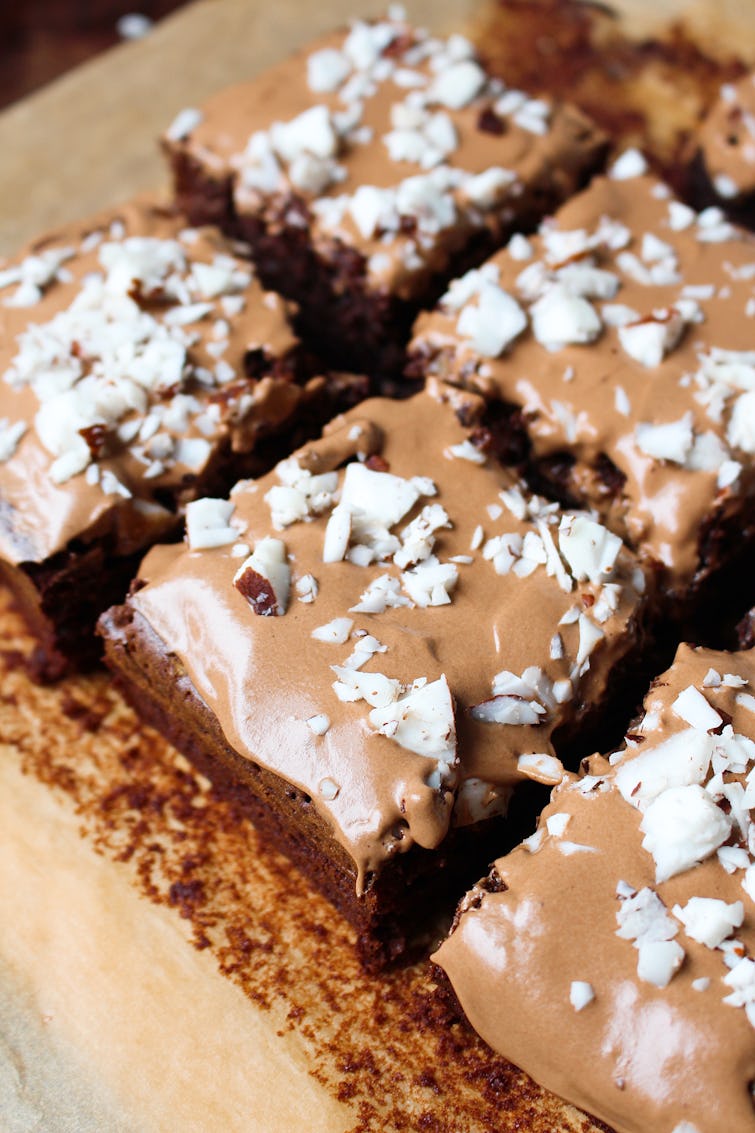 ---
How to store
Store in an airtight container for up to 4 days.