Clementine Bars
Use both clementine zest and juice in this bar recipe. The creamy clementine filling is layered on top of almond crust, and baked until set. 
Substitute:
No clementine? Follow the same recipe and swap the clementines with 3 lemons, 2 oranges or 4 mandarins. 
No honey? Use maple syrup instead
Prep time: 30 minutes
Cook time: 40 minutes
Total time: 70 minutes
Servings: 12
Ingredients:
For the base
70 g Ground almonds
100 g Plain flour
3½ tbsp Coconut oil (melted)
2 tbsp Maple syrup
For the filling
50 g Coconut oil
100 g Honey
5 Egg
4 Clementines (zest and juice)
For the topping
1 tbsp Desiccated coconut
1 tbsp Icing sugar
Recipe:
Prepare your baking dish: Preheat the oven to 180C/160fan/4 gas mark. Line a square baking dish with baking paper. Make sure to let the paper hang over the sides for easy removal. 
Make the base: In a mixing bowl, add the flour, ground almonds, melted coconut oil and maple syrup. Mix well to form a soft dough. Press the dough in the bottom of your baking dish. Bake for 15 minutes, until golden brown. Remove from the oven (keep the oven on), and let cool aside. 
Make the clementine filling: Melt the coconut oil and honey together. Set aside to cool. Use an electric mixer to whisk the eggs for 5 minutes, until whiter and fluffier. Keep whisking and add a little at the time the coconut oil and honey mixture. Mix until well combined. Use a spatula to gently fold in the clementine juice and zest. Set aside 5 minutes.
Cook the bars: Pour the clementine filling in the baking dish on the cooled base. Bake for 15-25 minutes, until set at the edges and barely jiggling at the center. Remove from the oven and let cool completely before removing from the dish. 
Make the coconut topping: In a pestle and mortar, add the shredded coconut and icing sugar. Mix until combined and dust on top of the clementine bars.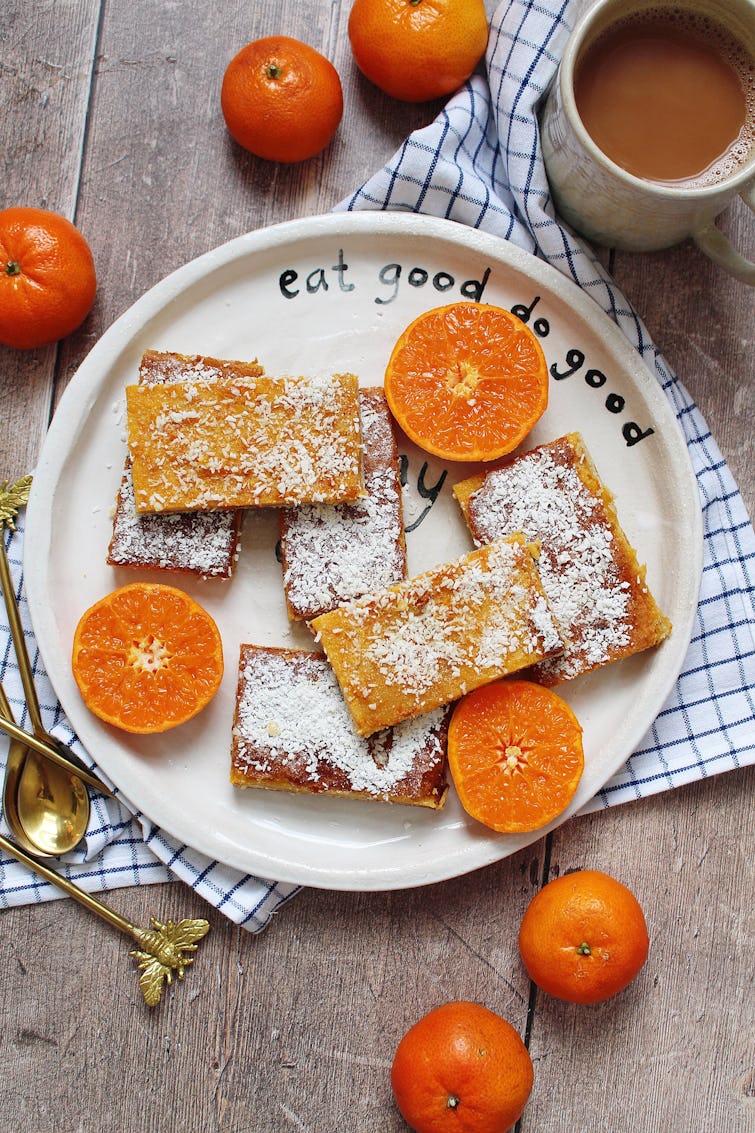 ---
How to store
Store in an airtight container at room temperature, for up to 2 days. If too hot, keep them in the fridge. They will keep for up to 3-4 days in the fridge.