Classic Potato Salad
This simple and quick salad showcases tender jersey potatoes tossed in a creamy, herby and mustardy dressing. Perfect on its own or as part of a BBQ's spread. 
Substitute:
No jersey royal potatoes? Use any potatoes you have on hand. 
No red wine vinegar? You can use white wine vinegar, apple cider vinegar or even lemon juice. 
No dill? Use fresh or dried dill. 
No cornichons? Use gherkins or a handful of capers instead. 
No red onion? Try with shallot, celery or spring onion instead. 
Prep time: 10 minutes
Cook time: 15 minutes
Total time: 25 minutes
Servings: 4
Ingredients:
700 g Potatoes
3 tbsp Olive oil
½ tbsp red wine vinegar
1 tbsp Dijon mustard
1 tbsp whole grain mustard
1 tbsp Dill (chopped)
1 Red onion (diced)
8 cornichons (diced)
½ a bunch of Parsley
Salt & pepper
Recipe:
Cook the potatoes: Slice the potatoes in quarters, or in half for the smaller ones. Place them in a saucepan, cover with water and add a good pinch of salt. Bring to a boil, then reduce the heat and simmer for 15 minutes, or until tender. Drain and set aside. 
Make the dressing: In a large bowl, combine the olive oil, red wine vinegar, dijon mustard, whole grain mustard, salt and pepper. Whisk vigorously with a fork to blend and emulsify. Add the dill, red onion, and cornichons. Mix to combine.
Finish the salad: Add the warm potatoes to the bowl of dressing. Toss gently to coat the potatoes evenly, add the parsley and season to taste. Serve warm or chilled.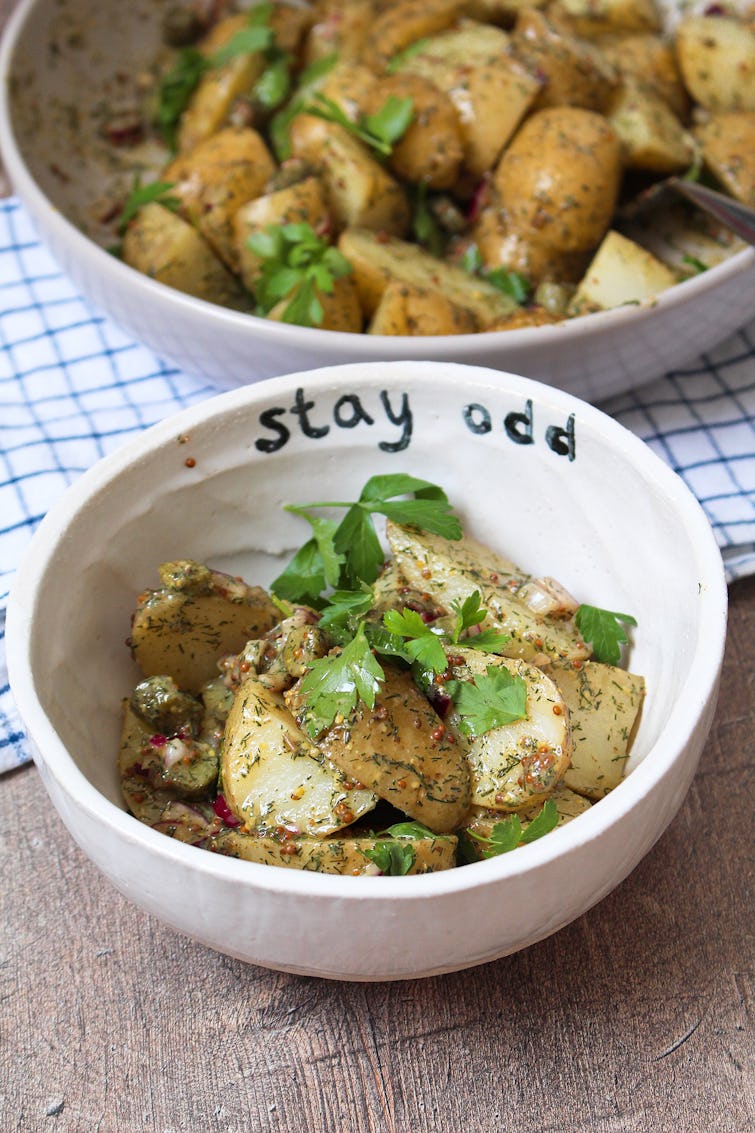 ---
How to store
How to store: Store your potato salad in an airtight container in the fridge for up to 3 days. 
Leftovers
Leftovers: - Make potato tortilla: slice the potatoes and add to a bowl along with eggs and crumbled feta. Mix well and cook.  - Make potato cake: Use a fork to mash the potatoes, then form into patties. Dip in flour, egg wash and breadcrumbs. Fry or bake until golden and crisp.  - Make potato rostis: Grate the potatoes and cook in hot melted butter/vegan butter until crisp and golden on both sides.  - Make a potato gratin: Place the potatoes in a baking dish and cover with a white sauce made from flour, butter/vegan butter, and milk/plant based milk. Add grated cheese/vegan cheese on top and bake until golden.