Chocolate Orange Baked Porridge
Baked porridge for breakfast! The recipe uses cacao powder, orange zest and orange segments (the flesh) to create a super chocolatey and citrusy breakfast. 
Substitute:
No oranges? Try with kiwi, clementines, pomegranate, grapefruit, plums or cherries. 
No maple syrup? Use honey or golden syrup instead. 
No cinnamon? Try with ginger powder instead. 
Prep time: 10 minutes
Cook time: 20 minutes
Total time: 30 minutes
Servings: 2
Ingredients:
1 Orange
70 g Rolled oats
1 tbsp Chia seed
1 tbsp Cocoa powder
1 tbsp Peanut butter (or any nut butter)
1 tsp Vanilla paste
½ tsp Ground cinnamon
1 tbsp Maple syrup
150 ml Milk of choice
For serving:
2 tbsp Yoghurt / Vegan yoghurt
Maple syrup
Recipe:
Preheat the oven to 190 C/170 fan/5 gas mark. Zest and segment the orange.
In a mixing bowl, combine the orange zest, oats, chia seeds, cocoa powder, nut butter, vanilla, cinnamon, maple syrup and milk.
Mix well with a wooden spoon.
Leave the mixture to thicken for 5 minutes, then mix in half of the orange segments.
Pour the mixture into a small baking dish, and place the orange segments on top. 
Bake for 20 minutes, and serve with a dollop of yoghurt. 
Enjoy!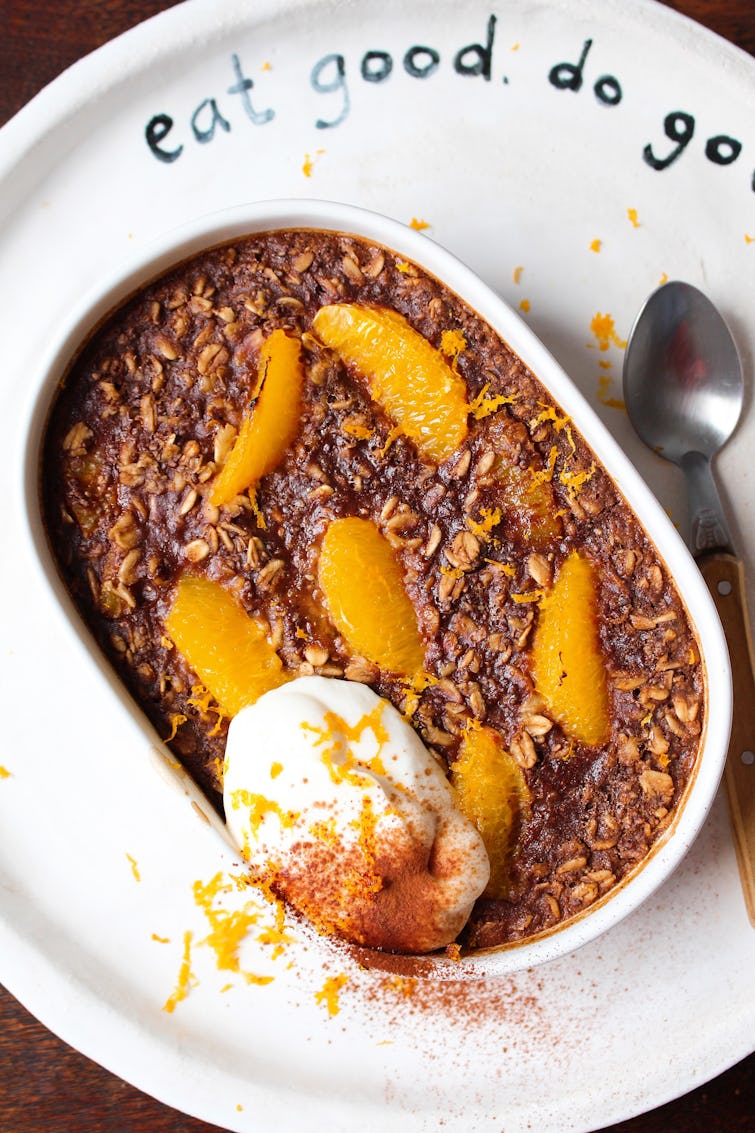 ---
How to store
Store in the fridge for up to 3 days. Eat cold, at room temperature or warm. 
Leftovers
The chocolate orange baked porridge would be nice served with a side of fresh fruits salad.