Chinese Style Radish Pancakes
Try these lightly crispy on the outside, and chewy on the inside pancakes. Naturally vegan, they are delicious and would make a great addition to any dinner table.
Substitute:
No radishes? Try with courgette or carrot instead.
No baking powder? Make them without the baking powder. 
No wasabi? For the dipping sauce you can use soy sauce on its own, or mix it up with chilli sauce instead of the wasabi. 
Prep time: 15 minutes
Cook time: 10 minutes
Total time: 25 minutes
Servings: 4
Ingredients:
10 Radishes (100 g grated)
80 g Plain flour
1 tsp Baking powder
1½ tbsp Sesame seeds
6 tbsp Water
2 tbsp Soy sauce
2 tbsp Wasabi
Recipe:
Grate the radishes on the large side of your grater box.
Place the grated radishes in a bowl, add a good pinch of fine salt, mix well and let stand for 10 minutes.
After 10 minutes, take handfuls of the grated radishes and squeeze out as much liquid as possible, and transfer into another bowl.
In a bowl, add the flour, baking powder, sesame seeds, salt and pepper.
Mix to combine and add the radishes and water.
Mix well until a thick batter forms. It should be pretty sticky, but not liquid.
In a frying pan, heat up a little vegetable. Once the pan is hot, spoon the batter on and shape them into round disks. Use your fingers, or the back of a spoon to make them as round as possible. Cook until golden brown, then flip them and fry until both sides are golden brown. 
In a small bowl, add the soy sauce and wasabi, and mix to combine.
Serve the hot pancakes with the sauce.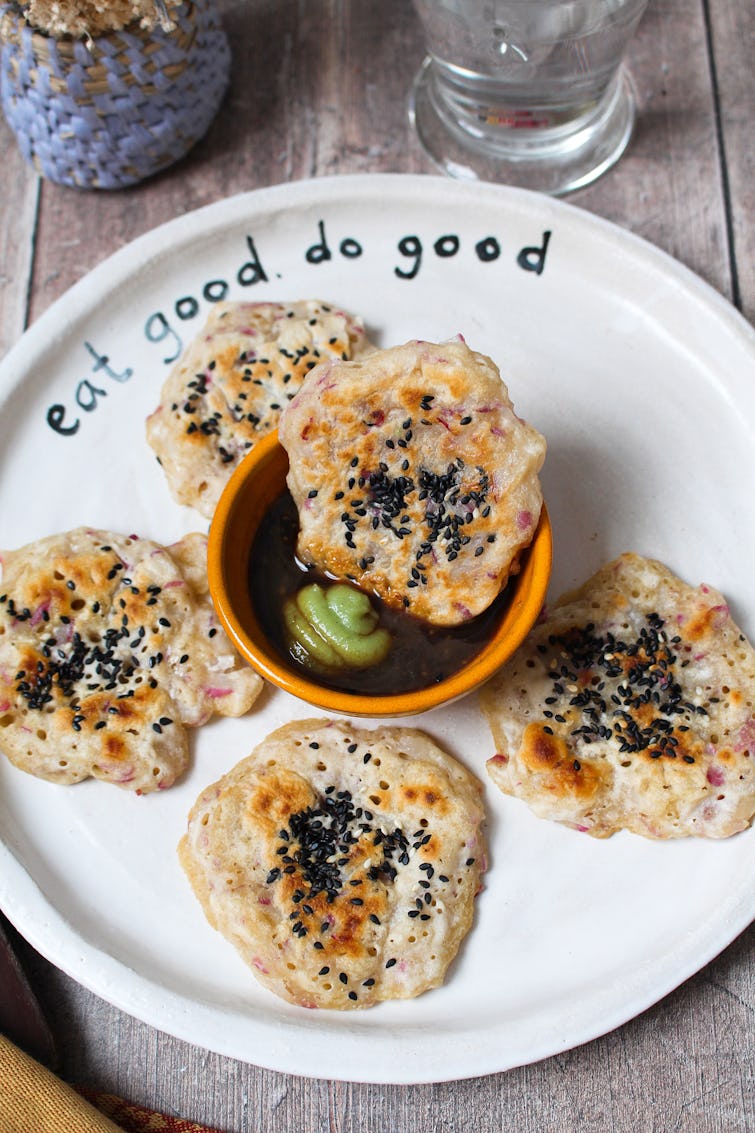 ---
How to store
Store the radish pancakes in an airtight container, in the fridge, for up to 3 days.
Leftovers
Roughly chop lettuce and cook all of the leftover ingredients into a stir fry.