Chinese Leaf Coconut Omelettes
Chinese leaf is a delicious vegetable that can be eaten both raw and cooked. And this recipe is a great example on how to make the most of it.
These omelettes are much thinner than a traditional omelette - they are more like crepes but without 
flour and stuffed with chinese leaf for extra flavour and texture. A great way to add more vegetables into your meals! I also used raw chinese leaf to pair the omelettes with for fresh flavour and crunchy texture. Make sure to use coconut milk from a can, with a high percentage of coconut extract so that you get that fatty creamy coconut - check the ingredient list on the back of the can and go for the higher one (I used 65%). Enjoy! 
-  by guest ODDBOX chef Camille @callherchef
Prep time: 5 minutes
Cook time: 10 minutes
Total time: 15 minutes
Servings: 2
Ingredients:
1 Chinese leaf
6 Eggs
6 Garlic cloves (chopped)
Ginger (3 cm piece, grated)
1 tsp Ground turmeric
Lime (zest of 1)
400 ml Coconut milk
Vegetable oil
Salt
For the quick chilli oil:
1 tbsp chilli flakes (or 2 mild chillies)
1 Shallot (finely chopped)
50 ml Vegetable oil
2 Garlic cloves
Sesame oil
Serve with:
Coriander leaves
Sesame seeds
Recipe:
Cook the chinese leaf: Finely chop the chinese leaf - keep ¼ on the side for the salad. In a frying pan, heat up 1 tablespoon of vegetable oil. Cook the shredded chinese leaf with the grated ginger and chopped garlic for 3-4 minutes, until wilted. Then add the turmeric powder, and cook for 1 minute. Season with salt, turn off the heat and set aside. 
Make the omelette batter: In a mixing bowl, mix together the eggs, lime zest, and coconut milk. Use a fork or a whisk to break all the coconut cream, until you have a smooth batter. Alternatively you could do this step in a blender. Then mix in the cooked chinese leaf and season with salt (not in the blender). 
Make the quick chili oil: In a small saucepan, add the vegetable oil, sliced shallot, chopped garlic and chilies. Cook over medium heat for 5 minutes, stirring often, then turn off the heat, let cool a little and add the sesame oil. 
Cook the omelettes: Wipe the large non stick frying pan clean and return it to a medium/high heat. Once hot, add a drizzle of vegetable oil and pour some of the batter. Swirl to coat the bottom of the pan. It should be very thin. Cook for 3-4 minutes, until the bottom is golden brown, then cover the pan with a lid and cook 30 seconds, until the top is set. Transfer to a tray and keep going until you have cooked all of the batter. Do not worry if some of the omelettes break, they are very delicate but they will still look great on the plate. 
Serve the chinese leaf omelettes: Carefully arrange the omelettes on your plates. Place the raw shredded chinese leaf on a side too, along with coriander leaves. Drizzle with the chili oil, and sprinkle sesame seeds all over. For extra acidity use the lime juice. Enjoy!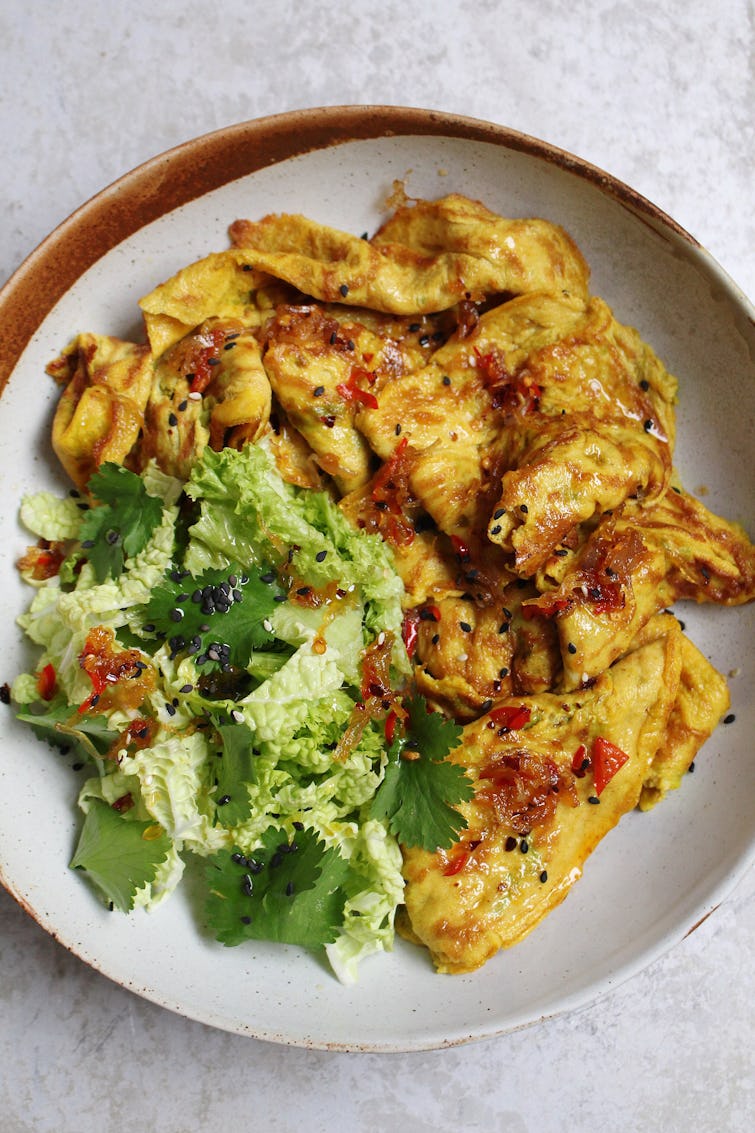 ---