Chia Seeds Strawberry Jam
A simple, quick and delicious jam to enjoy on toast, baking recipes or yoghurt. It is made from only 3 ingredients; strawberries, chia seeds and a little sweetener. Because of the strawberries, this jam barely uses any sweetener and is also very quick to make. 
Substitute:
No strawberries? Try with raspberries or blackberries. 
No maple syrup? Use the sweetener of your choice, such as honey or sugar. 
No vanilla? Try with cinnamon or orange zest instead. 
Prep time: 10 minutes
Cook time: 15 minutes
Total time: 25 minutes
Servings: 10
Ingredients:
350 g Strawberries
2 tbsp Chia seed
Maple syrup
Recipe:
Hull the strawberries: With a small knife, cut a cone shape into the top of the berries then remove the stalks. Cut them into halves or quarters, depending on their size.
Cook the strawberries: Tip the strawberries into a saucepan with the maple syrup. Toss well, then warm them over a low heat, stirring gently for 5 minutes, then turn up the heat and boil for another 10 minutes, stirring regularly to avoid it catching on the bottom, until thickened. 
Turn off the heat, blend with a hand mixer and add the chia seeds. Mix well, ladle into a clean jar and let cool fully before closing with the lid - the jam will thicken with the chia seeds.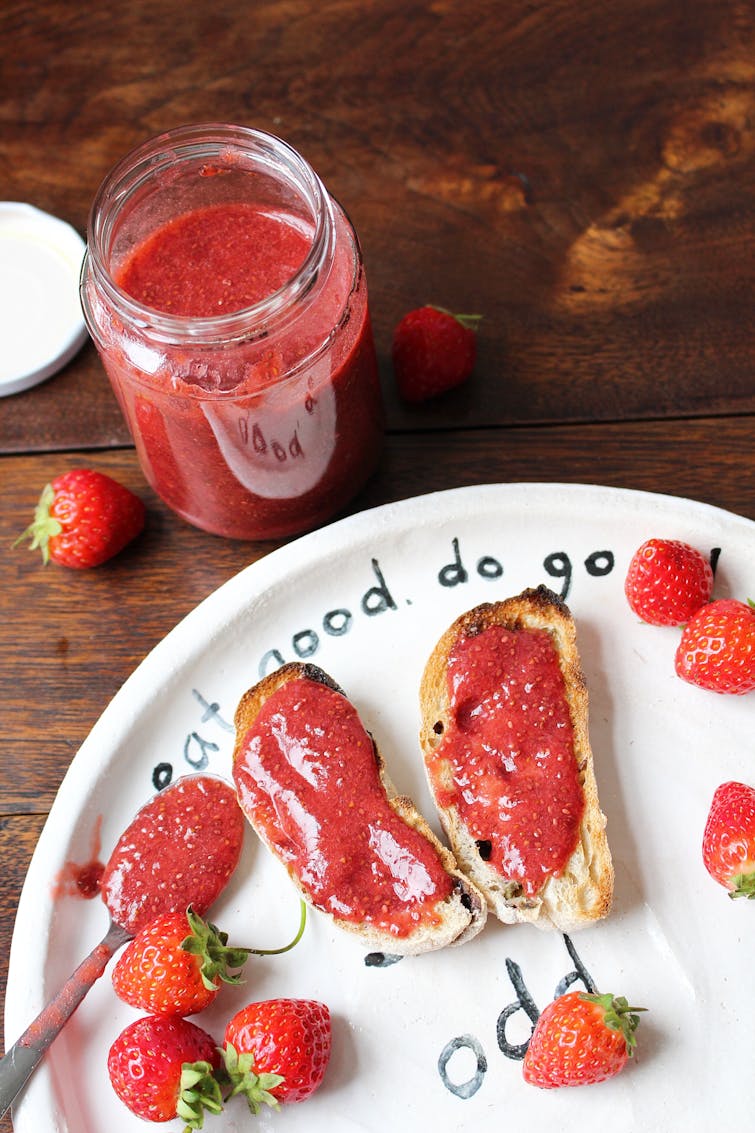 ---
How to store
Keep in the fridge for about 7 days or in the freezer for up to 3 months. 
Leftovers
Enjoy your strawberry jam on toast, with yoghurt or in dessert recipes. This jam would be delicious served with a simple vanilla whipped cream and some lemon zest. Or you can use it as an in between layer for sponge birthday cakes.