Chia Seeds Rhubarb & Vanilla Pancakes
These vegan pancakes are so delicious and easy to make, but also packed with nutrition with the chia seeds and oats and look beautiful with the bright pink colour from the rhubarb both inside and outside the pancakes. They are served with a drizzle of maple syrup for good measure; simply the perfect spring breakfast. 
Substitute:
No oat milk? Use milk of choice instead. 
No maple syrup? Try with honey instead. 
Prep time: 10 minutes
Cook time: 10 minutes
Total time: 20 minutes
Servings: 2
Ingredients:
For the rhubarb:
140 g Rhubarb
1 tbsp Golden caster sugar
1 tsp Vanilla extract
For the batter:
150 g Self raising flour
20 g Rolled oats
1 tsp Chia seed
1 tsp Baking powder
190 ml Oat milk
15 ml Olive oil
1 tbsp Maple syrup
1 tsp Vanilla paste
40 g Rhubarb
For cooking:
Olive oil (or coconut oil)
Recipe:
Preheat the oven to 180 C/160 fan/4 gas mark. Cut 140 g of rhubarb into 8 cm lengths, and 40 g of rhubarb into small pieces.
Lay the long rhubarb pieces flat in a small baking dish. Sprinkle the caster sugar over the rhubarb and add the vanilla extract. Bake for 12 minutes, until just tender and the sugar has caramelised on top.
In a large mixing bowl, combine the flour, oats, chia seeds and baking powder.
Make a well in the centre and add all the oat milk, olive oil, maple syrup and vanilla paste. Whisk to form a smooth thick batter.
Add the small chopped rhubarb pieces into the batter. Mix until combined.
Warm a teaspoon of oil in a pan over a medium heat. Spoon about 3 tablespoons of pancake batter into the pan. Cook on one side for 3 minutes until golden.
Turn and cook on the other side for 2-3 minutes, until puffed and golden. Repeat until the pancake mixture is finished (about 6 pancakes).
Serve the pancakes with the baked rhubarb and a generous drizzle of maple syrup.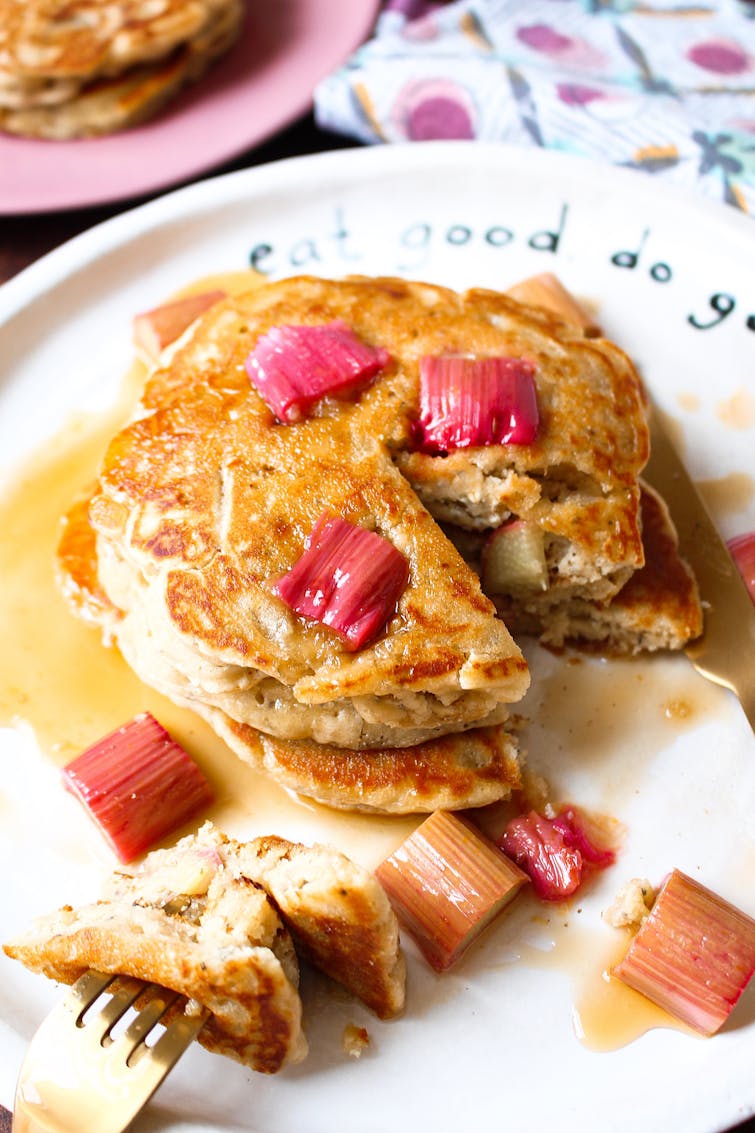 ---
How to store
Store in an airtight container in the fridge for up to 3 days, or in the freezer for up to 1 month.
Leftovers
Pancakes bread and butter pudding: tear or cut up the pancakes into small pieces. Place in a baking dish, pour over a custard mix and top with raisins and/or chocolate chips. Bake in the oven at 180C/160 fan/4 gas mark for about 30 minutes.