Cherry Compote Tiramisu
Try this really simple fruity tiramisu recipe. The cream layers showcase a freshly made cherry compote, ladyfinger biscuits and a light mascarpone cream
Prep time: 20 minutes
Cook time: 120 minutes
Total time: 140 minutes
Servings: 2
Ingredients:
600 g Cherries
1 tbsp Honey
100 g ladyfingers 
250 g Mascarpone
3 Eggs
100 g Sugar
2 tsp Amaretto licor
1 tsp Cocoa powder
Recipe:
Make the cherry compote: Deseed the cherry and place them in a frying pan or saucepan. Add the honey/alternative and bring to the boil. Reduce the heat and cook for 10 minutes then turn off the heat and let cool. 
Make the cream: Separate your eggs and place the yolks into a large mixing bowl. Add 80 g of sugar and whisk until pale and fluffy. Fold in the mascarpone until smooth. In another bowl whisk the egg whites into firm peaks, along with the last 20 g of sugar. Fold the whites into the mascarpone mixture to a light and fluffy cream. Set aside. 
Layer the tiramisu: Now layer your cherry compote, ladyfinger biscuits and mascarpone cream in glasses or upcycled jam jars. Cover and chill in the fridge for a few hours or overnight.
Serve: Dust with the cocoa powder and serve.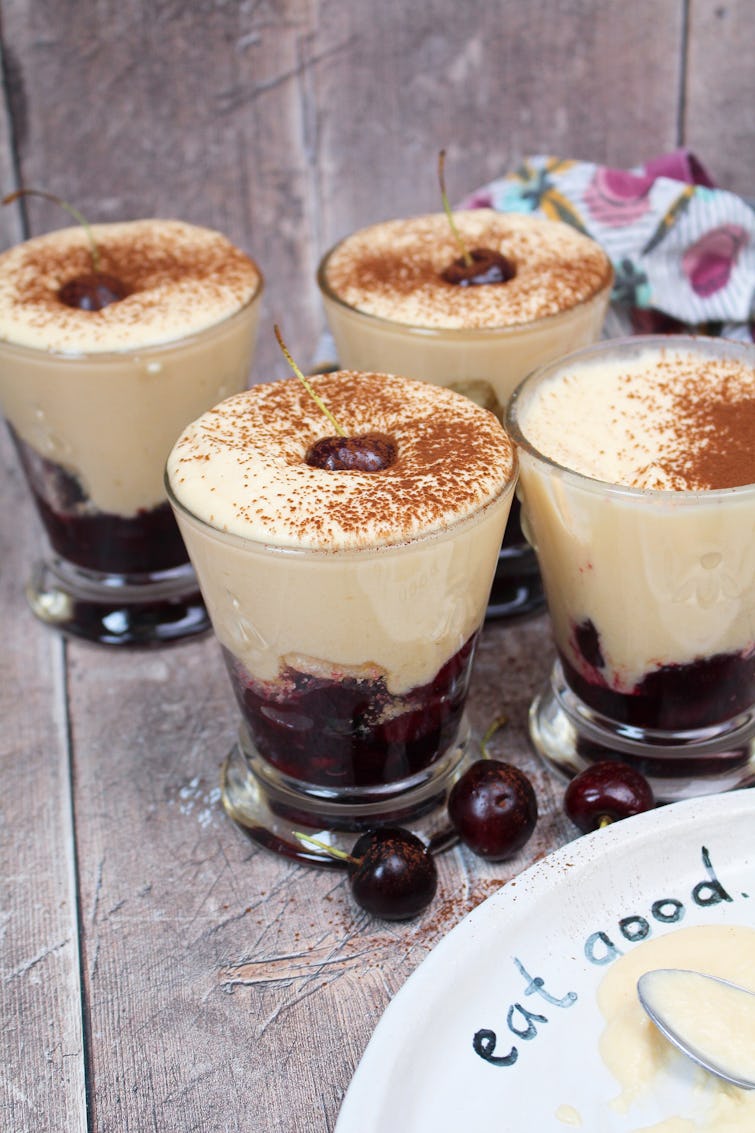 ---
How to store
Store the tiramisu in the fridge for up to two days.
Leftovers
Leftover tiramisu cream is delicious eaten with fresh fruits.