Charred Cabbage Wedges With Parmesan Dressing
A great cabbage sharing dish to have on the table. The cabbage wedges are charred, then roasted and served with a creamy dressing. This recipe would make a good side for pretty much any main.
Substitute:
No white cabbage? Use savoy cabbage, red cabbage or chinese leaf cabbage instead. 
No tahini? Try with yoghurt/vegan yoghurt instead. 
No parmesan? Use pecorino or plant based alternatives. 
No lemon? Try with 1 tsp of apple cider vinegar instead. 
Prep time: 10 minutes
Cook time: 30 minutes
Total time: 40 minutes
Servings: 4
Ingredients:
1 Cabbage
2 tbsp Olive oil
For the dressing:
1 tbsp Dijon mustard
5 tbsp Tahini
5 tbsp Parmesan (grated) / vegan parmesan
5 tbsp Water
1 Lemon (zest and juice)
Salt & pepper
Recipe:
Preheat the oven to 190 C/170 fan/5 gas mark. Cut the cabbage into thick wedges through the base. 
Heat a large frying pan over a high heat, add the olive oil and put the cabbage wedges into the pan, cut-side down. You might have to work in batches. Cook for 4-5 minutes, or until charred, then flip onto the other cut side and cook for another 4-5 minutes. 
Transfer the cabbage wedges to a baking tray and roast for 20-25 minutes until cooked through.
Put all of the dressing ingredients into a food processor and blend until smooth. Season to taste with salt and pepper.
Arrange the cabbage wedges on a serving dish, drizzle with the parmesan dressing and serve.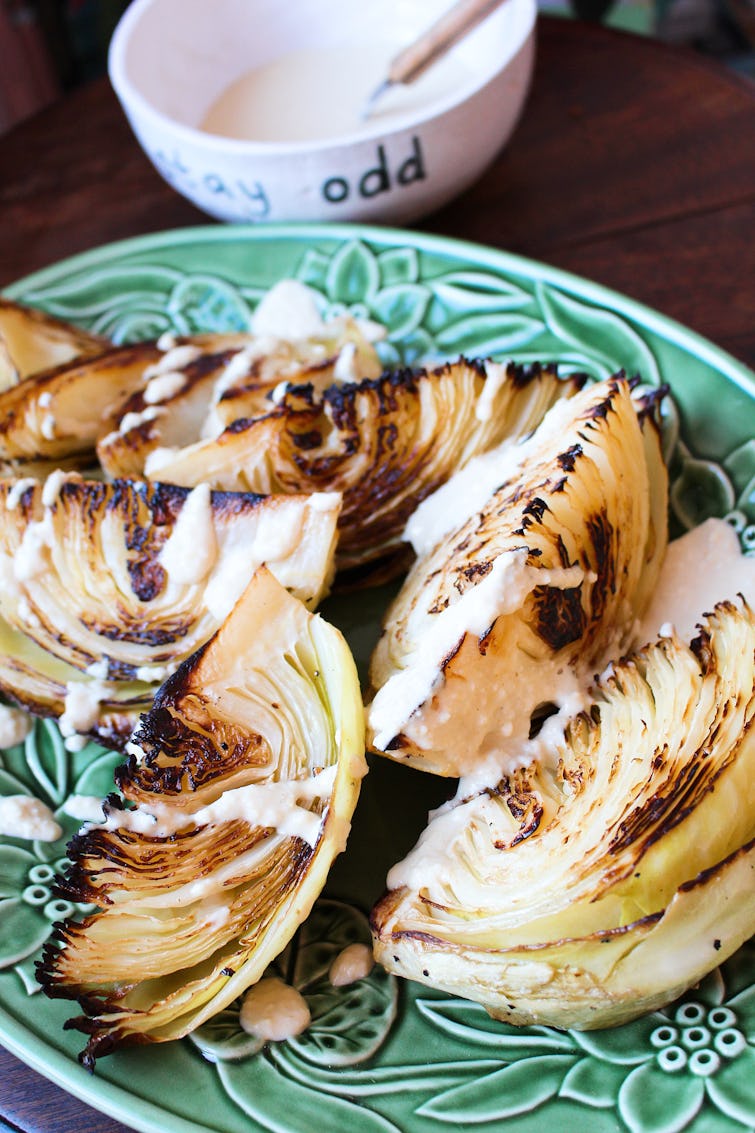 ---
How to store
Store in an airtight container, in the fridge for up to 3 days. 
Leftovers
Salads: Chop up the roasted cabbage wedges and toss in with lettuce and grated carrots for a tasty salad. Use the parmesan dressing too!  Sides: The cabbage wedges would make a  great side for pretty much any main. Soup: Add the wedges to a saucepan, cover with stock, bring to a boil and blend until smooth. Lovely served with toast on the side.