Celery & Wonton Soup
"A deliciously warming, fragrant broth with plump, celery and tofu filled juicy wontons, served with fresh spring onion and lashings of spicy chilli. These wontons freeze really well too! Not a fan of celery? Fill with grated carrot, finely chopped leek or greens."
Asian-inspired recipe by guest ODDBOX chef Storm @whatstormeats
Prep time: 45 minutes
Cook time: 20 minutes
Total time: 65 minutes
Servings: 2
Ingredients:
1 Egg
¾ tsp Salt
100 ml Water
250 g Plain flour
Filling:
250 g Natural firm tofu
2 large Celery stalk (finely diced)
2 Spring onions (finely diced)
1 Garlic clove (crushed)
10 g Ginger (chopped finely)
1 tsp Plain flour
25 ml Soy sauce
10 ml Sesame oil
a pinch of Sugar
Broth
1 Shallot
2 Spring onions
3 Garlic cloves
Ginger (a piece, roughly chopped)
vegetable stock cube
20 ml Soy sauce
Recipe:
In a bowl, mix the egg, salt and about 50mls of water. In a bowl with the flour, pour in the egg/water mixture. Using chopsticks or fork, mix together, adding a more little water at a time. Bring together and knead for 5 minutes until smooth and workable. It will be a soft dough. Wrap in cling film and pop in the fridge for at least 30 minutes.
Crumble the tofu in a pan and add the finely chopped celery. Add a little sesame oil and sauté on a low heat to remove excess liquid. Remove from heat, add finely chopped spring onions, crushed garlic, ginger, a tsp of flour and soy sauce, sesame and sugar. Leave to cool.
Place all ingredients in a pot, fill up with water and pop on a rolling boil. Once the broth has darkened, drain and season generously with soy sauce.
Once the dough is rested, roll out the dough and cut into squares, ensuring the sheets are as thin as possible. Place the filling inside, brush with a little water, fold over and bring the edges together. Cook the wontons in boiling water for about 3 mins until they rise to the surface. Serve up immediately by placing your cooked wontons in the bottom of your bowl, pouring over the steaming broth and finishing with fresh spring onions and lots of chilli oil.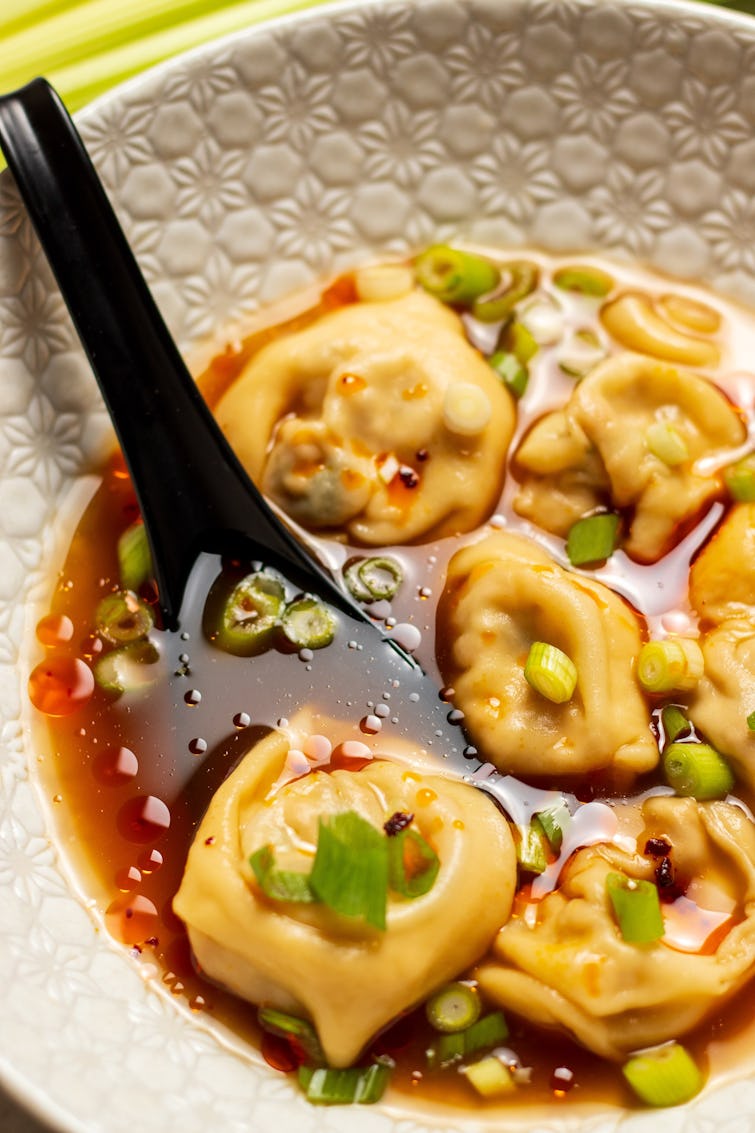 ---