Celery, Onion, and Parsnip Mac and Cheese
A creamy and packed with flavour celery, onion and parsnip mac and cheese. It's creamy, crunchy and mega comforting. 
Substitute:
No celery? Use fennel or leek instead.
No parsnips? Try with turnips or carrots instead. 
No onions? Use shallots instead. 
Vegan? Use vegan butter and vegan cheese. 
No rosemary? Try with thyme instead. 
Prep time: 20 minutes
Cook time: 40 minutes
Total time: 60 minutes
Servings: 4
Ingredients:
130 g Celery stalk
250 g Parsnips
2 Onions
3 Garlic cloves
220 g Short pasta
3 tbsp Unsalted butter / Vegan butter
100 g Cheddar / Vegan cheese
1 tsp Smoked paprika
70 g Panko breadcrumbs
4 tbsp Pine nuts (or sunflower seeds)
1 tbsp Rosemary (chopped)
4 tbsp Olive oil
Salt & pepper
Recipe:
Preheat the oven to 180 C/160 fan/4 gas mark. Cut the parsnips into 1 cm thick slices. Chop the celery and onions. 
Bring a large saucepan of salted water to the boil. Add the parsnips, short pasta and cook until the pasta is just al dente.
You will see the parsnips at the surface of the water, while the pasta is at the bottom of the saucepan. Use a slotted spoon to remove the parsnips from the water and place in a food processor. Reserve 200 ml of pasta water, then drain the pasta and set aside. 
To the food processor, along with the parsnips add the grated cheddar and reserved pasta water. Blend until you have a smooth light puree. Season with salt and pepper.
In a large frying pan, heat the butter/vegan butter. Add the onions, celery and garlic. Cook for 5 minutes, until tender. 
To the pan with the onion mixture; add the parsnip puree and cooked pasta. Mix well to combine and pour into a greased baking dish. 
In a food processor, add the panko breadcrumbs, olive oil, paprika and rosemary. Blend until combined and sprinkle over the mac and cheese.
Bake for 20-25 minutes, or until the crumbs are golden brown and the sauce is bubbling.
Remove from the oven and serve!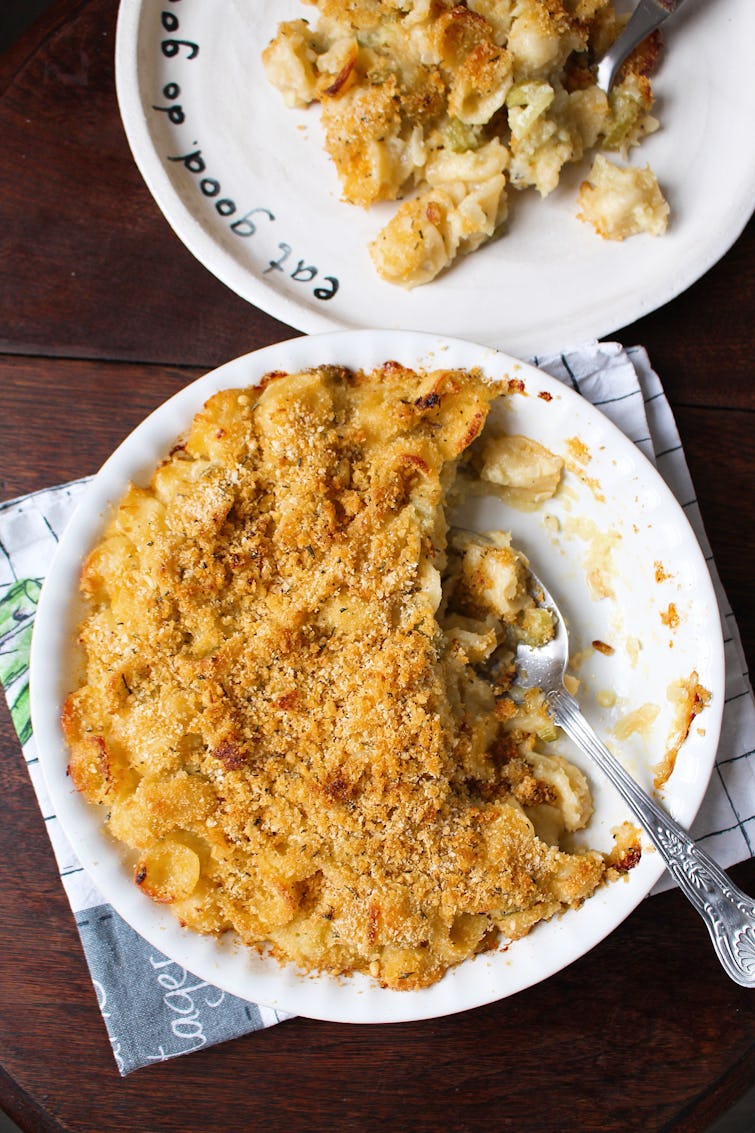 ---
How to store
Store in an airtight container, in the fridge for up to 3 days, or in the freezer for up to 1 month. 
Leftovers
Fried mac and cheese balls: Just roll up the cold mac and cheese, deep in beaten eggs, and then in breadcrumbs. Fry in hot vegetable oil until golden brown.  Mac and cheese soup: Make a soup from some of the vegetables in your box (broccoli soup, onion soup or carrot soup…) and when ready to serve add your leftover mac and cheese in the soup to break down and warm up, giving you extra texture and flavours!  Truffle mac and cheese: For a more festive mac and cheese, drizzle with truffle oil before serving!