Celery Garlic Bread
Make this quick and delicious garlic bread recipe with a twist! The herbed butter is made with celery, spread on bread, and baked until golden brown and crispy. 
Substitute:
No celery? Make this recipe with parsley instead. You will need a large bunch of parsley, stalk included. 
No ciabatta bread? Use any loaf of bread, or baguette. 
Vegan? Use vegan butter and vegan parmesan. 
Prep time: 10 minutes
Cook time: 15 minutes
Total time: 25 minutes
Servings: 3
Ingredients:
0.33 a bunch of Celery stalk
2 ciabatta bread
125 g Butter (at room temperature) / Vegan butter
15 g Parmesan / vegan parmesan
6 Garlic cloves
0.33 a bunch of Parsley
1 tsp Sea salt 
Recipe:
Prepare your ingredients: Preheat the oven to 200C/180 fan/6 gas mark. Cut your ciabatta bread in half, lengthwise. Finely chop the garlic, parsley and celery. You can use a food processor for the celery. Finely grate the parmesan.
Make the celery butter: In a bowl, combine the softened butter, chopped garlic, chopped celery, chopped parsley, grated parmesan and salt.
Make the celery garlic bread: Spread the celery butter all over the bread. Bake for 15-20 minutes, until golden brown and crispy.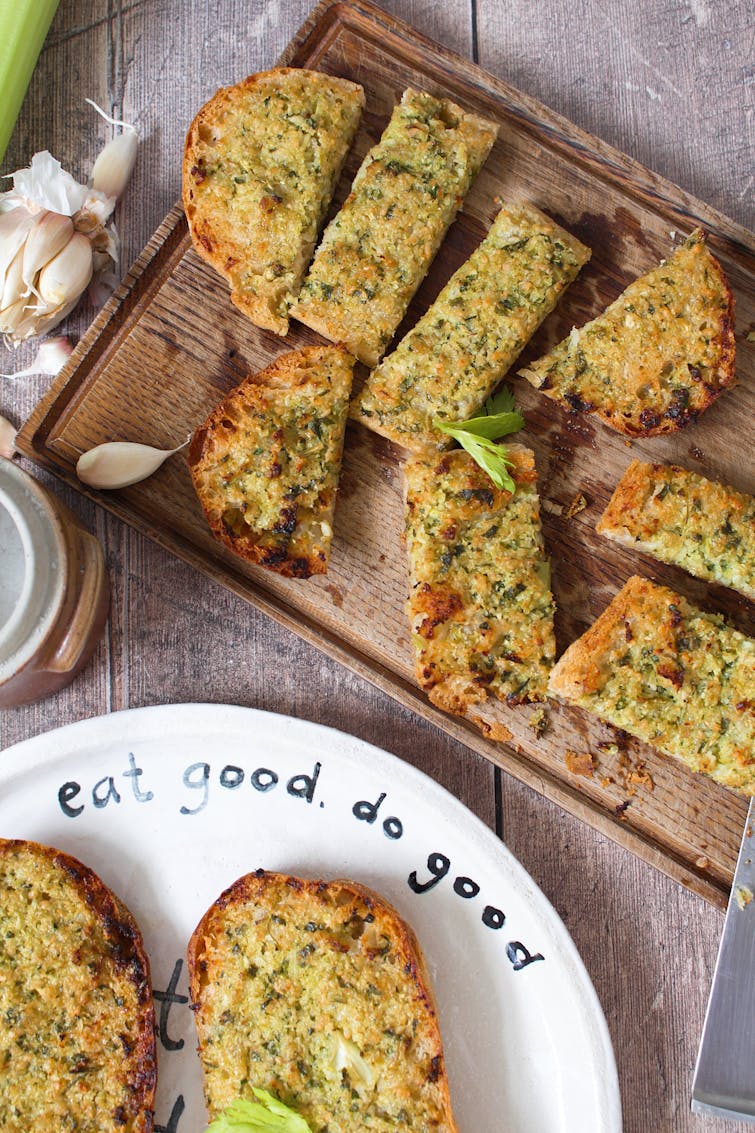 ---
How to store
How to store: Store the garlic bread in the fridge for 1 day, or in the freezer for 1 month. Defrost and place in the hot oven to get it nice and crisp again. You can make the celery butter ahead. Keep it in the fridge for up to 1 week, and in the freezer for up to 3 months.  
Leftovers
Leftovers: Use your celery butter in stir fry, or in pasta. To use in pasta, add a few tablespoons of celery butter in a frying pan and cook for 5 minutes. Add al dente pasta to the pan, along with some of the pasta water. Toss to coat and serve.