Celery Dumpling Soup with Sesame Chilli Oil
Make the most of your celery with this Chinese inspired dumpling soup showcasing celery dumplings simmered in a warming soy sauce based broth. It's served with fresh coriander and a delicious sesame chilli oil. Perfect for cold nights.
Substitute:
No celery? Try with carrots, mushrooms or leeks instead. 
No dried mushrooms? Use fresh mushrooms instead.
Prep time: 30 minutes
Cook time: 20 minutes
Total time: 50 minutes
Servings: 2
Ingredients:
For the stuffing:
400 g Celery stalk
2 Garlic cloves
20 g Ginger
1 tbsp Olive oil
1 tbsp Toasted sesame oil
1 tbsp Soy sauce
For the wrappers:
250 g Plain flour
1 tsp Fine salt
155 ml Warm water
For the broth:
1 tbsp Olive oil
1 Onion
2 Garlic cloves
20 g Ginger
500 ml Vegetable stock
10 g dried mushrooms
1 tbsp Soy sauce
1 tbsp Rice vinegar
For the chilli oil:
2 tbsp Toasted sesame oil
-1 tbsp Soy sauce
1 tsp Balsamic vinegar
1 tsp chilli flakes
4 sprig Coriander
Recipe:
Add the water to the flour. Gently mix with a pair of chopsticks or a fork, until no more loose flour can be seen. Then combine and knead with your hand. Cover and leave to rest for 30 minutes. 
Finely chop the celery, garlic and ginger. Add the olive oil, celery, garlic and ginger to a saucepan. Cook for 5 minutes, until tender. Add the sesame oil and soy sauce. Remove from the heat. 
Cut the dough in four and shape each one into a log. Cut each log into 7 pieces and roll them all into little balls. Roll out each piece into thin circles and keep the dumpling wrappers separated with small pieces of parchment paper.
Add 1 tablespoon of filling to the middle of a wrapper. Fold half of the wrapper over the filling and, using your fingers, pleat the edges to seal.
Repeat with the remaining fillings and wrappers.
Pour 400 ml of boiling water over the dried mushrooms. Set aside.
To a saucepan, add 1 tablespoon of olive oil, the onion, garlic, and ginger. Cook for 3-5 minutes, until fragrant. Stir in the broth and bring to a boil over high heat.
Finely chop the soaked mushrooms. Keep the mushroom liquid. Add the mushrooms and liquid to the saucepan. Bring to a boil, then stir in the soy sauce, and rice vinegar. 
Add the wontons to the saucepan and cook until they float, 2-3 minutes.
Combine the chilli oil ingredients in a small bowl.
Divide the celery wontons between bowls, then ladle the soup over.
Serve with fresh coriander and the chilli oil on the side.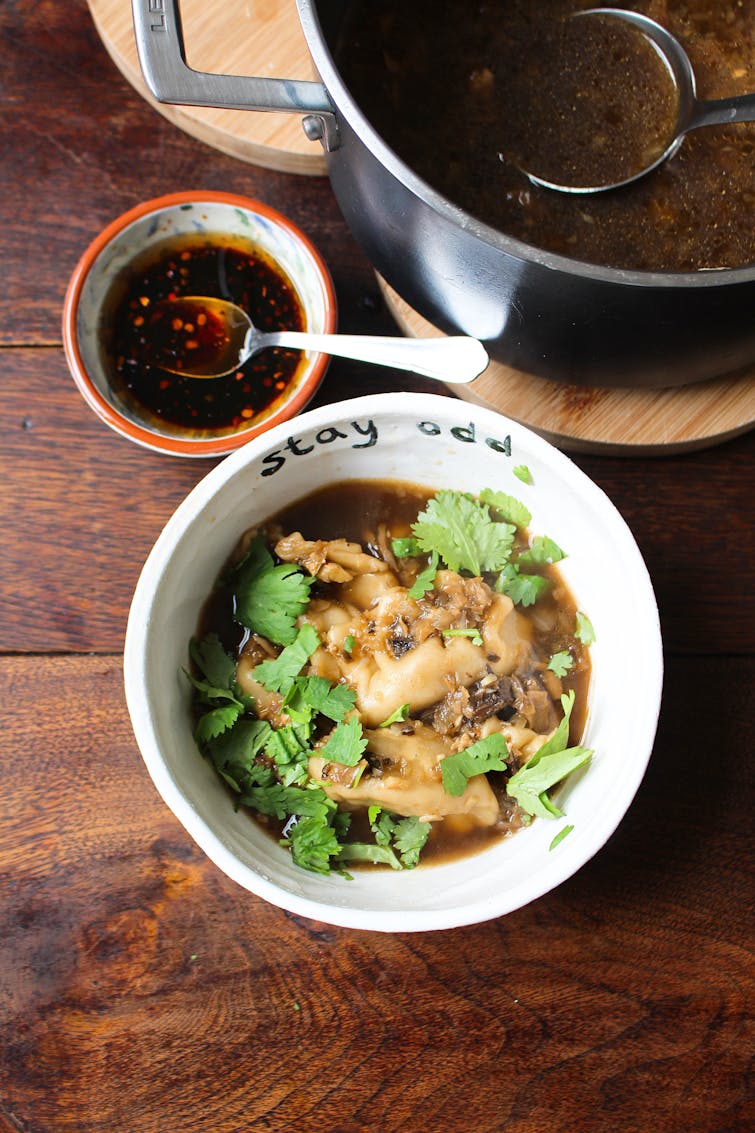 ---
How to store
Store in the fridge for up to 3 days, or in the freezer for up to 3 months.
Leftovers
Add more vegetables from your Oddbox to the broth: spinach, pak choi or kale.