Celeriac Shawarma w/ Pomegranate, Mint & Tahini Dressing
"Roasting the celeriac smothered in lovely spices is the perfect weeknight treat! With a gorgeous garlicky tahini sauce, jewels of pomegranate and zesty mint, try wrapping up slices of this in a warm flatbread. Try stuffing it with fresh salad, pickles and fresh herbs too or simply serving wedges of it with a gorgeous lentil salad. It also makes for a wonderful sharing centerpiece for the festive period." - guest ODDBOX chef Storm, @whatstormeats
No celeriac?
Cauliflower or beetroot works well too. You may not be able to slice the cauliflower as easily but it will cut into wedges.
Prep time: 15 minutes
Cook time: 60 minutes
Total time: 75 minutes
Servings: 4
Ingredients:
1 Celeriac (scrubbed of any dirt)
1 tsp Coriander
1 tsp All spice
1 tsp Cumin
½ tsp Chilli powder (or paprika )
1 tsp Garlic powder
splash chilli flakes
50 ml Olive oil
120 g Greek yoghurt
2 tbsp Tahini (large table spoon)
1 Garlic clove (crushed )
10 ml Olive oil (for dressing )
10 ml Water
Salt (to taste)
Black pepper (to taste )
Pomegranate (to garnish)
Mint (to garnish)
Recipe:
Prep your veg Preheat the oven at 180 degrees. Give the celeriac a good scrub ensuring that it is completely free on any dirt or stringy bits. Boil a pan of water big enough to fit the whole celeriac in. Once boiling, plop in the celeriac whole for 6 minutes.
Spice paste Whilst your celeriac is bobbing away, make the spice mix. Mix the dry spices with the crushed garlic and a generous glug of olive oil until you have a paste.   Carefully remove the celeriac from the water and place on a baking tray lined with tin foil. Let it cool for a moment and pierce all over with a skewer stick before slathering on the spice mix. Wrap the foil tightly around the celeriac. Roast for at least an hour (size dependent!) until tender. Once tender, carefully peel the foil away and finish uncovered in the oven for a further 10 mins.
Dressing Mix the yoghurt, tahini, crushed garlic clove, olive oil in a bowl and season well with salt and pepper.
Plate up! Prepare your pomegranate by knocking out the seeds and roughly chopping the mint.   Serve up your whole celeriac, fresh out the oven with lashings on the garlicky sauce, fresh pomegranate and a scattering of fresh mint.  Slice and pop in a warm wrap or pitta with fresh onion, salad and pickles or simply cut into wedges!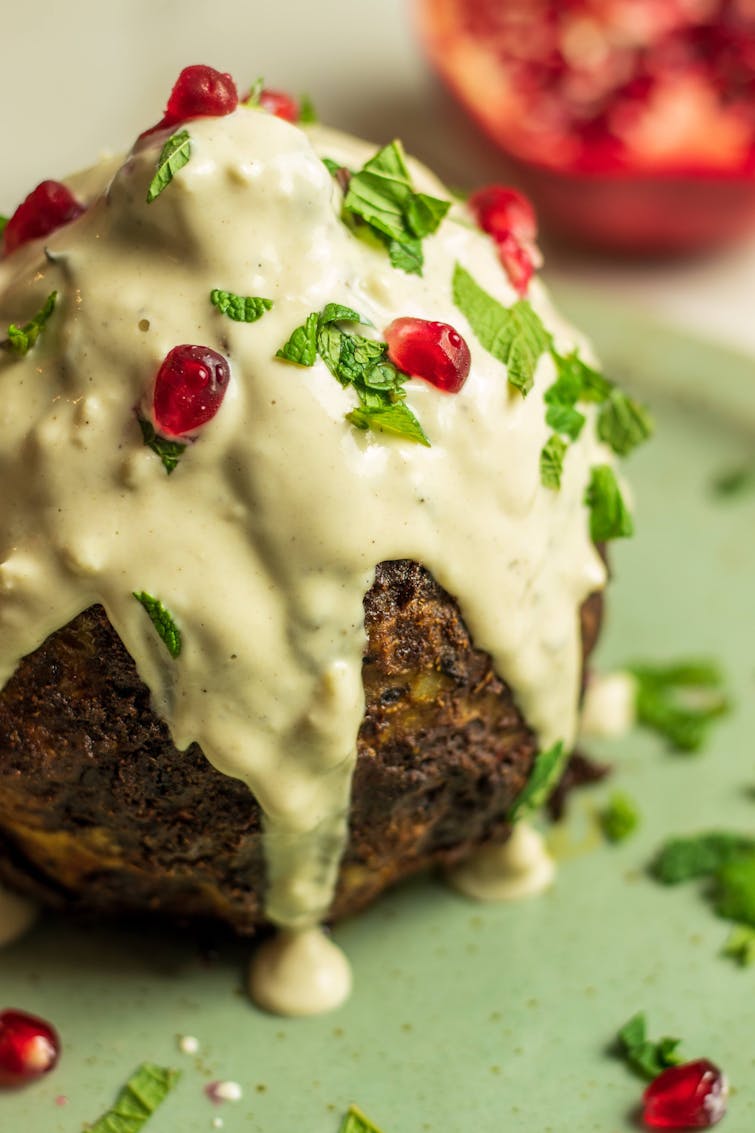 ---
How to store
if you have any left over, pop in an airtight container and put the fridge. It'll last a couple of days so you can recreate the dish the next day for lunch too. Just reheat on a baking tray in the oven.