Celeriac and Apple Soup with Kale and Hazelnut 
A creamy, hearty but sweet soup served with a garlicky kale and hazelnut dressing. Perfect made ahead and reheated on the go.
Substitute:
No kale? Try with cavolo nero or spinach instead. 
No celeriac? Use parsnips instead. 
No hazelnuts? Try with pumpkin seeds instead.
Prep time: 10 minutes
Cook time: 30 minutes
Total time: 40 minutes
Servings: 4
Ingredients:
1 Celeriac
1 Apple
1 Bay leaf
2 tbsp Olive oil
900 ml Vegetable stock
Salt & pepper
For the toppings:
60 g Kale leaves
3 Garlic cloves (chopped )
2 tbsp Olive oil
30 g Hazelnuts
1 Beetroots (grated raw)
Truffle oil (optional)
Recipe:
Peel and chop the celeriac into large chunks, and core and quarter the apple - compost the peels and apple core. 
Add the olive oil, celeriac and apple to a large saucepan and cook for 5 minutes over medium heat. Add the bay leaf and a generous pinch of both salt and pepper.
Add the stock, cover the pan and simmer over a low heat for 30 minutes, until the celeriac is tender. Remove from the heat and blitz with a hand blender until smooth.
Heat 2 tbsp of olive oil in a frying pan and fry the garlic and kale for 4-5 minutes, until wilted. Add the hazelnuts, cook for another 3 minutes and season to taste with salt and pepper. 
Spoon the soup into bowls and top with the kale and hazelnuts. To serve, drizzle with truffle oil and sprinkle raw grated beetroot.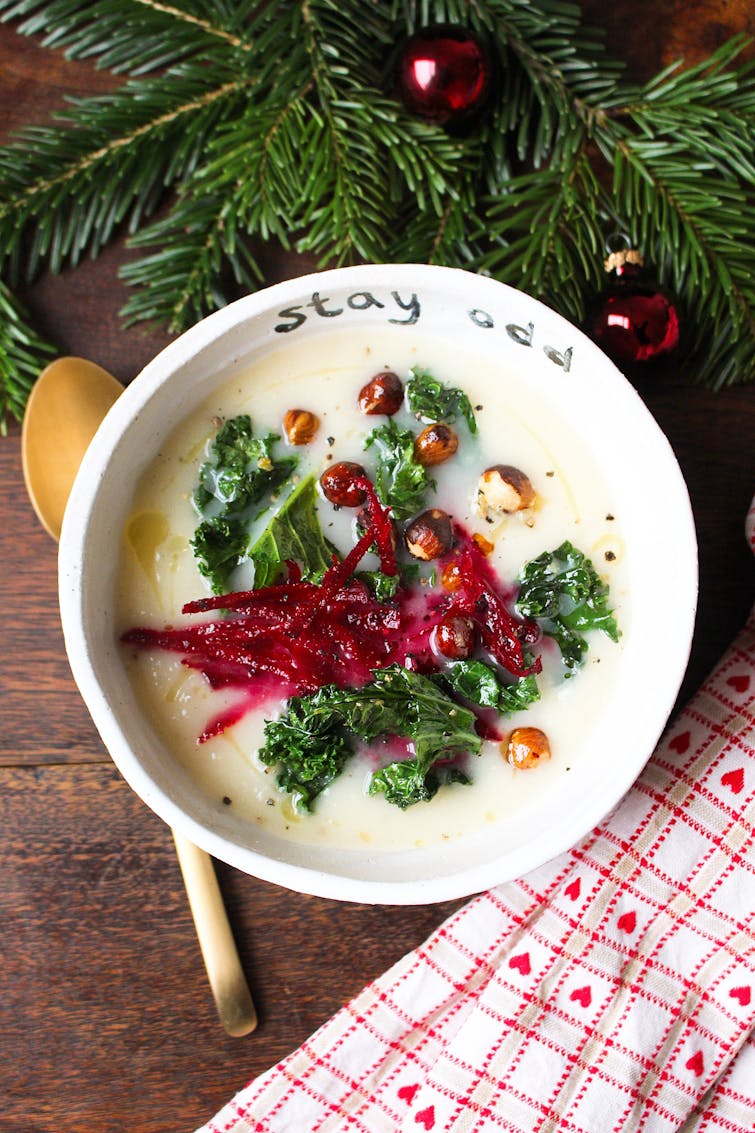 ---
How to store
Store in an airtight container in the fridge for up to 3 days, or in the freezer for up to 1 month.  
Leftovers
Serve the leftovers with rosemary sourdough croutons. Cut sourdough into chunky croutons, season with chopped rosemary, salt and pepper. Bake until golden and crisp.