Cauliflower Katsu Curry
The cauliflower is cut into slices through the core, dredged in flour, eggs/plant based milk, and breadcrumbs until evenly coated. Pan fried and served with a creamy homemade katsu curry sauce.
Substitute:
No eggs? Use milk/plant based milk instead. 
No onion? Try with shallot instead. 
No garlic or ginger paste? Use fresh grated ginger and garlic. 
No coconut sugar? Use any brown sugar. 
No soy sauce? Use tamari, coconut aminos, maggi sauce or miso paste instead.
No hot chilli sauce? Try with chilli flakes instead.
Prep time: 15 minutes
Cook time: 15 minutes
Total time: 30 minutes
Servings: 2
Ingredients:
For the cauliflower:
1 Cauliflower
70 g Plain flour
3 Eggs (or 200 ml plant based milk)
90 g Panko breadcrumbs
Vegetable oil (for cooking )
For the katsu curry sauce:
2 tbsp Olive oil
1 Onion (chopped )
1 tbsp Ginger paste
1 tsp Garlic puree
1 tsp Curry powder
1 tsp Garam masala
1 tsp Ground turmeric
1 tbsp Tomato puree
1 tbsp Plain flour
1 Can coconut milk (400 g )
3 tsp Soy sauce
1 tbsp Coconut sugar
1 tbsp Hot sauce
Recipe:
Cut the cauliflower through the core into 2 large vertical slices. You can use more if you want to make more steaks or keep the rest of the cauliflower for another recipe (like this one).
Dredge (dip) the cauliflower slices in flour, then in beaten eggs/plant based milk, and finally in panko breadcrumbs. Repeat, start in the flour, then dredge in eggs and finish in breadcrumbs. This will create a nice crispy thickness around the cauliflower. 
Preheat the oven to a very low temperature, just to get it warm. In a large frying pan, heat about 1 cm in depth of vegetable oil. Carefully lower the cauliflower slices in, and fry for about 4-5 minutes on each side, until golden brown all over. Do this in batches, and keep the cooked cauliflower in the warm oven while the other slice is cooking.
In a small saucepan, heat the oil and add the onion, garlic and ginger. Fry for 2-3 minutes over medium heat until softened. Then add the curry powder, garam masala and ground turmeric. Cook out your spices for a minute, add the flour and cook out for another minute.
Add the coconut sugar, coconut milk, soy sauce, tomato puree and hot chilli sauce. Stir to combine and simmer for 10 minutes, or until the sauce has reduced and thickened.
To serve, add the sauce first and top with the cauliflower slices. Enjoy!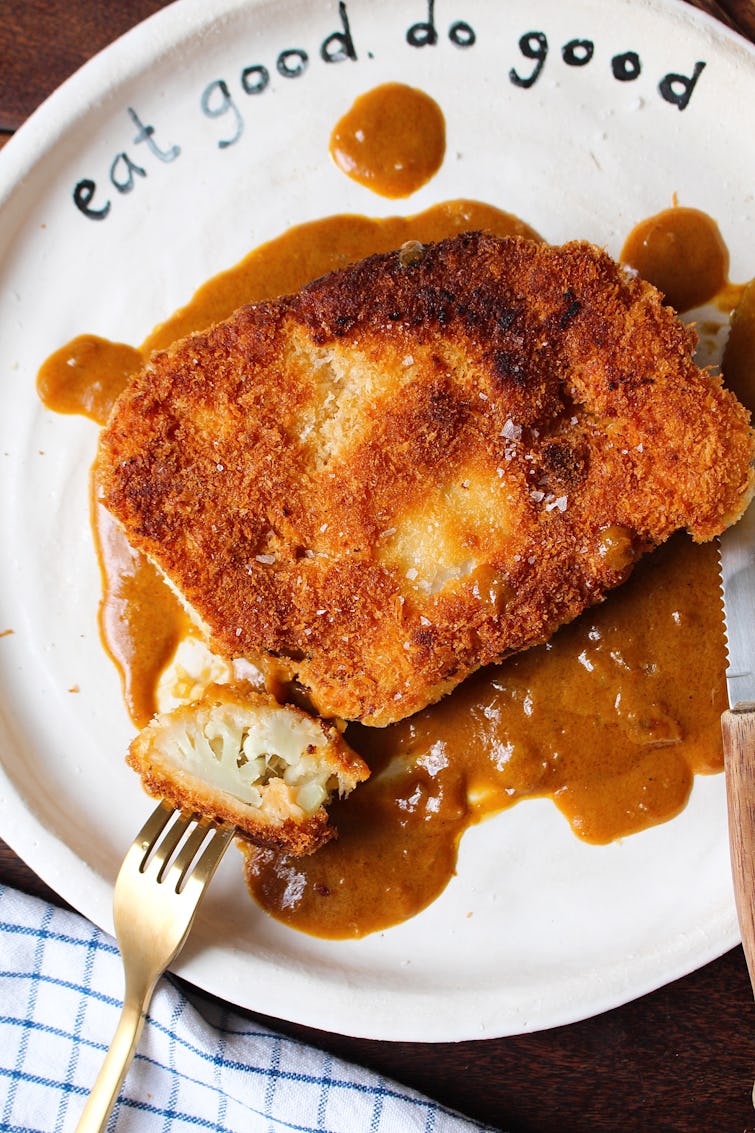 ---
How to store
Store in the fridge for up to 3 days. You can store the katsu sauce in the freezer for up to 1 month. If you wish to freeze the dredged cauliflower, do it before cooking. Then defrost and fry when ready to eat. 
Leftovers
Serve with rice, wilted leafy greens and red onion pickles.