Carrot, Celeriac, Aubergine and Cannellini Bean Tray Bake 
A delicious and quick one-tray-bake, perfect for a weeknight dinner. The veggies are roasted along with cannellini beans and served with a creamy tahini and sesame oil based dressing. 
Substitute:
No carrots? Use sweet potatoes, butternut squash or pumpkin instead. 
No celeriac? Use parsnips, swede or jerusalem artichokes instead. 
No aubergine? Use mushrooms, courgette or tomatoes instead. 
No cannellini beans? Try with chickpeas or butter beans instead. 
No rosemary? Use oregano or thyme instead. 
No apple cider vinegar? Use lemon juice instead. 
Prep time: 10 minutes
Cook time: 30 minutes
Total time: 40 minutes
Servings: 2
Ingredients:
200 g Carrots (sliced)
400 g Celeriac (peeled and cubed)
250 g Aubergine (cubed)
1 can cannellini beans
For the seasonings:
1 tbsp Rosemary (chopped)
1 tsp Ground cumin
1 tsp Ground coriander
4 Garlic cloves (chopped)
3 tbsp Olive oil
For the dressing:
2 tsp Sesame oil
2 tbsp Tahini
1 tbsp Apple cider vinegar
4 tbsp Water
Recipe:
Preheat the oven to 200 C/180 fan/6 gas mark, line a large baking tray with baking paper and chop your veggies. Compost the celeriac peel.
Place the veggies in the baking tray, drizzle with 2 tbsp olive oil and season with salt and pepper. Toss to coat and roast for 20 minutes.
In the meantime, combine the rosemary, garlic, cumin, coriander, 3 tbsp olive oil and a pinch of both salt and pepper. 
Add the cannellini beans and rosemary mixture to the tray with the veggies. Toss to coat and put back in the oven for 10 minutes. 
While the veggies and beans cook, make the dressing. In a small bowl, combine the sesame oil, tahini, apple cider vinegar and water together. 
Serve the roast veggies with a generous drizzle of tahini dressing.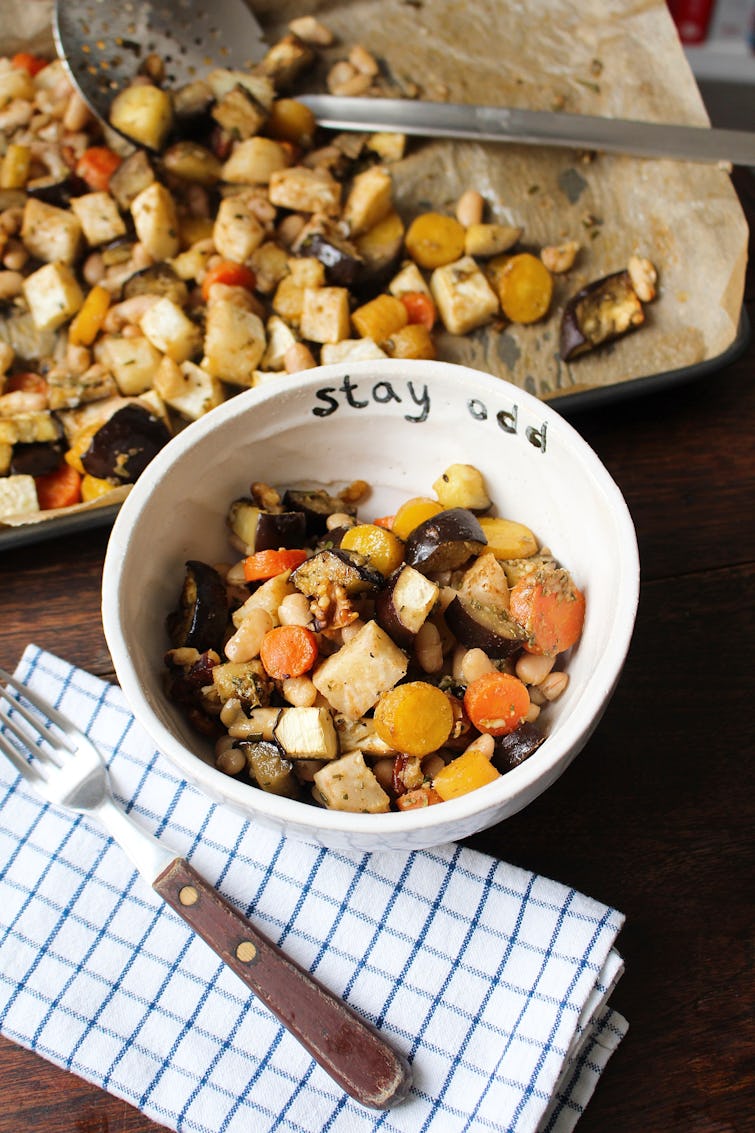 ---
How to store
Store in an airtight container, in the fridge for up to 3 days, or in the freezer for up to 1 month. 
Leftovers
Serve the leftovers alongside a simple green salad or fritters.