Carrot Cake with Cream Cheese Frosting
Make the most of your carrots with this moist carrot cake with cream cheese frosting. The carrots are grated with their skins to add a lovely sweetness and moisture to the cake. Serve as a dessert or sweet afternoon treat.
Substitute:
No self raising flour? Use 250 g plain flour and 1 tsp bicarbonate soda instead. 
No turmeric/cinnamon/ginger? Use a mix of spices that you like. Mixed spices are good, but you can also flavour your cake with vanilla paste. 
No walnuts? You can use pecans instead. 
No sugar? Use any sugar that you prefer. Coconut sugar, light brown sugar or white caster sugar. 
No coconut oil? Swap for vegetable oil. 
No cream cheese? You can use coconut fat from a can. Make sure to keep the can in the fridge for a few hours, then remove the solid cream that has risen to the top of the can and use it as a cream cheese substitute. 
Dairy free? For the frosting you can use coconut whipped cream or vegan creme fraiche instead of cream cheese. Use vegan butter instead of butter. 
Prep time: 30 minutes
Cook time: 35 minutes
Total time: 65 minutes
Servings: 7
Ingredients:
280 g Carrots
250 g Self raising flour
1 tsp Baking powder
1 tsp Ground cinnamon
½ tsp Turmeric 
1 tsp Ground ginger
120 g Sugar
100 g Walnuts
4 Eggs
150 ml Coconut oil (melted)
For the frosting:
50 g Butter
300 g Icing sugar
120 g Cream cheese
Recipe:
Grate the carrots: Preheat the oven to 180C/160 fan/4 gas mark. Grate the carrots with their skin on, in either a food processor or simply with a cheese grater.
Make the sponge: In a large bowl add the flour, baking powder, cinnamon, turmeric, ground ginger sugar and walnuts. Mix to combine, then add the grated carrots, eggs and the melted coconut oil. Mix until everything is combined. 
Bake the sponge: Grease a cake tin (or 2 small tins) and line the bottom with baking paper. Pour the carrot batter in the cake tin and bake for 30-40 minutes, until a skewer comes out clean. Put on a cooling rack and set aside. 
Make the cream cheese icing: In the bowl of an electric mixer, add the butter, and beat it for 2-3 minutes. Add half of the sugar and mix well for another 2 minutes. Then, add all of the cream cheese and beat again for 2 minutes. Add the reminder of the sugar and finish to beat for 2 minutes. Set aside to cool fully before the next step.
Assemble the carrot cake: Use a serrated knife to cut the cake horizontally open in the middle. Spread some of the cream cheese icing in the middle and place the top of the cake back on. Spread the rest of the icing on the top with a piping bag or spatula.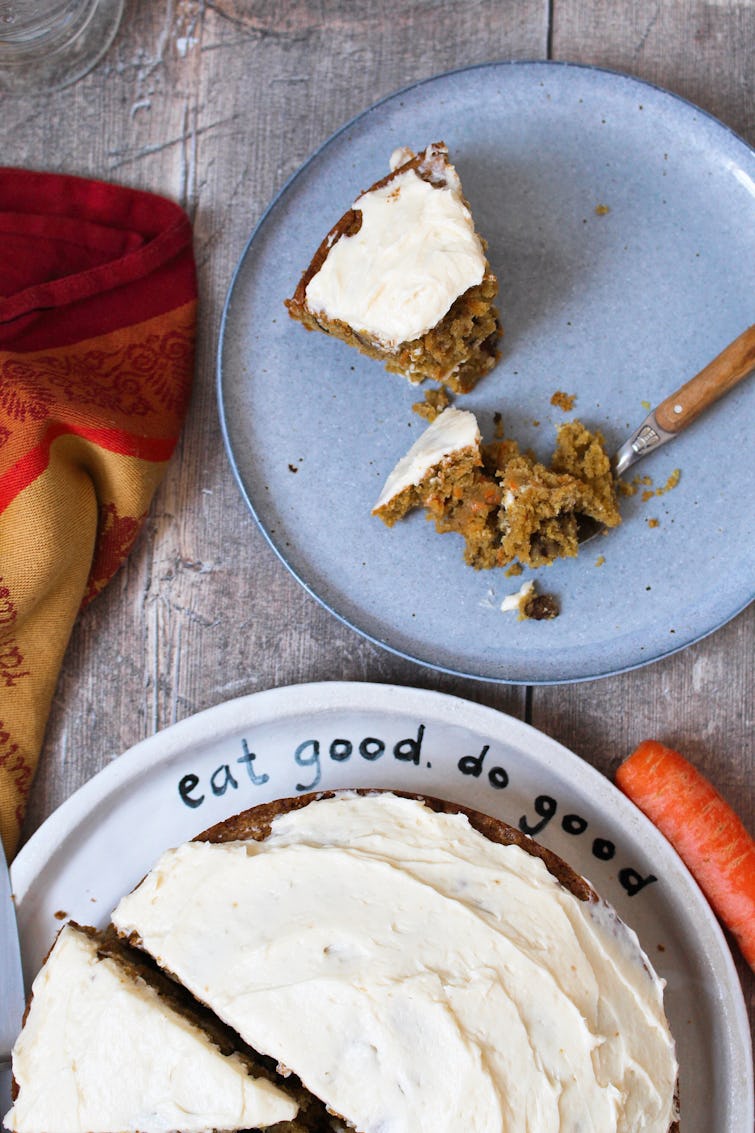 ---
How to store
Store your carrot cake in the fridge for at least 1 hour to set. Otherwise if it's not too hot you can keep it outside for a few hours.  
Leftovers
- You can make carrot cake trifles. In glasses layer a light whipped cream and broken carrot cake pieces.  - You can make carrot cake french toast by frying a few slices in a little butter until crispy and golden.