Carrot And Quinoa Salad With Teriyaki Dressing
Colourful salad showcasing raw carrots cut in julienne, cooked quinoa, grilled cubed halloumi, and a teriyaki dressing made from soy sauce, rice wine vinegar, maple syrup, garlic and ginger. A great comforting winter salad packed with flavours and really easy to make. 
Substitute:
No quinoa? Use cooked rice instead.
No halloumi? Try with paneer instead. 
No maple syrup? Use runny honey instead. 
Prep time: 10 minutes
Cook time: 10 minutes
Total time: 20 minutes
Servings: 2
Ingredients:
300 g Rainbow carrots
200 g Quinoa (cooked)
200 g Halloumi
1 tbsp Soy sauce
2 tbsp Rice wine vinegar
2 tbsp Maple syrup
2 Garlic cloves (chopped)
1 tbsp Ginger (chopped)
Olive oil
Salt & pepper
Recipe:
Cut the carrots into thin and small batons, using a julienne peeler or knife. 
Heat 1 tbsp olive oil in a large frying pan over medium-high heat. Cook the halloumi cubes for 5-6 minutes, until golden.
Add the ginger, garlic, soy sauce, rice vinegar, and maple syrup. Stir well to coat, cook for 1-2 minutes and turn off the heat. 
In a large bowl, combine the quinoa, carrots, teriyaki halloumi and 2 tbsp olive oil.
Mix well to combine and season to taste with salt and pepper.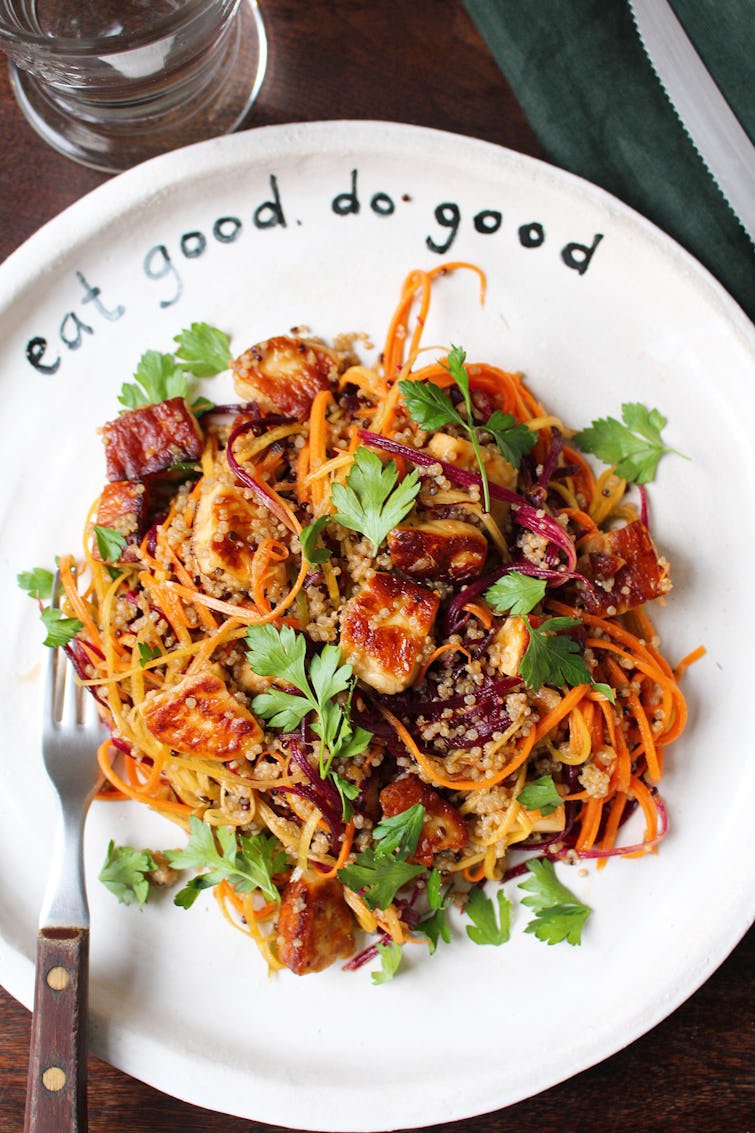 ---
How to store
Store in an airtight container, in the fridge for up to 3 days. 
Leftovers
Stuffed peppers: Cut a couple of peppers in half lengthwise and stuff with the leftovers. Drizzle with olive oil and bake at 180 C/160 fan/4 gas mark, for 20-25 minutes.