Cabbage Slaw with Ginger Tahini Dressing
Try this quick and tasty cabbage recipe. The shredded cabbage is tossed in lime juice to lightly pickle, then mixed in with a creamy ginger, garlic tahini dressing.
Substitute:
No pointed cabbage? Use any other cabbage such as savoy cabbage, red cabbage, white cabbage, or napa cabbage. 
No carrots? Use any other vegetable you have on hand, such as kohlrabi, red onion, spring onions, or/and bell peppers. 
No tahini? Try with yoghurt/vegan yoghurt or mayonnaise/vegan mayonnaise instead. 
No lime? A little lemon juice or apple cider vinegar would work too!
Prep time: 15 minutes
Cook time: 5 minutes
Total time: 20 minutes
Servings: 4
Ingredients:
1 Pointed cabbage
½ Red onion
1 Carrot
1 Lime juice
For the dressing
30 g Ginger (chopped)
1 Garlic clove (chopped)
2 tbsp Tahini
2 tbsp extra virgin olive oil
Salt & pepper (to taste)
Recipe:
Prepare the cabbage: Cut the pointed cabbage in half lengthwise, and slice very thinly. Place in a large mixing bowl, add the lime juice and a good pinch of salt. Use clean hands to massage the cabbage. The lime and salt will lightly pickle and soften the cabbage. Set aside.
Prepare the other ingredients: Use the large side of your grater box to grate the carrot. Thinly slice the red onion. Add them into the bowl along with the cabbage.
Make the dressing: In a small bowl, combine the tahini, olive oil, ginger and garlic. Pour over the cabbage and mix well to coat. Season to taste with salt and pepper.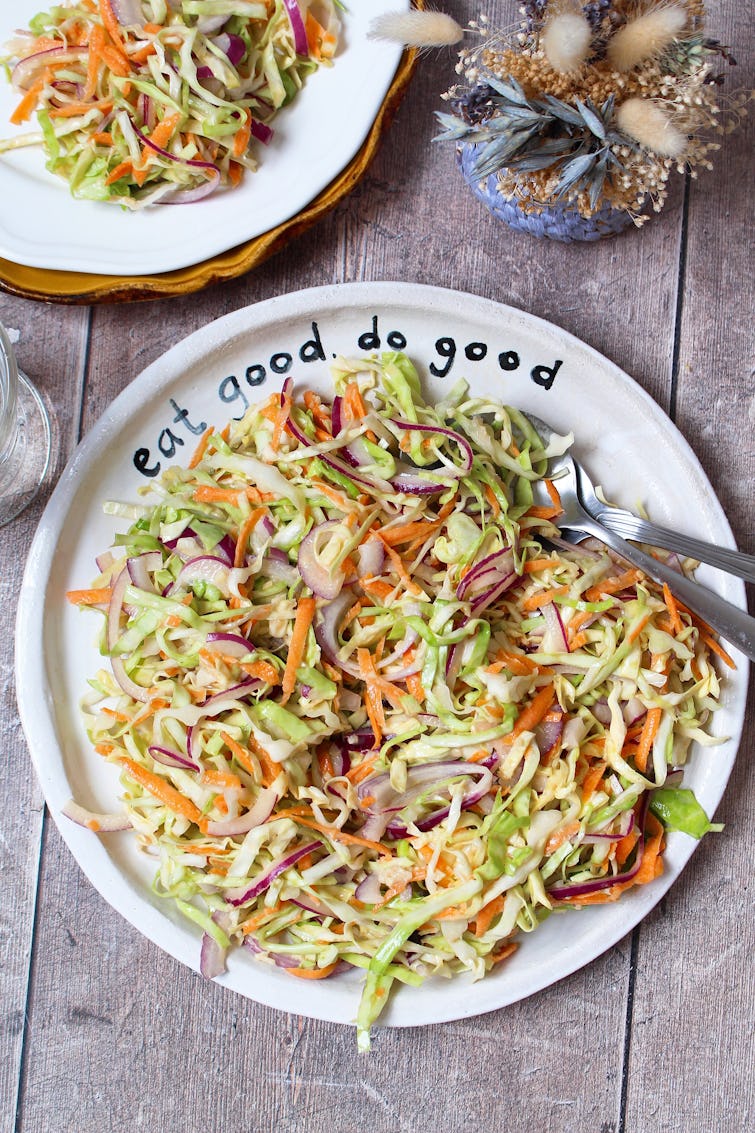 ---
How to store
Store the cabbage slaw in an airtight container in the fridge for up to 3 days.
Leftovers
Try cabbage slaw burrito style. Warm up a tortilla wrap and add the slaw in the middle along with the protein of choice (grilled tofu, tempeh, black beans..). Roll into a burrito, cut in half and enjoy.