Butternut Squash Steaks With Garlic Butter
A quick butternut squash recipe using staple ingredients. The butternut squash is cut into "steaks", and pan fried with olive oil, butter/vegan butter, garlic cloves, thyme, and deglazed with lemon juice. The butternut steaks are basted with the garlic butter sauce, and cooked until tender and golden.
Substitute:
No thyme? Try with rosemary sprigs instead. 
No butternut squash? Follow the same method to cook whole carrots or parsnips.
Prep time: 10 minutes
Cook time: 14 minutes
Total time: 24 minutes
Servings: 1
Ingredients:
½ Butternut squash
2 tbsp Unsalted butter / Vegan butter
1 tbsp Olive oil
4 Garlic cloves
4 sprig Thyme
1 tbsp Lemon juice
Salt & pepper
Recipe:
Peel and cut the butternut squash in slices lengthwise of 1 cm thick.
Heat the olive oil in a large frying pan over medium heat. Cook the butternut squash steaks, turning every 3 minutes until deeply browned on both sides and fork-tender, about 10 minutes.
Add the butter/vegan butter, thyme, and crushed garlic to the pan. Tilt the pan toward you, and use a large spoon to continually baste the squash steaks with the butter sauce. Continue cooking, basting continuously, until butter is no longer bubbling and begins to brown, about 1 minute. 
 Remove from heat and stir in lemon juice. Season with salt and pepper. 
 Transfer butternut squash steaks to plates and spoon the garlic butter sauce over.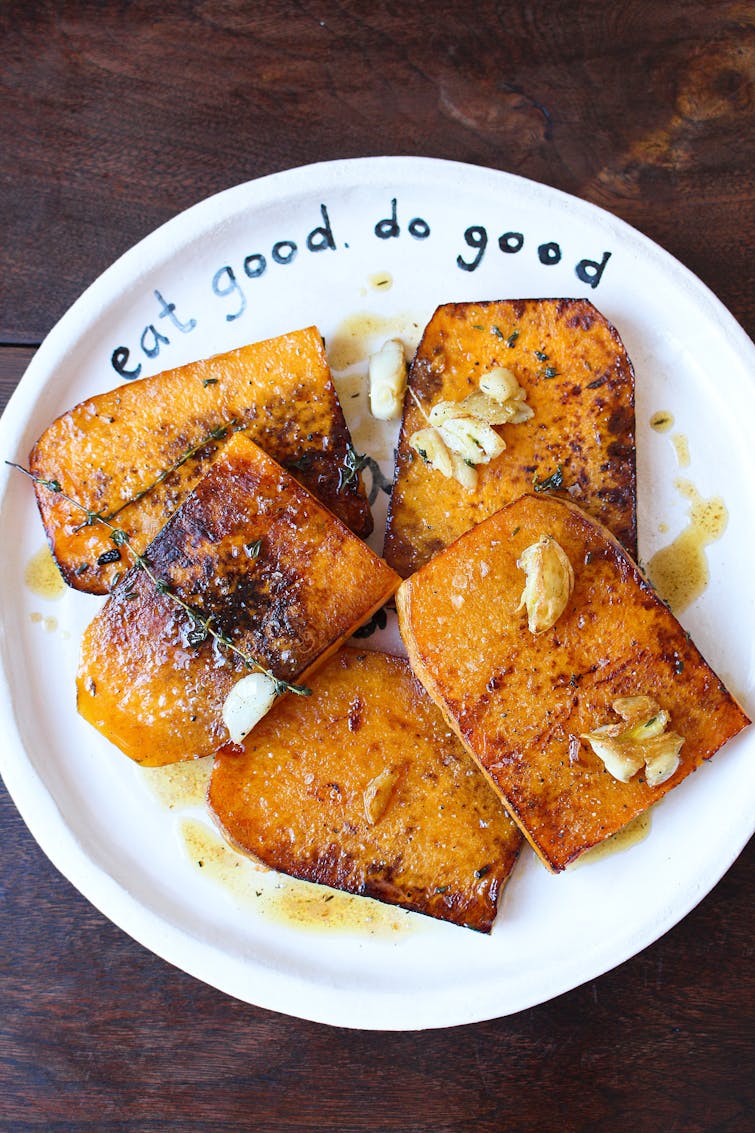 ---
How to store
Store the butternut squash steaks for up to 3 days in an airtight container in the fridge. Reheat gently on the stove with a little oil, or in the oven. 
Leftovers
Butternut squash hummus: Place the butternut squash steak into a food processor along with chickpeas, lemon juice and a splash of water. Blend until smooth.  Butternut squash puree: Place the butternut squash steak into a food processor with vegetable stock and blend until smooth.